Now it's November, I'm so excited to finally be able to launch my new Christmas patterns that I've been developing for the past few months: a perfectly-shaped Gingerbread Man and Girl!
Chunky and flat, just like the edible version, my Gingerbread Family are crocheted amigurumi-style (in a continuous spiral) and are almost seamless, so you have minimal sewing to complete them. I can crochet and assemble a complete Gingerbread Man (minus the face and any other embellishments) in less time than it takes to watch a TV episode, so under 45 minutes – how's that for speedy?!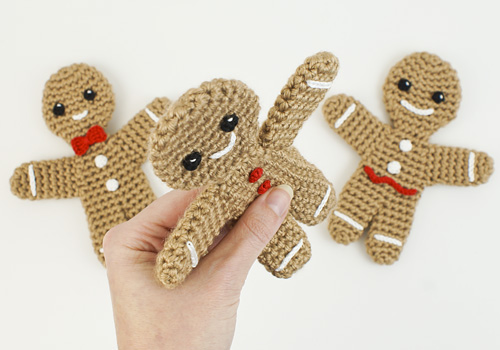 I'm imagining an army of amigurumi gingerbread for sale at Christmas craft fairs etc, and easy seasonal gifts for everyone who appreciates a little handmade whimsy. And because they're flat but double-layered, they make great toys – they're sturdy to play with and even somewhat poseable!
Gingerbread Man crochet pattern
Gingerbread Man stands 6″ (15cm) tall when crocheted in worsted weight yarn. Add a loop to his head to hang him on the Christmas tree, or stand him up on your desk or the mantelpiece – as he's flat and stiff, he'll balance very well if he's leaning against a wall.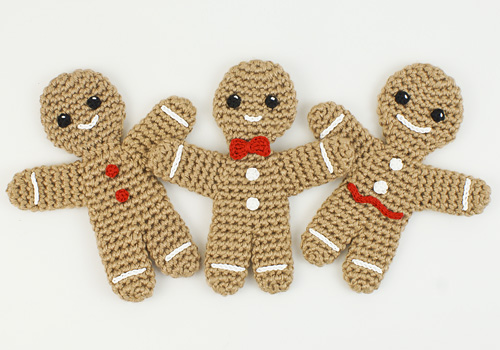 All the embellishment options pictured above are included in the pattern, but Gingerbread Man is the perfect blank canvas for you to decorate however you want – just like the edible kind!
You can create all sorts of expressions and accessories, personalise them to match your family members, and match the embellishment colours to your seasonal decor. Or keep the decorations as simple and fast as you want – it's completely up to you…
Gingerbread Girl Expansion Pack
The Gingerbread Girl Expansion Pack gives you all the modifications you need to make to the Gingerbread Man pattern to make a gingerbread lady.
Gingerbread Girl is also worked in just 4 pieces, so she's as fast to finish as a Gingerbread Man. Her skirt is built right into her gingerbread body, and you can either keep her embellishments simple, or add fun little girly details like necklaces, hair bows and a trim on her skirt.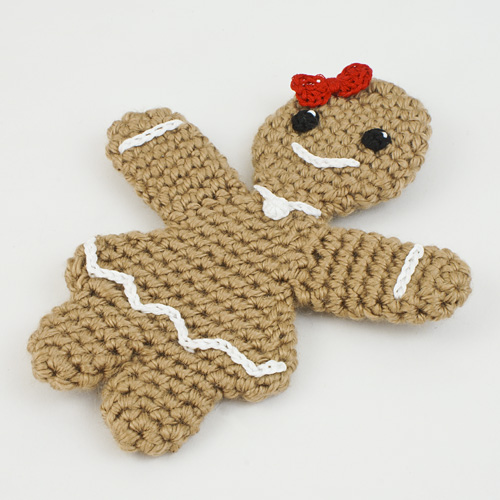 What is an Expansion Pack?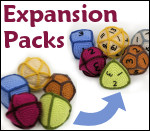 An Expansion Pack is an add-on to an existing PlanetJune pattern.
The Expansion Pack lets you modify or add to the original pattern to create something else.
You cannot use the Expansion Pack alone – you must also purchase the original pattern in order to be able to complete the pictured items in the Expansion Pack pattern.
Choose Your Own Embellishments!
I've crocheted all the eyes and embellishments for my gingerbread people – and the patterns include all the details with lots of photos if you'd like to copy mine exactly – but you can also create features using your favourite crafty methods: embroider directly onto the gingerbread with yarn (for chunky details) or embroidery floss (for finer details), cut felt to shape and sew or glue it into place, sew on buttons or beads, use fabric paint, make polymer clay embellishments, and more…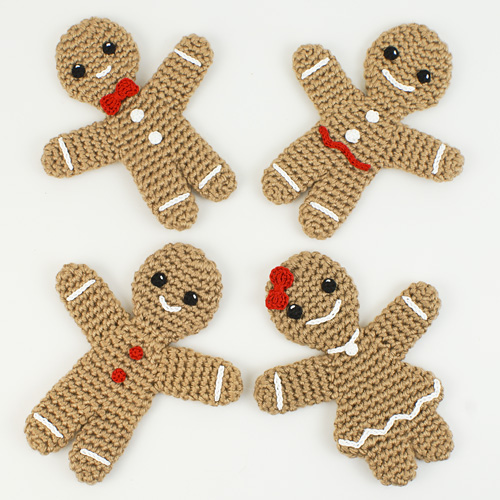 Links to Buy & Launch Discount
As with all my Expansion Packs, you can buy the patterns separately (although please note that you do need the base Gingerbread Man pattern to be able to make a Gingerbread Girl), or there's a discount when you buy both together.
For this first week of November 2016 only, you can save even more when you buy the Gingerbread Family combo pack for only $6.50 – let's call that ridiculously low price my Christmas present to you! To get this deal, add the Gingerbread Family to your shopping cart and use code GINGY at checkout.
So, here are your options:
Or, if you're not ready to buy yet, click through to Ravelry and favourite/queue them so you won't forget about them!
Gingerbread Man on Ravelry:

Gingerbread Girl on Ravelry: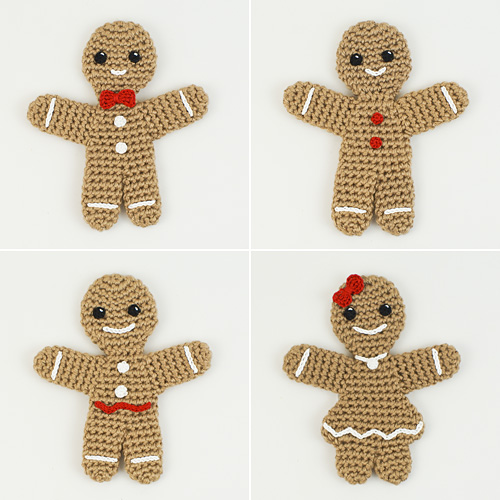 Please share pics of your amigurumi gingerbread people on Facebook, Instagram or Twitter (and tag me @PlanetJune so I'll see them!) and in the PlanetJune Christmas crochet-along in our Ravelry group.
I can't wait to see how you choose to decorate your crocheted Gingerbread Family!