It's time for a new Donationware addition to my PlanetJune Accessories range of crochet patterns! I'm very happy to present the Twisted Chain Bangle: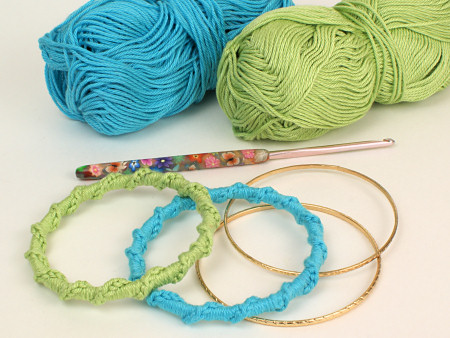 Transform a metal or plastic bangle from cheap fashion jewellery to a stylish and unique accessory. The twisted design looks intricate but it's a deceptively simple technique, so you can whip up an armful of bangles in next to no time. Crochet chunky bangles for a quick casual look or as perfect gifts for girls, or use finer bangles and crochet thread to make jewellery elegant enough for any occasion.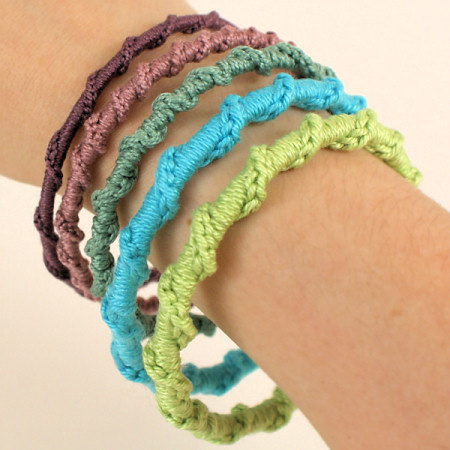 This pattern is seriously addictive – it's such a simple concept, but you can really mix it up by choosing different sizes of hooks and yarn or crochet thread, and even different-sized bangles to start with. I couldn't stop trying different hook and yarn sizes to see what the results would be – and they all turned out pretty!
My 3 smaller bangles are made with the new KnitPicks Curio crochet thread – it comes in a wide range of colours and I chose 3 beautifully subtle shades that look understated and elegant. Then I decided to get a bit more summery and made 2 chunkier bangles for the summer days I hope will come soon to the Southern hemisphere! These are made with Patons Grace in fresh aqua and lime shades.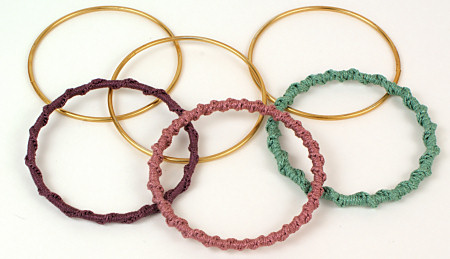 I have small wrists, so those are about as chunky as I'm willing to go for bangles for myself, but you could use thicker yarn and/or a larger bangle to make a real statement piece, and the bonus there is that as your hook and yarn get larger, your bangles become much faster to crochet! My delicate dark purple bangle took a while to complete, but the aqua and lime ones only took minutes to crochet…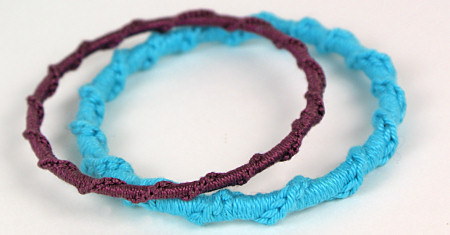 As I like to reward people who chose to donate for my donationware patterns, the PDF version of this pattern includes some bonuses: additional tips and advice, even more helpful photos, and specific options for all the variations you see in my sample bangles! As always, the pattern is free for you to use, and you need only donate if you'd like to thank me for my time in creating it, or if you'd like the easy-to-print PDF version.
I hope you enjoy my Twisted Chain Bangle pattern – have fun with it!
Go to the Twisted Chain Bangle pattern >>
PS – Don't forget, you can enter your bangles in this month's Donationware CAL in the PlanetJune ravelry group!