Use this stuffed crocheted ring as a base for a crocheted wreath, candle ring, or other round decoration (e.g. a centrepiece). You can make the ring in any size depending on the desired size of your decorative piece, and choose yarn colours to match your decor and the theme of the components you'll be covering it with.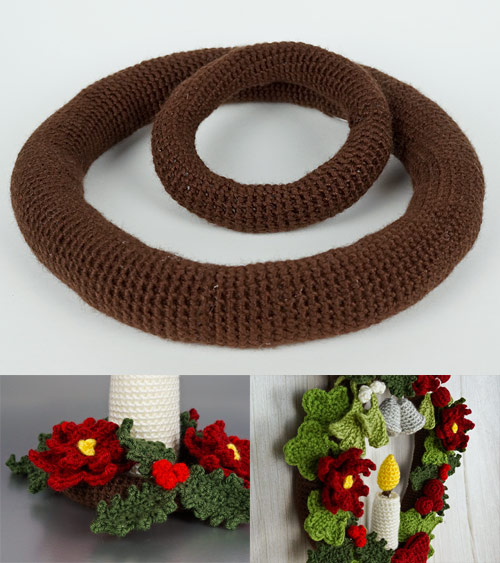 Yes, this is the base pattern I used to make my Christmas Decor Collection wreath and candle ring!
The basic online version of the pattern is available free for you to view online. As I like to reward people who chose to donate for my donationware patterns, the PDF version of this pattern also includes special bonus content:
Tips on choosing yarn colours for your wreath base
The exact recipes and layout diagrams for my Christmas wreath and candle ring, if you'd like to copy mine exactly!
As always though, the basic pattern is free for you to use, and you need only donate if you'd like to thank me for my time in creating it, or if you'd like the easy-to-print PDF version.
Have fun with this pattern throughout the year – it's not just for Christmas if you make it in a different colour and adorn it with different crocheted pieces!
Please don't forget to share photos of the wreaths/centrepieces you make with this pattern, and tag me @planetjune so I'll get to enjoy them too 🙂