Now you can make your own Turtle Beach blanket! The Turtle Beach instructions, together with my Ribbed Ripple stitch pattern and lots of bonus content, are now available as a printable Donationware pattern. The basic information is available for free, below, but if you like them please consider sending me a donation to show your appreciation: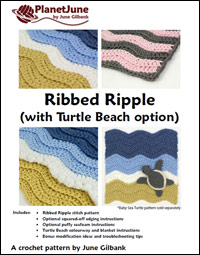 Send me a donation and receive the easy-to-print PDF version of these instructions and the Ribbed Ripple stitch pattern, and lots of bonuses (including puffy 3D seafoam instructions, edging instructions, and a complete Turtle Beach blanket pattern) as a thank you!
Donations of any size are much appreciated. Just add the amount you wish to donate, and, once you have checked out and paid, your pattern will instantly be available to download from your PlanetJune account.
The complete pattern for the Turtle Beach square and general instructions for a Turtle Beach blanket are available below, regardless of whether or not you choose to pay for them 🙂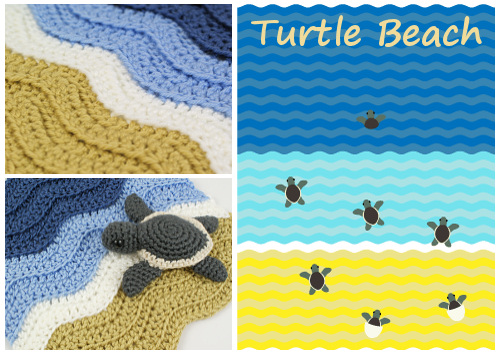 Please note: To complete a Turtle Beach blanket, you'll also need some turtles! The Baby Sea Turtle Collection pattern and Baby Sea Turtle Applique & Hatchlings pattern are for sale separately, from my shop.
This is a PlanetJune original crochet pattern. Feel free to use items made from this pattern however you wish, but I'd appreciate credit as the pattern designer. Please do not reproduce the pattern anywhere else; instead post a link to www.planetjune.com/turtlebeach
Not ready to make it yet? Add it to your Ravelry queue:
---
Turtle Beach square
Here's a 10″/25.5cm square sample pattern – of course, you can use the same technique to make a larger blanket too, with a longer starting chain (see the Ribbed Ripple stitch pattern for how to choose a starting chain length) and more rows in your blanket.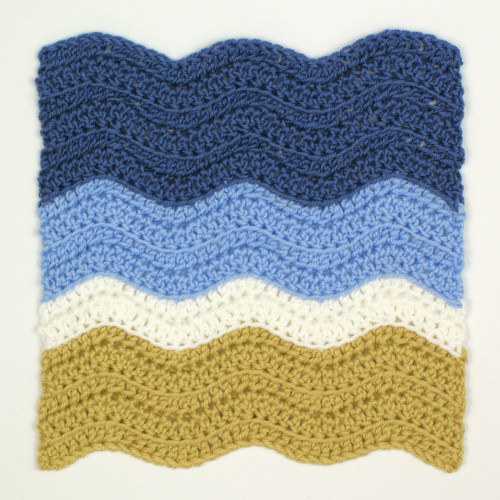 You will need…
H US/5mm crochet hook (or your preferred hook size – see Gauge, below)
Worsted weight yarn in yellow, white, light blue and dark blue (less than 30m/35yds of each colour)

For my Turtle Beach sample, I used Red Heart Soft yarns in Honey, White, Blue Sky, and Mid Blue. (If you'd like to add a third shade of blue, you could also add Navy as the darkest shade.)
If you're mixing and matching yarn brands, try to choose yarns that are similar in look and weight (see www.planetjune.com/wwyarn for further information).
Gauge
You can use any hook and yarn combination for this pattern; using a thicker yarn and larger hook will make your blanket grow more quickly! The only requirement for gauge is that you like the look and feel of the fabric you form. The crochet hook size recommended on the ball band of your yarn will give you a good starting point. If your fabric is too firm, try using a hook one size larger.
For my Turtle Beach 10″/25.5cm sample square, my gauge was 1 wave repeat = 3.3″/8.5cm; 7 rows in 4″/10cm.
Note: If you don't match my gauge, your piece will have a different finished size to mine. If you don't mind this, you don't need to worry about matching my gauge!
Pattern
With dark blue yarn, ch 39.
Follow the Ribbed Ripple stitch pattern (with N=2), changing colour as follows:
Rows 1-6: dark blue yarn
Rows 7-10: light blue yarn
Rows 11-12: white yarn
Rows 13-17: yellow yarn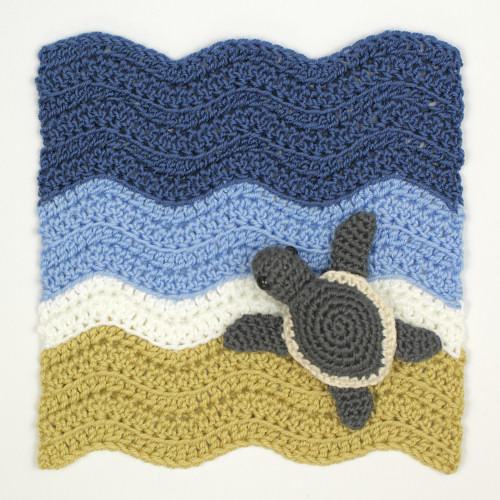 This photo shows the scale of the square compared with a Baby Sea Turtle, when made with the same yarn (Red Heart Soft). The square was worked with an H US/5m hook and the turtle with an E US/3.5mm hook.
General Turtle Beach Instructions
Some general instructions for any size of square or blanket…
To make the beach scene, you need to start crocheting from the top (the dark blue end) of the finished afghan, so that the waves will flow down towards the shore and over the sand.
You'll need yellow, white, and two or more shades of blue. Arrange your blue shades from darkest to lightest. Starting with the dark blue, crochet any even number of rows.
Move through each shade of blue, making two or more pairs of rows of each shade before moving to the next shade.
After the palest blue, make one pair of rows (2 rows) in white to form the whitecap of the wave, then make as many rows of yellow as you wish to complete your piece.
Here are some examples: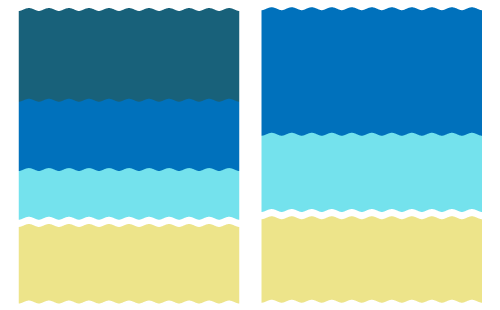 As a rule of thumb, you'll probably want about a third of the blanket to be yellow, a thin band of white, and the rest in various shades of blue.
The blanket will flow nicely if the lighter blue(s) have fewer rows than the darker blue(s).
These guidelines are just a starting point if you're not sure how to structure the colours. Feel free to break these 'rules' if you have a different idea – there's no right and wrong here!
Adding the Turtles
Make turtles from my Baby Sea Turtle Collection pattern and/or Baby Sea Turtle Applique & Hatchlings pattern (each sold separately).
You can use the finished blanket as a playmat, so a child can play with the turtles, or make it a permanent arrangement by stitching the turtles down to the blanket.
If you're going to stitch turtles directly to the blanket, you can add as many turtles as you have the patience to make! Try a test arrangement of all your turtles before you start to stitch them down, following the tips below and spacing them out across the bottom section of the blanket.
Tip: Snap a photo of your arrangement before you begin stitching so you don't forget how you laid them out!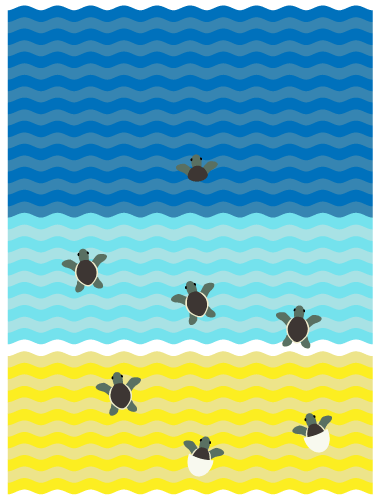 Turtle Arrangement
Arrange the turtles so they all face up the blanket, heading out to sea. So they look more realistic, position each turtle at a slightly different angle.
Position any turtle eggs and hatching turtles on the sand nearest the bottom of the blanket.
Position the complete turtle hatchlings so they are all heading up the blanket towards the sea, and into the shallows [the lighter blue(s) of the sea].
Position any swimming turtles in the deeper water [the darkest blue of the sea].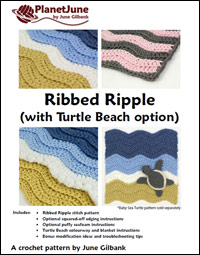 I hope you enjoy this pattern. Please leave me a comment below if you do, and consider leaving me a donation.
(If you do, you'll receive the easy-to-print PDF version of these instructions and the Ribbed Ripple stitch pattern, and lots of bonus content including puffy 3D seafoam instructions, edging instructions, and a complete Turtle Beach blanket pattern.)
Thanks!