Keep reading for the details of the 2011 Christmas CAL and contest!
How can it be December already?! This is the start of my first southern-hemisphere summer, so it's very hard to believe it's December – it's certainly a big change from Canada! This whole year has been a real struggle for me – moving abroad, months of illness, building a new life in a new country, and growing a business – I've had too much on my plate for a long time.
So I've decided to pause, and to spend this month catching up with work and life-related tasks that have been stacking up, and winding down so that I can have a proper break at Christmas and relax instead of worrying about all the hundreds of emails I have to answer and everything else that I've been setting aside for "when I have time" (i.e. never). Then I'll be ready to start 2012 fresh, with new goals and a new plan.
Review and Win contest
November's 'Review and Win' winner is Kim D, with her Reindeer Antlers review: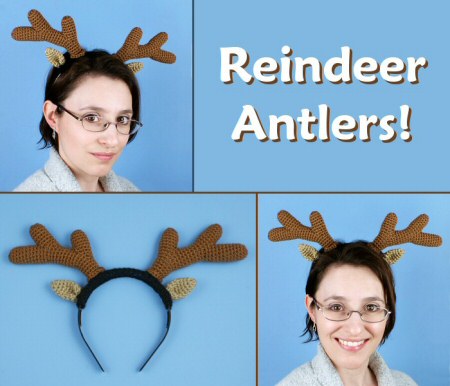 I searched for THE PERFECT antler and yours are by far, the best out there! The directions are very clear and easy to understand. Having the tutorial pictures is an ENORMOUS bonus and have helped when my brain just got stuck! I was initially intimidated to try making them, but because your directions are so easy to follow, I am currently working on my third set!! Thank you so much for creating the pattern and having it available for purchase in cyberspace!
Congrats Kim (and thanks for the great feedback!) – I'll email you to find out which pattern you'd like as your prize 🙂
To be entered into this month's draw for a free pattern of your choice, just write a review of any product in my shop – thank you!
* * *
Christmas CAL and contest
December means it's time for another Christmas Crochet-Along! This year I'm running everything through the PlanetJune Ravelry group – it's much more fun as you can chat with other crocheters throughout the month, make friends, ask questions, and actually be part of a group. But I'll still be doing Christmas CAL prizes like last year, so there's a little extra incentive to join in 😉
This crochet-along runs December 1-24 and you can join in by making any of the PlanetJune Christmas-themed crochet patterns: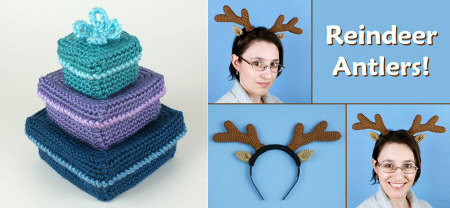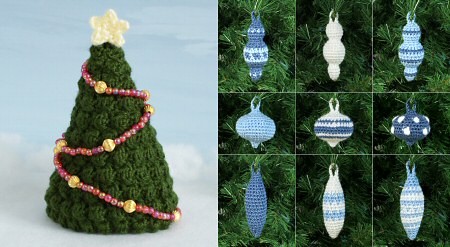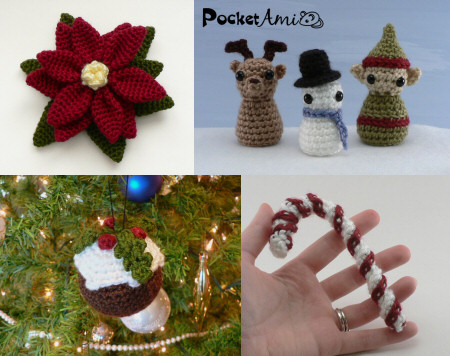 Gift Boxes, Reindeer Antlers,
Christmas Trees, Christmas Baubles,
Poinsettia, PocketAmi Christmas,
Christmas Pudding, Candy Cane
The winners will be drawn randomly from all entries (one entry per pattern you crochet), and there'll be a runner-up prize for all participants – my Christmas present to you!
The prizes:
First prize: a $10 gift certificate to spend on anything in the PlanetJune store
Second prize: a free pattern of your choice from the PlanetJune store
Runner-up prizes: I'll send a discount code to all participants, to use against their next order from the PlanetJune store.
Please join us! You'll find the Christmas CAL 2011 thread in the PlanetJune Ravelry group – I hope to see you there!