I thought I'd try writing a different kind of post today: an insight into my design process, and what happens when things don't work out as planned.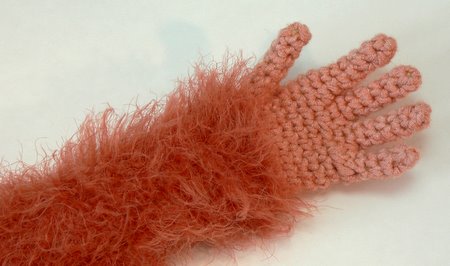 Remember this picture? This is the orang utan I started crocheting at last spring's Creativ Festival. My goal was to make a life-sized, realistic baby orang. After the show, I finished both arms and then moved onto the head, and that's where things started to go wrong…
My first attempt looked like a silly smiling cartoon monkey. My second attempt was much more realistic, but hideously ugly. The more I tried to fix them, the less confidence I had that I would ever be able to complete my orang. Maybe it's because it was so important to me – I love all the animals that inspire my designs, but the orang utan is one of my all-time favourites. When I conceived this project, I wanted to make something really special just for me – not a simple replicable design, but a real one-of-a-kind art piece.
There didn't seem to be any point in making the body or legs for my orang project when it didn't seem like there would ever be a head to go with it, so the pieces have sat in a zip-lock bag in my 'in progress' drawer for months, untouched. I often thought about the project, but couldn't see any way forward.
Yesterday, I went back to basics. I sat down with a sketch book and a dozen reference photos of baby orangs, and spent an hour drawing, redrawing, refining. Looking for the 'essence of orang utan' that I had failed to capture to date, instead of thinking of it as a crochet problem. I think I have it: my final sketch crystallized what I needed to do, and then it was almost an afterthought to crochet and sculpt the head. (I won't share any pics yet… I want it to have a big reveal, after all the work that has gone into this!)
At the Creativ Festival this spring (April 24-26, in Mississauga Ontario), I'll be giving a talk about my work, called Who's Who in the Crochet Zoo. Now I'm confident that I will be able to bring my orang utan along – nicely circular when you consider where the project was 'born', exactly one year earlier.