My Commissions system for new crochet patterns is working out so well – in only 3 months since the launch it's already pushed me to create three completely original design challenges, with more on the way. I'd like to thank everyone who's trusted me to come up with high quality designs by pledging towards these pattern commissions…




None of these designs would exist without the people who pledged towards them!
However, as I mentioned in yesterday's Chameleon post, my system still isn't perfect – I'm finding it a bit of a challenge to keep up with my commissions and still make progress on the other exciting designs I have queued up on my to-do list. (If you're part of the PlanetJune Ravelry or Facebook communities, you'll have more of an idea about those upcoming designs!) Last week, I had three fully-pledged designs in the queue (Chameleon, Sea Otter, Rottweiler), and, at a promised one-month completion time for each design, that puts a lot of pressure on me.
When I originally came up with the idea for my Commissions process, it was going to be just for new AmiDogs breeds, and the $60 limit seemed fair. At the last minute, I added various other animal designs to the commissions list before I launched the system, without really thinking that through. The pledges went crazy and I immediately had to raise the totals to $90 as things were getting out of control. What I didn't tell you at the time was that I then pledged $30 towards each AmiDogs design myself, as I still felt that a $60 AmiDogs commission is the right level – $90 for a new dog pattern seemed unrealistic.
Even with that price increase, the commissions system still hasn't stabilised to a manageable level for me, so it's time to implement another round of changes…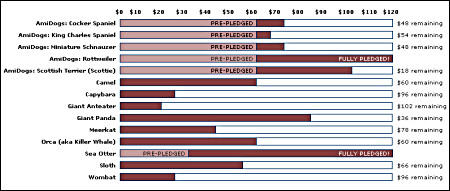 My new tiered commissions include pre-pledges (see explanation below)
Timeframe Extension
I'm modifying the completion time for newly-commissioned designs from 1 month to 6-8 weeks, starting immediately with the Sea Otter – hopefully I won't need that long for every design, but I'd prefer to have the breathing room so I'm not constantly designing under deadline pressure and I have time to work on my other designs in between commissions.
Price Increase
I'm raising the total commission cost again, from $90 to $120. The minimum pledge amount is still unchanged at $6. I initially kept the price low because I didn't anticipate that so many people would pledge at the minimum $6 level. I also underestimated the level of interest in this concept – even at $120, it'll only need 20 people to pledge $6 each (or fewer people with larger pledges) to get a design fully funded.
The price increase will take effect immediately, but, for the two designs that had already been fully pledged at $90, I've already committed to designing those at the $90 level, so I'm making up the difference with pre-pledges (see below) so don't worry, pledgers, Sea Otter and Rottweiler are still fully pledged.
Now, if you're thinking that your favourite dog breed will never get fully pledged at this rate, don't worry; I have another new mechanism to take care of that:
Pre-Pledges
While most of the animals on my commissions list have a wide general appeal, the designs that are similar to others I've already made (e.g. a new dog breed) are mostly of interest to people who have an interest in that specific breed. The pre-pledge acts as a discounted commission price on these designs, so, for example, a $120 commission with a pre-pledge of $60 needs only another $60 to become fully pledged.
I've deleted my own $30 pledges towards the AmiDogs on the list, and replaced them with $60 pre-pledges, so the price for a new AmiDogs breed is now only $60.


e.g. here the Scottie has a $60 pre-pledge, so, with $42 already pledged, it only needs $18 more to become fully pledged
I called it a pre-pledge because it is subtracted from the required commission total before you have a chance to start pledging towards the design. You can see the pink pre-pledge bars on the chart, and the pledged amounts now only need to fill the remainder of the white space to become fully pledged. I hope that makes sense!
The pre-pledge capability means I can now tailor the total price required for any commission to any value up to the maximum. This may come in handy in future as I add more design ideas to the commissions list – it gives the system a little more flexibility.
Next Steps
I'll be adding some new design suggestions to the list once I've had a chance to sort through the requests and choose some new animals to add, but I'll be away visiting my parents next month, so I'll probably wait until August to add them to the system.
Although my commissions system may still need some additional tweaks before it reaches long-term stability, I think these changes are a step in the right direction. Once I find the right price point for the non-dog patterns, I think it'll work very well as the gauge of popularity I'd hoped for (as it already is for the AmiDogs): for example, without these commissions, I'd never have guessed that a Rottweiler design would be in more demand than a beautiful King Charles Spaniel!
It'll be interesting to see what happens when I add another dozen or so new design ideas to the list – I'll let you know when I do that, so you can pledge if any of your favourite animals come up…