Yes, that's right, I've now been blogging for 6 years! Somehow, that doesn't seem as surprising to me this year – usually it's a big 'wow' moment when I realise my blogiversary is approaching…
Year 6 Review
This was a year of acceleration (and braking). After the stress of Year 5 (an intercontinental move and extended sickness and injury) I started Year 6 trying to get back up to speed. In fact, I worked so hard I was stressed up to the eyeballs. I took December off from designing to relieve the pressure on myself, and took 2 weeks off from everything except essential daily admin over Christmas.
This gave me an inkling of the direction I wanted to move towards – producing high quality work and still having some time left to have a life aside from work. But the break also got me fired up and ready to make changes, so I've been setting up a lot of new 'pieces' to the world of PlanetJune that will make life run more smoothly for me in future.

I created a new commissions system, finished my new logo, built and coded a new blog design and menu, launched a page to promote people who sell ready-crocheted PlanetJune designs, built up my FAQ, committed to producing at least one video tutorial per month…
Unfortunately, the result of all these grand plans was that I ended up even busier than I was before Christmas!
In between all my other PlanetJune work, I managed to design and publish 24 new crochet patterns: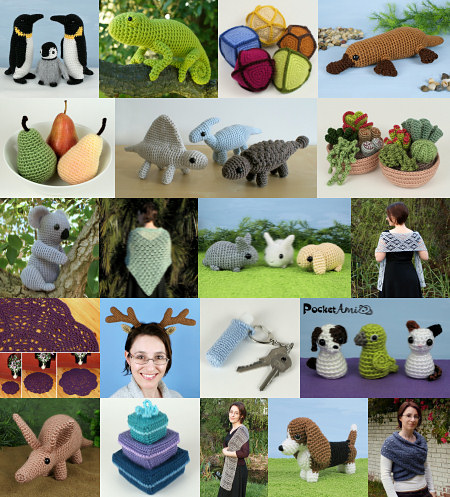 That's barely more than the 22 I released the previous year, but I'm aiming for quality with my designs, not quantity. I think it's always worth putting in the extra time to create something special, and that also holds true from a business/profit standpoint: 1 amazing design can easily bring in more money from long-term sales over the years than 10 mediocre patterns.
Goal Review
My strange situation meant I didn't set myself any real goals for Year 6:
I need to figure out the logistics of operating from here and how to get myself back on track under such different conditions. […] I need to prioritise getting settled into my new life and getting my health back. Only then can I really focus on making PlanetJune everything I know it could be if I only had the time.
While it hasn't been easy, and I'm still not 100% settled here, I've basically met the 'adjusting' goals and moved onto expanding and improving PlanetJune and the resources I offer – yay!
What's Next?
If you've read my post from a couple of weeks ago on beating craft business overwhelm, you'll already know the strategies I'm working on implementing to make the ever-growing PlanetJune more sustainable with less work on my part: automating, prioritising, and re-energising.
I love doing what I'm doing here with PlanetJune; I really do. Even though I've worked incredibly hard to reach this point, I know how lucky I am to be in the position to do what I love for a living, and I don't take that for granted. Yes, I am slightly overworked right now because I'm in the midst of building all my new systems, but that won't last forever and then I'll have the payoff: being able to concentrate on the work I really enjoy: creating, innovating, and explaining crochet techniques. I can't wait!
Thank you for continuing to accompany me on my PlanetJune adventure – now onwards, into Year 7!