Today has an extra reason to be known as Hump Day, because it's Camel time! For my latest commission, I've designed a realistic camel complete with curved neck, eyelids, tasseled tail, and of course the essential hump: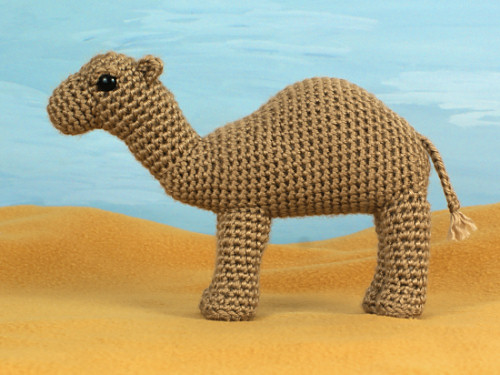 The Camel crochet pattern is a new addition to my natural fibres range of amigurumi designs (together with the alpaca Alpaca and the angora Baby Bunny) and I've been waiting for almost 3 years to have the chance to use the 100% baby camel yarn I bought just for this purpose. Of course, I created my design with standard worsted weight acrylic yarn in mind – there's no need to splash out on pricey camel yarn unless you want that added realism 🙂
The regular worsted weight camel is a sturdy 8.5″ (21cm) long. My little camel-yarn camel is only 6.5″ long, because the camel yarn is finer (DK weight) so I used a smaller hook (C US/2.75mm) to keep the stitches tidy. (You can get the same scaling effect with any of my patterns by using a thicker/thinner yarn and a correspondingly larger/smaller hook to resize the pattern to any scale you wish.)
I love how my two samples look like they're part of an amigurumi camel train: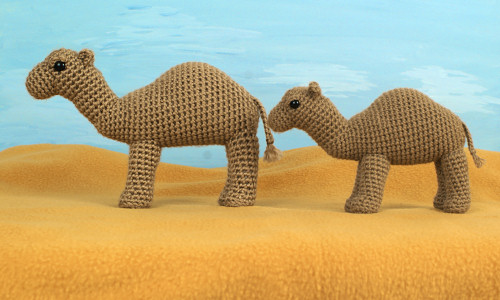 Camel Fun Facts
There are two types of camel: the one-humped dromedary (like my design), and the two-humped Bactrian camel.
The dromedary is adapted to survive in the hot, dry desert environment of northern Africa and the Middle East.
The Bactrian camel comes from Asian climates that can get much colder. Its soft thick undercoat is shed annually and is used to make camel yarn.
Camels store fatty deposits in their humps that let them survive in drought conditions.
They also have other clever adaptations like the ability to close their nostrils in sandstorms!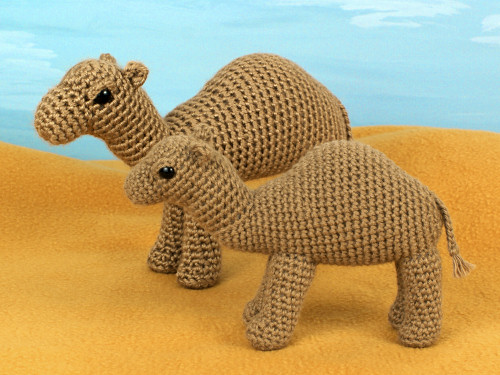 It's been a long journey to get to this point, and I'd like to give an extra-special thank you to every one of my patrons who commissioned this pattern last year, paid for it the week before my home invasion trauma, and have been waiting ever since for me to be able to complete their pattern. I'm so grateful for your patience and trust through these many months, and I'm delighted to be able to finally say that your pattern is now ready for you to download from your PlanetJune account!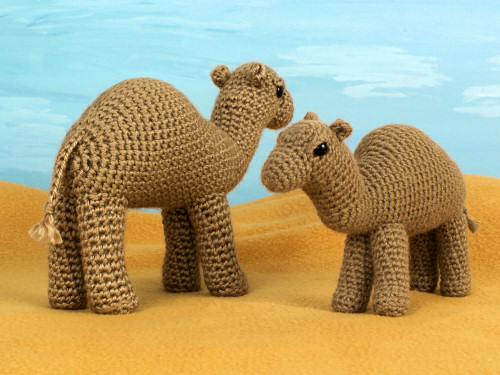 If you weren't one of the camel commissioners, my Camel pattern is now available to purchase from the PlanetJune shop.
Or, if you're not ready to buy just yet, please add my Camel to your queue or favourites on Ravelry, so you don't forget about it:
I hope you like my Camel design!
---
As you may know, I'll be going for knee surgery at some time in the next few weeks. As I can't predict how long my recovery will take, I'll wait until I'm better before I accept payment for my next commission, as I don't want to create another situation like the Camel where personal circumstances cause months of delay between your payment and receiving your pattern. So, if you've pledged towards the Armadillo design, please know that I won't be sending out the invoices until I'm ready to begin work on your design. 🙂