Since leaving the warmth of Africa for the Great White North, one thing I really miss is being able to see lizards all the time – both when out exploring nature, and in my own garden. I grew to love lizards after observing them in the wild for so long, and I'm considering getting a pet bearded dragon one day.
Until then, I now have the next best thing with my new addition to my amigurumi menagerie – a life-sized Bearded Dragon crochet pattern: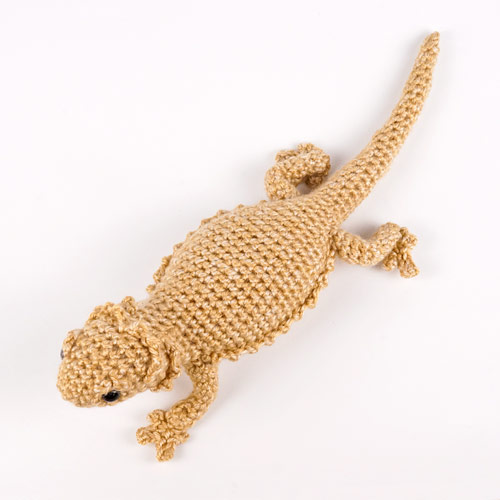 She's such a cutie!
Bearded Dragon Fun Facts
Bearded dragons, aka 'beardies', are one of the most popular reptiles to keep as pets.
These lizards are docile and friendly, and eat insects and vegetables.
In the wild, bearded dragons can be found in the Australian deserts.
Beardies can flatten their bodies and change colour when they bask in the sun, so they can absorb more heat.
When threatened, they puff out their spiky 'beard' throat skin and open their mouth wide so they appear larger.
About the Design
My bearded dragon is roughly life-sized and realistically shaped, at about 12″ (30cm) long. It has an alert stance, a wide body and wedge-shaped head, and tiny spines along the sides of its head and body, just like a real beardy!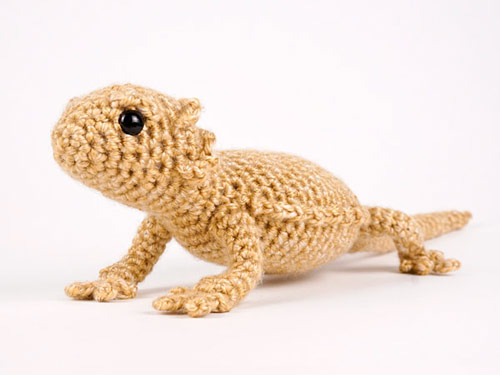 I made my sample in a heathered yarn (Lion Brand Heartland) which adds a subtle variegated effect which I love, but you can use a solid colour of yarn instead if you prefer. Fancy bearded dragons come in a wide range of colours (orange, yellow, brown, grey, and even red or white) so you have lots of scope for making life-like beardies in all sorts of colours.
About the Pattern
As with my other lizard patterns, the realistic legs are wired with pipe cleaners, but the pattern also includes tips for omitting the pipe cleaners if you want your beardy to be baby-safe.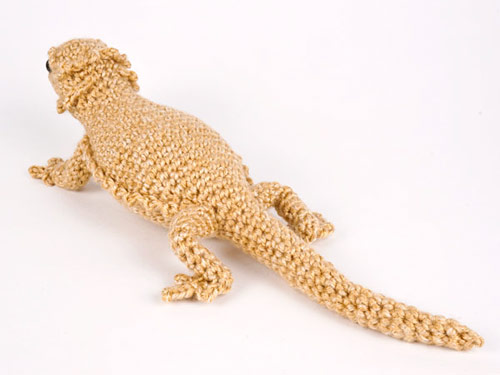 The pattern includes stitch diagrams for the spines in addition to the written instructions, so you can use whichever instructions work best for your learning style.
And, as always, close-up photos aid with every step of the assembly, so you can be confident you'll be able to make a perfect bearded dragon too.
Buy Now & Launch Discount
Ready to get started? Pick up my Bearded Dragon crochet pattern from my shop right now. Or, if you're not ready to make it just yet, add it to your Ravelry queue or favourites so you don't forget about it:
And for one week only, you can take an extra 50c off the price: add the Bearded Dragon pattern to your shopping cart, and enter the discount code BEARDY at checkout! (Offer ends Wednesday 8 May, 2019.)
---
This bearded dragon design has been over a year in the making, but I'm really happy with the end result – I think I got the alert beardy pose just right, and the tiny spines don't overwhelm the design, even in worsted weight yarn.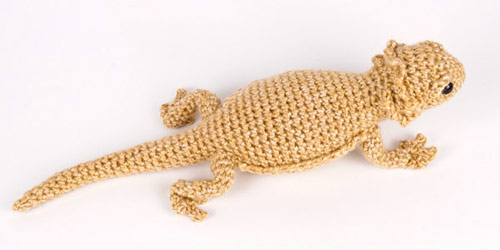 I hope you agree, and that you'll enjoy my Bearded Dragon pattern 🙂
---
PlanetJune Herps
With this new pattern, my herp (reptiles and amphibians) pattern collection is now up to 10 designs: 5 lizards, 3 turtles and 2 frogs! You can find all the PlanetJune reptile and amphibian crochet patterns here 🙂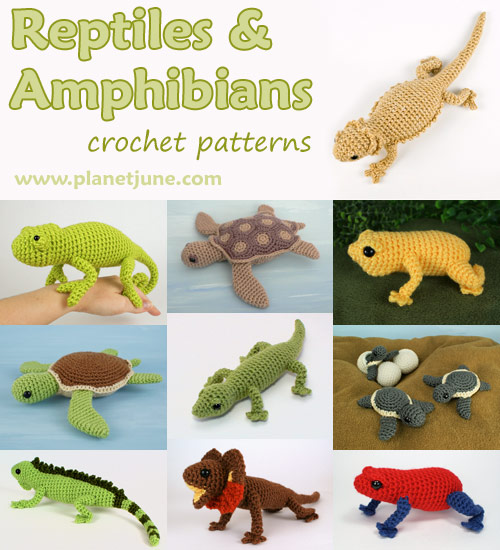 Do you have any other herp pattern requests? Let me know in the comments!