To commemorate the release date of my new Idiot's Guides: Crochet, I decided to crochet a project from the book just for myself – a rare treat for someone who crochets for a living… I made a less bulky version of the Cozy Cowl to wear indoors (it's still winter here and cold inside!) by resizing the pattern to be much less wide and longer so I can wrap it around my neck twice: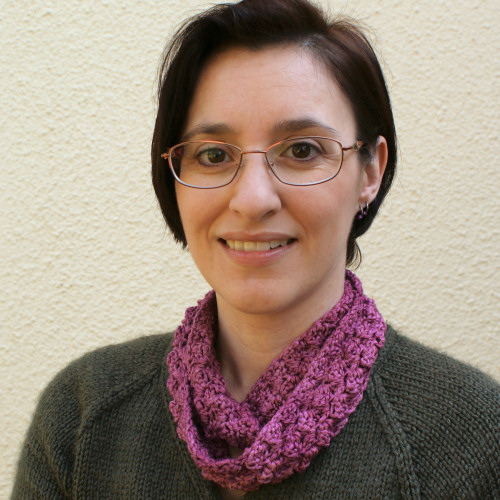 Cozy Cowl on Ravelry:
I treated myself to a skein of Vinni's Colours Serina in Plum – a locally-produced 100% bamboo yarn. It's much finer than the yarn in the book, so I had to swatch to find an appropriate hook size (I/5.5mm), and gamble that the single skein I bought would be enough for my project…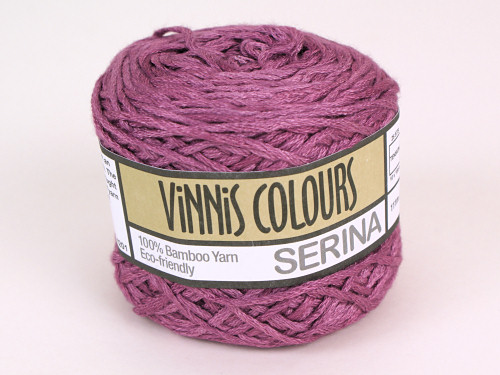 I'd been looking for an excuse to buy some of this yarn for ages, not only because it's beautiful and amazingly soft, but (from the yarn's ball band):
This yarn is hand dyed and balled by women from an economically depressed rural area of South Africa. The sale of this product has empowered them and brought economic benefits to their community.
Getting to support the local economy is an added bonus!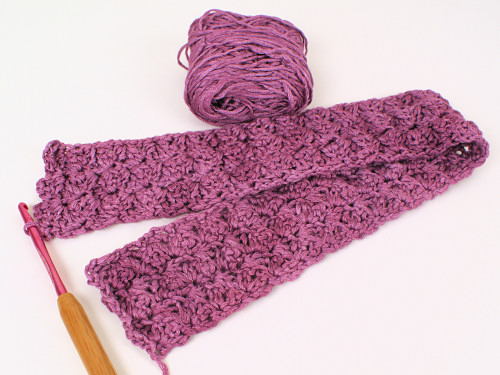 I used the modification instructions (that I've provided with all the patterns so you can resize them to be any height and width you want) to make my cowl thin and long, instead of short and wide as shown in the book. As my cowl is so narrow (ch 15 for the starting chain) there was actually more than enough yarn in the skein to make the 36″ loop I wanted. And the result is just what I hoped for:
It keeps the gap at the top of my sweaters covered so I don't freeze
It's extremely soft and non-irritating on my neck
It's not bulky so I can wear it inside the house when it's cold without looking stupid
And the yarn (and colour) are gorgeous!
---
And now, for contrast, here's a second bamboo cowl I made, using the same Cozy Cowl pattern and the same concept (a thinner cowl to wrap twice). This time I used Bernat Bamboo, a bulky yarn, with a very large L/8mm hook, and what a difference that made!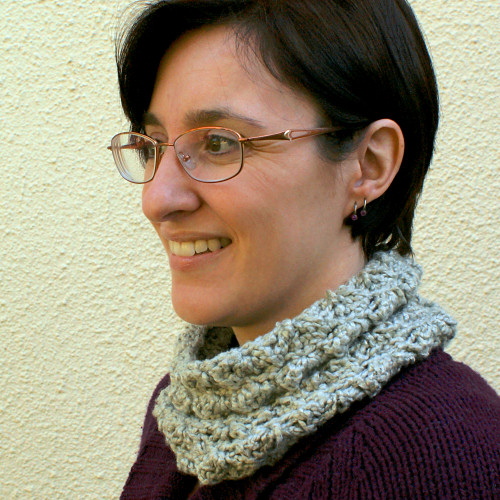 It's very bulky, and so soft that the texture of the stitch pattern is almost lost, but it's comfy and snuggly, so it feels lovely to wear. Between these two new cowls, I should stay nice and warm for the rest of the southern hemisphere winter!
---
If you've also started making a project from IG: Crochet, please join the crochet-along in the PlanetJune Ravelry group, and share what you're making. It's so exciting for me to see these patterns – some of which I designed a year ago – finally starting to be used to make beautiful things, and I'd love to see your versions of them too…