One of the most amazing sights I've seen in wildlife documentaries is the night when all the baby sea turtles hatch simultaneously. They dig their way up from their sandy nests and then frantically flipper their way down the beach towards the safety of the sea, like tiny clockwork-powered toys. When they finally reach the sea, they're transformed into miniature graceful marvels, flapping lazily under the waves like birds in flight.
I'd love to see this for myself, and, as it happens, sea turtles lay their eggs on some beaches right here in South Africa! Unfortunately, those beaches are on the east coast and I'm on the west coast, and, with my ongoing book responsibilities (we're now in the middle of the editing/proofing cycle), making that dream a reality isn't something that's going to happen this year. I'm keeping my fingers crossed for a turtle adventure next year, but, in the meantime, I thought we could all enjoy this miracle of nature in amigurumi form, with my Baby Sea Turtle Collection!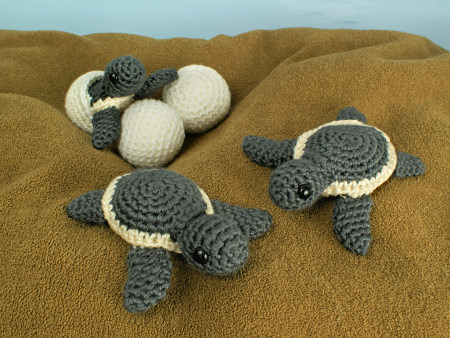 The hatchlings alone would make the cutest toys – in natural or any other colours – but you can complete the scene with turtle eggs and an adorable baby turtle who is just emerging from his egg.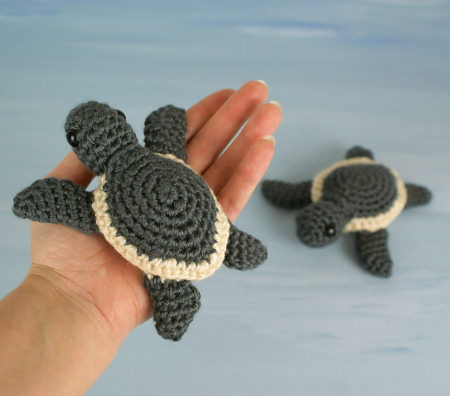 Make as many baby sea turtles as you want – at only 4.5″ (12cm) long, they don't take long to complete, and fit nicely in your hand, just like a real baby sea turtle. My original AquaAmi Sea Turtle design is still one of my most popular patterns, but you'll be relieved to know that this baby turtle has only 7 pieces to crochet (instead of 26!) so you could make a whole beachful of babies in the time it takes you to crochet one full-size turtle 😉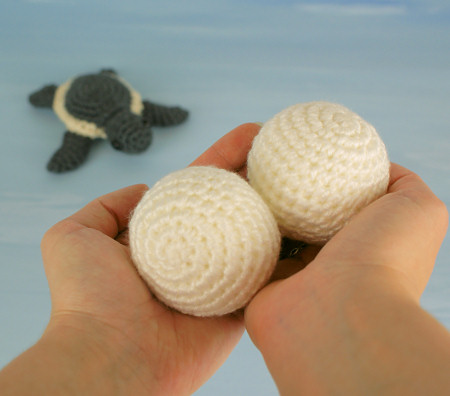 The collection also includes the pattern for these turtle eggs. Fun fact: this egg shape is intentional; sea turtle eggs are round like ping pong balls, not ovoid like chicken eggs.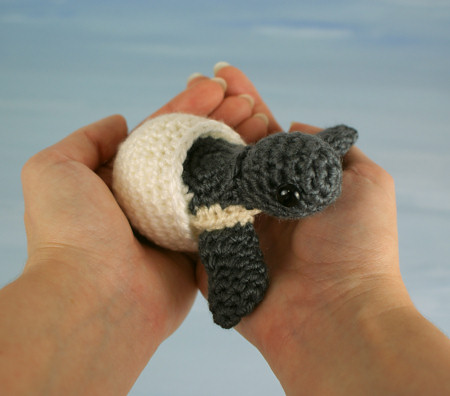 But my unexpected favourite part of this pattern collection is the hatching turtle. It ended up being a lot more challenging than I'd anticipated, and took three completely different design concepts to come up with a design I'm satisfied with. The first resulted in the egg being misshapen unless you're extremely careful with the assembly and don't touch or play with it at all after assembly, so that was no good. The second looked great until I stitched it all together and realised it looked like someone had sliced the turtle in half – definitely not the look I was going for…
The final design concept was worth the wait though – you can really see that the turtle is emerging from the egg! It's such a clever design and I think you'll enjoy seeing it magically come together from pieces that don't look like they could possibly form a turtle. The pattern includes lots of photos to show every step of the assembly, so you won't have any problems completing your baby turtle collection 🙂

Have you joined Team PlanetJune yet for the Ravellenic Games? Join us by challenging yourself to complete one (or more) PlanetJune patterns in the Feb 7-23 Olympic timeframe. As the Baby Sea Turtle Collection amigurumi are small pieces (and each turtle can count as its own project), they'd make perfect Rav Games entries. If you'd like to try making one (or more) baby turtles as a part of Team PJ, there's an exclusive discount code on the pattern, available only in the team thread 🙂
I can't wait to see baby turtles popping up in all sorts of colours (don't forget to share yours on Ravelry when you've made them, so we can all enjoy them!)
And if you're not ready to buy the Baby Sea Turtle Collection just yet, please heart or queue it on Ravelry so you don't forget about it 🙂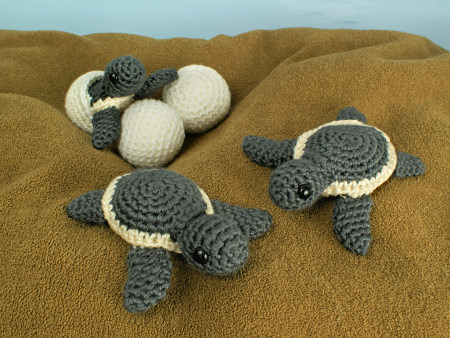 As you can probably tell, I love, love, love baby sea turtles. I hope you'll enjoy using this pattern as much as I enjoyed designing it!