For the past 3 years, I've been designing baby animal patterns around this time of year – it seems appropriate, as spring heralds the birth of lots of baby animals, and why should it be any different in the crochet world?! I'm keeping up that tradition today, with my new pattern release: Baby Guinea Pigs!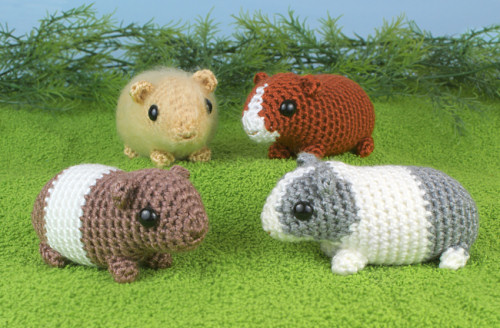 The Story Behind The Pattern
When I was little, my sister and I used to visit the pet shop all the time, to watch the baby bunnies and guinea pigs scampering around together in their big pen in the middle of the shop and choose which were our favourites. In 2012, I remade those bunnies in crochet (the Baby Bunnies pattern), and, in 2014, I added some patterned bunnies to the collection (the Baby Bunnies 2 expansion pack):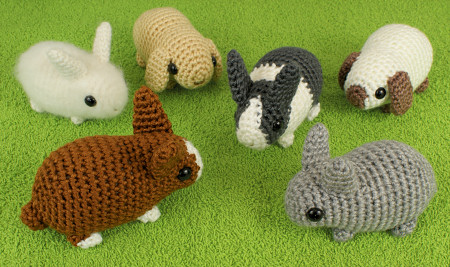 What's missing from this picture?
And yet, something was still missing from my original vision… All those baby bunnies, and not a baby guinea pig in sight! With this pattern, I'm setting that right and finally recreating the pet shop scene from my childhood memories. 🙂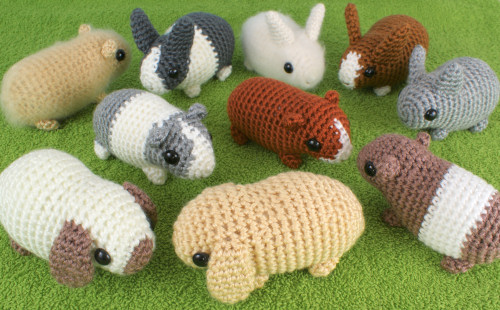 Awww, that's more like it!
(By the way, while researching for this pattern, I discovered that it's commonly recommended to not keep rabbits and guinea pigs together long-term. Luckily that never applies to the crocheted varieties, who will stay as cute baby best friends forever!)
About the Pattern
I designed my Baby Guinea Pigs to be perfect companions for the Baby Bunnies – a match in size, style and simplicity, but of course with their own distinctive shaping and personalities.
My pattern includes a quick and easy Single-Coloured piggy (with optional brushing instructions, to make it fluffy as shown in my sample), and three different types of colour patterns. As with Baby Bunnies 2, the three marking types are graded by difficulty:
Test the waters by making your first simple colour changes for the Banded guinea pig.
Get your feet wet with a few more colour changes for the Blazed markings.
Wade into multiple changes per round with the more complex Dutch markings.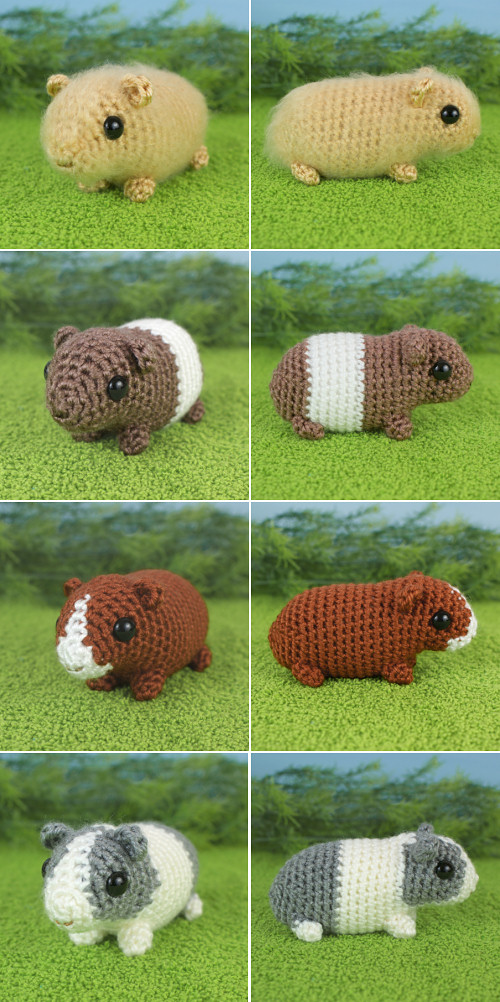 Top to bottom: Single-Coloured, Banded, Blazed, Dutch
And if you want even more choices, you can go even further by mixing and matching (use the Blazed head with the Banded body, for example, or use the Dutch foot colours on any of the other piggies) to really customise your guinea pigs!
You can pick up the pattern from my shop right now (but don't miss the discount below!) I can't wait to see all your cute baby piggies. 🙂
If you're not quite ready to buy, how about adding Baby Guinea Pigs to your queue or favourites on Ravelry so you don't forget about it?
Baby Animals CAL (& Discount!)
The April PlanetJune CAL starts tomorrow, and its theme is Baby Animals – perfect timing for crocheting up some Baby Guinea Pigs (and maybe a few Baby Bunnies too, and some turtles, and an octopus, and…)
But here's the great thing: you really don't have to limit yourself. One of the nice things about my baby animals patterns is that, being small, they're much faster to complete than larger amigurumi, so you can make lots of them! Here's a sampling of your pattern choices: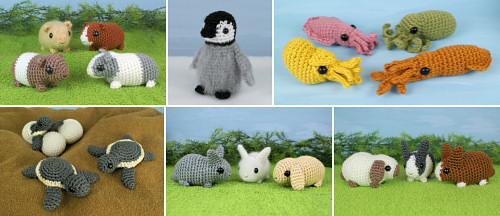 Ready to get started? Hop across to the PlanetJune Ravelry group and you'll find a special CAL discount on the Baby Guinea Pigs pattern waiting for you in the Baby Animals CAL thread! Join us and let's see how many baby animals we can crochet in April. 🙂