Thank you for patiently waiting for the debut of the AquaAmi Sea Turtle pattern. It's taken a while to produce because this pattern is a whopper! The pattern is 13 pages long and includes over 20 step-by-step photographs and explanations so you can crochet a perfect sea turtle of your own.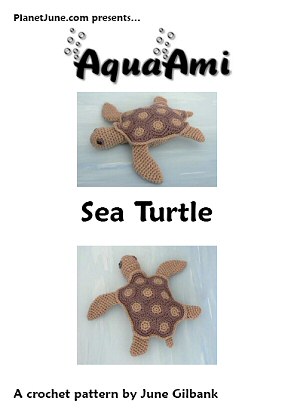 More info about the pattern: there are a lot of steps, but they aren't difficult! I would classify this as an intermediate level pattern – although the assembly is more complicated than my usual patterns, the entire turtle is worked in standard amigurumi fashion (single crochet in the round), with just a few hdcs thrown in! And, if you still worry you may have difficulties, I am always happy to answer any questions by e-mail 🙂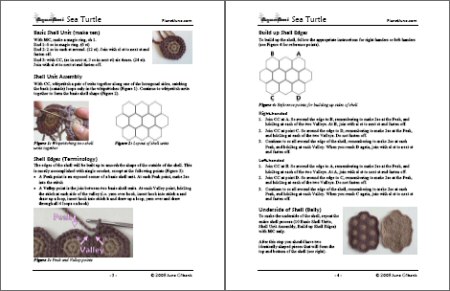 Also, why not take advantage of your last chance to purchase your favourite PlanetJune patterns at 2007 prices? Save $.50 per pattern and $1.25 on the sets of 3 AmiDogs or AquaAmi (sale prices are automatically applied). You have until May 10 2008 to take advantage of this offer – don't miss out! All patterns are available from the pattern store.
PS – I will be at the Creativ Festival all day today, but will process all orders tonight when I get back!