AmiDogs Set 2 is here! Now you can make your own amigurumi doggies:
Boston Terrier
Jack Russell Terrier
Beagle
The Boston Terrier, Jack Russell Terrier and Beagle patterns are available individually, or buy the complete set for a special price.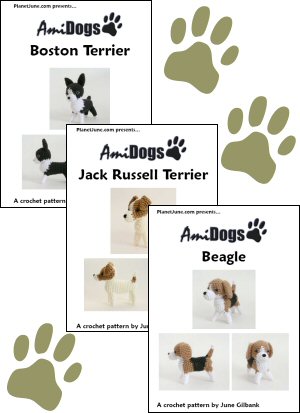 Order your patterns directly from PlanetJune.com and the pdfs will be e-mailed to you.
Do you know someone with a Boston Terrier? How about a Jack Russell? Or a Beagle? Don't you think they would love a little crocheted version of their sweetie for Christmas? There's still time! Buy the patterns today and you'll receive them in your inbox today – that gives you two whole weeks to crochet them and put them under the tree!
Or do you know a dog lover who crochets? How about sending them some patterns for Christmas? Shop from PlanetJune.com and spread a litle holiday cheer 🙂