I am, in theory, crocheting the 63 squares afghan, although the 26 squares I have completed have been sitting in a box for almost 2 years without being touched. Last week I found the Crochetville 63 Squares Crochet-Along, and now I've been inspired to get started again.
I crocheted one new square, and started a second, and then compared them with my previous squares. Disaster! Somehow my new squares were over an inch larger than the old ones… I think I must crochet more loosely now than I did when I started the afghan. I had to unravel all my new work (sob!) and start again with a smaller hook.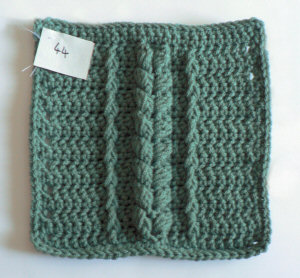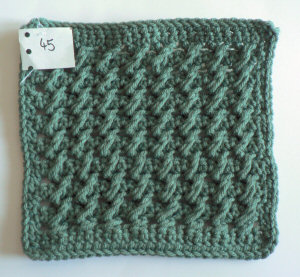 I finished the above two squares at the weekend, and thought I was back on track, as the sizes matched my old squares. But apparently I was unable to count when I started this project… the edging is supposed to be 112 stitches around for each square, so all the squares can join nicely together. I really don't know what I was thinking, but some squares were a few stitches short and some a few over; not one was exactly 112 stitches! Being the perfectionist that I am, I really can't leave them like this (plus I want the boring task of joining all the squares together to be as painless as possible) so I am unpicking the edges of the 26 squares I had already completed and re-edging them. Almost there – 7 more to go.
In my defense, I had only just started crocheting at the time, and didn't really understand what I was doing. I also crocheted 'wrongly' by only crocheting into one top loop of the previous stitch instead of both, but I am going to leave those 'wrong' squares alone – they still look nice, and it'll be a reminder to me of how much time passed as I crocheted this.
Status: 28/63 squares (44%) completed