Disclaimer: this is the easiest project ever, and I feel like a cheat even calling it a project! But I'm sure some people will find it useful, so here goes…
I bought a carved soapstone egg while in England, but I want to stand it up for display purposes, and of course it won't stand without assistance. FIMO to the rescue…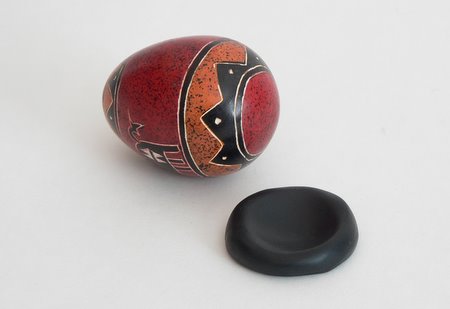 Take a blob of polymer clay in a colour that coordinates with your egg. The size depends on the size of your egg – it has to be large enough to support the egg. Play with the clay until it is soft, then roll it into a ball. Place it on your baking surface (I use a ceramic tile, but you could use a cookie sheet with a piece of aluminium/aluminum foil on top).
Push the clay down onto your baking surface so it has a flat base and a flattish top (if you use a hard flat surface to push gently down on the clay, you'll avoid fingerprints – I don't bother and just smooth the prints away later with my finger). Now take your egg and centre it upright over the clay, then push it down into the clay to make a deep depression in the top of the clay that is the same size and shape as the base of the egg. Remove the egg from the clay. Gently smooth any uneven patches with your finger. Decorate if desired.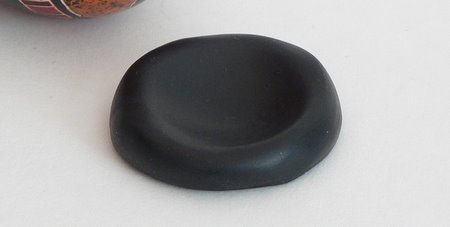 Do not lift the clay from the baking surface – you want the base of the stand to stay flat. Transfer the baking surface to the oven and bake according to manufacturer's instructions. When it has cooled, you can pop the clay egg stand off the baking surface if it has stuck – it won't be baked onto the surface.
Paint, finish, varnish etc, if desired – I left mine plain black so as not to detract from the egg. Place your egg in its stand and admire!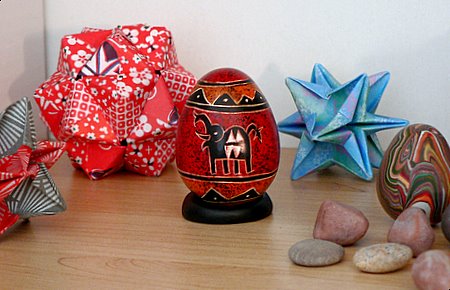 *5 minutes does not include the baking time, obviously!