Get Started!
If you're looking to try punchneedle for the first time, you have four options for what to make, ranging from buying a kit to designing your own pattern. Below, I'll explain a little more about each option so you can choose which one most appeals to you.
Note: Whichever option you choose, you'll also need to pick up basic punchneedle supplies before you can start!
1. Buy a Kit
A punchneedle embroidery kit includes a pattern pre-printed onto fabric and all the floss you'll need to complete the design.
Note: Be careful - a kit won't include the other supplies you need (a punchneedle tool and hoop) so you'll still need to buy those separately!
Here are a few examples of kits (click any of the pictures to jump to the kit details on amazon):
Tip: Most punchneedle patterns are designed in the country/primitive styles. If, like me, you're not a fan of these styles, you may find it difficult to find many kits with modern designs that you like.
2. Buy a Downloadable Pattern
If you buy a pattern, you can transfer the pattern onto fabric and use it as many times as you want, and change the colours if you wish. PlanetJune punchneedle patterns are instant downloads as PDF files so you can start working immediately on a vibrant, colourful design!

3. Design Your Own Pattern
This can be as simple as a couple of geometric shapes or as complex as an intricate drawing. A design made from simple shapes with no fine details is easiest, especially when you're just getting started.
This is the very first piece I punched, based on a photo of my Fuzzy Penguin and Seal (see the original photo here!):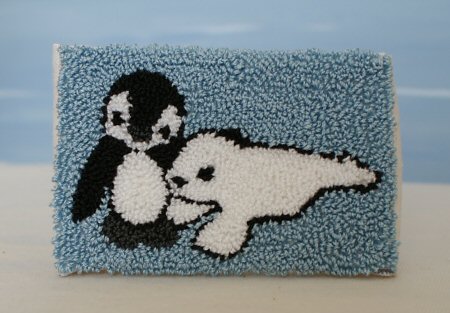 And here's one of my more recent pieces, of a butterfly (see more details here):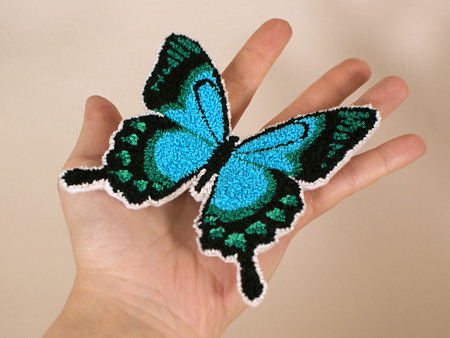 Tip: To design your own punchneedle piece, all you need to do is draw a picture, transfer it to your fabric, and then fill in all the areas with colour.
4. Freestyle
If you're feeling adventurous, just get started by punching directly onto your blank fabric. For example, this little random square-in-a-square piece I made could be filled out with more colours and shapes surrounding it: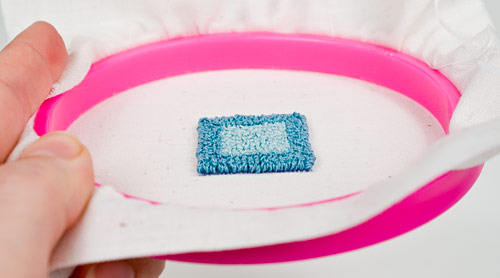 Tip: It's like painting with thread - make whatever shapes you want, then fill in all the remaining space with a different colour, and you're done! Just don't leave any empty spaces within your design, or it'll make the design 'blur', as the edge loops will flop into the gaps.
The Punchneedle Handbook
Whichever option you choose, I recommend you pick up my ebook, The Punchneedle Handbook - with its clear step-by-step photos, it'll be your go-to reference for punchneedle instructions, techniques, and troubleshooting tips. Download it now and you can start learning straight away!
---
This page includes Amazon affiliate links for all my recommendations. If you buy through my links, I'll make a small commission, at no cost to you. Thank you for your support!