Sometimes an idea is so simple you can't believe it never occurred to you before – and this is one of them.
I have a system for organising my crochet WIPs (works in progress): each project gets its own zip-lock bag or plastic tub, and the yarn, hook, swatches or prototypes, completed pieces, and any other project bits all stay together until the project is finished. But I have a lot of designs on the go these days, and the WIP bags and boxes were piling up all over my office. Furniture here is expensive, so I couldn't just run out to buy an inexpensive storage solution as I would have in Canada. Then, inspiration struck!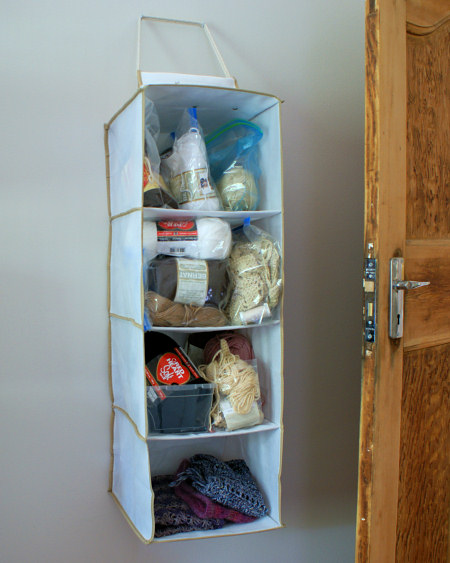 I bought this canvas hanging closet organiser when we first moved to South Africa and our temporary apartment had no storage areas except for the built-in closets. Once we moved into our house and all our clothes arrived, we needed all our hanging space for clothes, so the organiser was forgotten, until today.
A minute with the Dremel and a tiny drill bit, a couple of white screw-in cup hooks and an offcut of rope, and voilà: an instant WIP organiser. I've hung it in the wasted space just beyond the door in my office – and there's actually room to add a 2nd one next to it, if my number of projects expands further…
Each project is still contained in its bag or box, but now I have a place to store them all together for easy access. The bottom shelf is reserved for items waiting to be photographed – I had to remove several amigurumi before snapping this pic, as they aren't quite ready to show their faces in public yet 😉
It doesn't look bad, and it cost nothing as I already had everything I needed. Obviously, this wouldn't be sturdy enough for heavy storage, but a canvas organiser is perfect for yarn projects. I can already tell that I'm going to love being able to see all my WIP designs at a glance and not have to hunt to find the appropriate project bag when I need it!