I love my yarn ball winder! Not everyone already has (or even knows about) this useful tool, so I thought I'd share today why I find it so useful in my crocheting life, and whether getting one may help you too.
How to Use a Ball Winder
A yarn ball winder is a simple mechanical tool for quickly winding yarn into a neat ball.
To use, it, load one end of your yarn through the metal guide arm and across the slots at the top of the cone, then turn the handle and the yarn will wind onto the cone (see my photos near the end of this post for examples). When you've finished, tie the final end of the yarn around a couple of strands on the outside of the yarn ball so it doesn't come undone, then pull the 'cake' of yarn off the cone.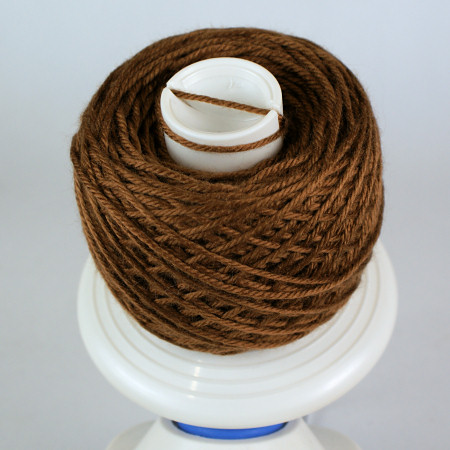 The finished 'cake' isn't shaped like a hand-wound ball, but has a flat top and bottom (which makes it easy to stack and store). And the starting end of the ball (that ran across the slots at the top of the cone) is ready to be used. Pulling the yarn from the centre of the ball instead of the outside means the ball won't roll around while you work.
My ball winder is like this one (amazon link) but there are other similar models also available on amazon and at yarn/craft shops (e.g. the KnitPicks ball winder is a popular less expensive option). I'd recommend you check reviews before you buy one, but, for what it's worth, I've never had any problems with mine – it runs smoothly and quietly.
Why I Use It
A yarn ball winder is invaluable for turning a hank of yarn into a beautiful centre-pull ball. (This is especially easy if you have a yarn swift to hold the yarn for you while you wind it, but, if you don't have one you can ask a helper to hold the loop of yarn from the hank taut between their hands while you wind it.) When I used to buy a big hank of laceweight yarn to make a shawl, it'd take me literally hours (and many tangles) to wind all the yarn by hand. Now it takes me mere minutes to wind 400m of yarn ready for use.

A hank of yarn (front) and a centre-pull ball (back)
But that's not the only use I have for my winder; it's really useful for my amigurumi yarn too! Once I've used over half a skein of worsted weight yarn, the remainder doesn't hold together well any more. If you store it in that state it can tangle easily, and if you store lots of partial skeins together, you could end up with a giant yarn mess that takes hours to untangle. (I'm speaking from personal experience, here…)
Since getting my ball winder, I re-wind all my partially-used skeins of yarn into tidy small balls. They stack more neatly in my drawers, and don't get tangled any more! In case you're wondering, I need all these leftovers for my amigurumi projects – you never know when you might need just a few metres of an unusual colour to make a specific thing, so I never throw away any yarn over a couple of metres long (and btw I even save the shorter lengths too, to make pom-poms – nothing goes to waste in my studio).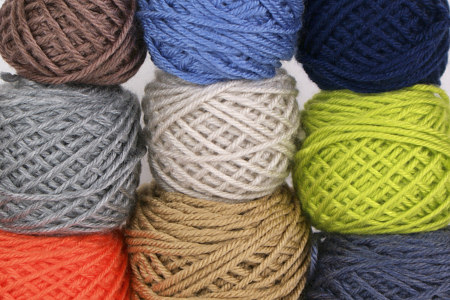 Partial skeins wound into neat balls
My Special Trick
I do something extra when I wind yarn balls that makes a huge difference to my crocheting experience. I've never seen it mentioned anywhere else, so I thought I should share it with you: I like to wind each ball twice.
As soon as the ball is complete, I remove it from the winder and sit it on the table next to the winder, then reattach the end from the centre of the wound ball to the winder and re-wind it into a new ball, letting the yarn flow through my fingers with a light tension as I wind it.
As you can see, the first winding looks fine, until you compare it with the result of the second winding: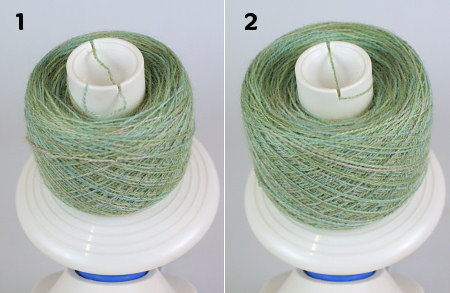 The same hank of yarn, wound twice: the first winding is tiny compared with the second!
Why does this happen?
Let's compare what happens during the first and second windings:
With the first winding, the tension on the yarn can be uneven as the yarn tugs on the swift to move it, or the skein flips about on the floor as it unwinds, or the fibres of two strands of yarn are slightly stuck together and it takes more force from the winder to pull them apart.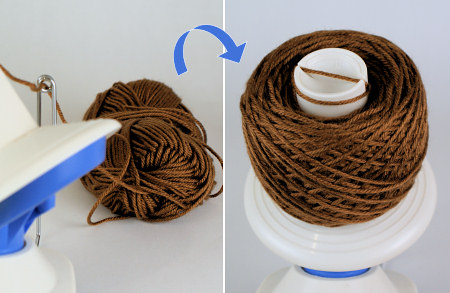 First winding: partial shop-bought skein to centre-pull ball
With the second winding, the yarn comes from a centre-pull ball, so it winds very regularly, as nothing is moving apart from the strand being wound. As the yarn has only just been wound into the first ball, any loose fibre ends haven't had a chance to snarl together, so the tension on the yarn is low and steady as you wind it.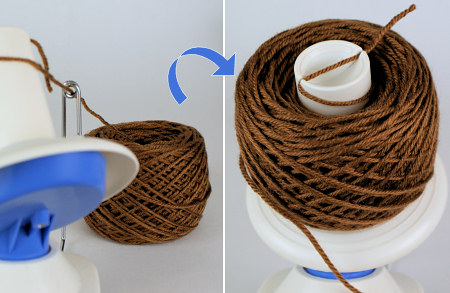 Second winding: centre-pull ball to lower tension centre-pull ball
Why does it matter?
If you keep your balled yarn wound tightly:
The yarn is kept in a stretched state, which will affect your gauge when you crochet or knit with it.
There's more chance of the yarn strands sticking together into a clump – this is especially likely to happen with a yarn like mohair or alpaca, where the loose fibre ends along the yarn (visible as a fluffy halo) can grab onto each other. When you pull on the centre yarn end, a clump of yarn strands can come out together from the ball instead of one single strand, or, even worse, the yarn may not come out at all!
The longer you keep the ball wound like this, the worse the stretching and tangling can become.
The second winding is actually much more fun to do as it winds so smoothly, so it adds very little time to the process. And what's a couple of extra minutes of winding time compared with the many hours you'll spend using the yarn?
In my opinion, it's definitely worth winding your yarn twice: the result is an ideal yarn ball with neat low-tension wraps that put no stress on the yarn. You can keep your yarn wound in this ball for a long time without having to worry that it will become stretched out or will be snarled up when you try to use it.
---
Verdict
If you crochet or knit and don't already own a ball winder, I'd highly recommend you pick one up, or at least put it on your wishlist. It's time-saving, and fun to use. Even if you don't buy yarn in hanks, it makes a huge difference in keeping the partial balls of any type of yarn in your stash tidy and organised.
If you already have a ball winder, please feel free to add your experience and tips in the comments below 🙂