…than a good cup of tea. We even import our tea from England because it's just not the *same* in Canada. Our teapot is round and comforting, but our precious tea gets cold before hubby can have his third mug.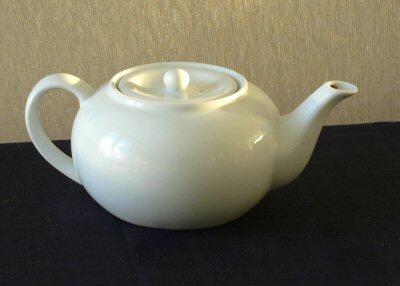 As a (slightly belated) Christmas gift, I've made him a quilted tea cosy. I've seen knitted tea cosies that have holes at the front and back for the spout and handle, but the only quilted tea cosies I've seen are like giant hats, and you have to remove them to pour the tea. Maybe it's just easier that way, because the knitted fabric will stretch to fit over the teapot appendages, but quilted cotton obviously can't do that. But why should that stop me – there has to be a way to make a quilted tea cosy that you don't have to remove to pour the tea…
I played around with folding a piece of paper until I found something that looked about right:
Starting with a rectangle for each side (dimensions depend on the size of your teapot), sew line A to line B and line C to line D. Then sew the two sides together along lines E and F. These lines are dotted because the easiest way to get the angles right is to NOT measure these lines initially, but draw them in after sewing A-B and C-D so E and F form one straight line along the top of the cosy.
I started by quilting this cat and mouse fabric together with extra thick batting and some scrap cotton on the back (using curved lines to avoid cutting any cats in half with the quilting!) and then cutting it in half to make my two rectangles: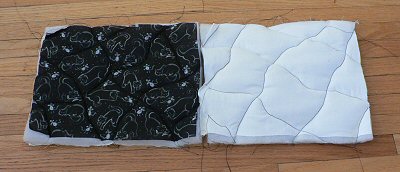 Left: front after quilting; right: back after quilting
I sewed my A-B, C-D, E-E and F-F lines. The double layer of extra thick batting proved too much for my sewing machine, so I had to finish them by hand. I then trimmed the resulting triangles of batting that I had created inside the cosy. I repeated the process using black cotton (unquilted) to form the lining, and tacked it wrong sides together with the cosy.
I handmade bias tape from the same fabric using the Dread Pirate Rodgers' Continuous Bias Tape instructions. I have never made bias tape before, and this method worked really well for me – the best part was cutting the tube I had created into a long spiral and it magically turned into a perfect bias tape strip.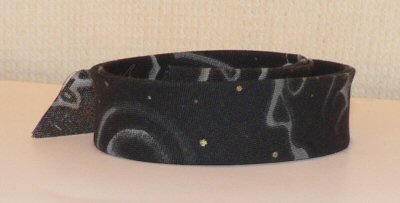 I applied one long strip of bias tape around all the edges using Heather Bailey's wonderful Continuous Quilt-Binding instructions. I sewed the two sides together under the spout and then sewed a black hook and eye under the handle at the back, so the cosy can be removed.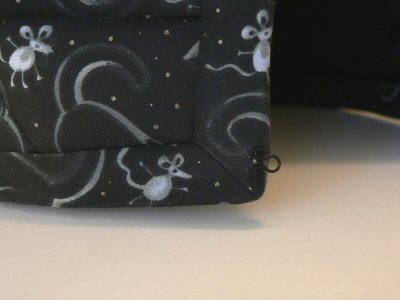 Ooh, a nicely mitred corner (thanks Heather!)
Finally, I finished the top of the cosy with a fabric covered button with a mouse nicely centred on it!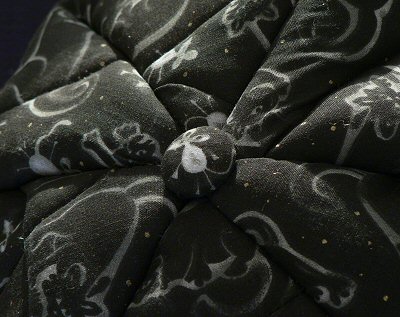 Et voila!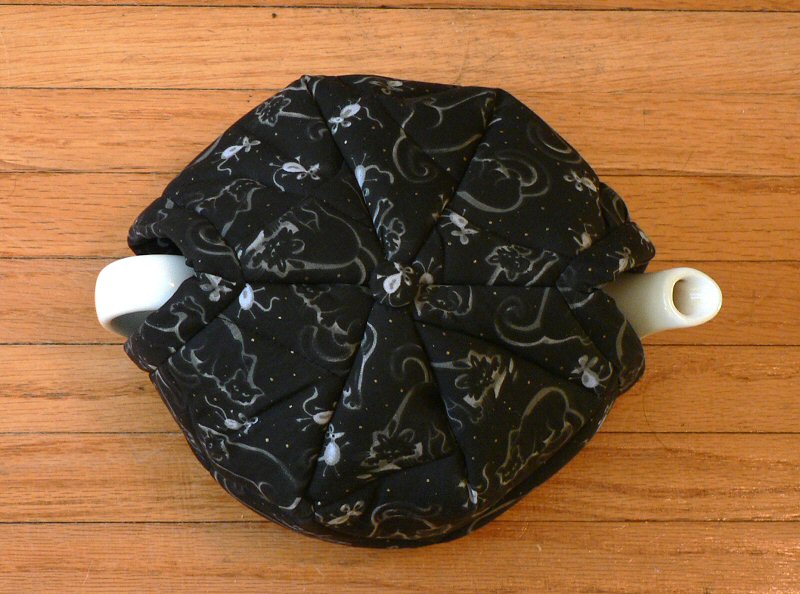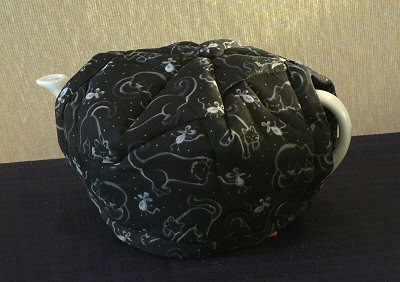 Hubby is pleased – in our preliminary testing, it kept the tea nice and warm for 2 hours! I am entering this in the GIFT category in this month's Whiplash contest.