I made a polymer clay egg out of leftover clay of various colours marbled together, and needed a way to sand it smooth after baking. Previously, I hand-sanded the ballon in my pig ornament but it took sooo long and I didn't really want to repeat the process for my scrap clay egg. I heard that you can make an electric sander from an electric toothbrush, so I thought I'd give it a go. Here are the instructions:
I started with a cheap battery-powered toothbrush (reduced to $1 at WalMart).

Use pliers to remove all the bristles from the brush head. Grab a section of bristles firmly with the pliers and wiggle them from side to side until they pull out.

Repeat until the brush head is bristle-free.

Cut a small square of sandpaper just large enough to cover the face of the brush head.Tips for cutting the sandpaper to size:
I wasn't sure what sandpaper would do to my scissors, so I folded the sandpaper back and forward along the line I wanted to cut, and then it tore easily along that line.
Make sure you label the back of every little piece of sandpaper you cut, or you will get into a muddle!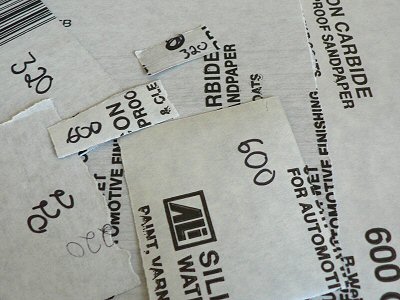 Stick a square of double sided tape to the back of the sandpaper square and attach it to the brush head.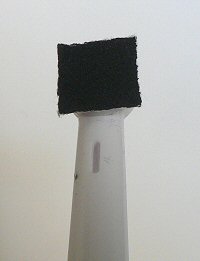 Turn on the toothbrush and get sanding!
If your brush comes with extra heads (mine came with 2 heads), you can attach a different grade of sandpaper to each head. If you do this, remember to mark up each head differently, so you know which is which! Otherwise, you can just pull off each square when you've finished with it, and tape a finer grit in its place. I've been doing this and it works very well. I have sandpaper in 220, 320, 400 and 600 grits.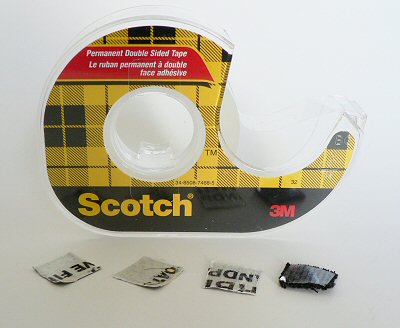 When your piece is sanded nicely, you can also make buffing heads by attaching a square of sturdy fabric to the brush head in the same way. I used a piece of thick corduroy.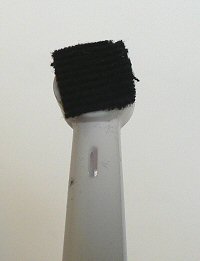 Here's my finished egg. It's really smooth and softly shiny, although I couldn't capture that well in my photo.