I remember Shrinkydinks from when I was a kid, but only had a chance to try it once, at my cousins' house. In case you haven't heard of it, it's a sheet of clear plastic that you draw on, cut into a shape and then put in the oven, where it rapidly shrinks to 1/3 the size. The picture you drew on it also shrinks down, giving you a detailed miniature image. I bought myself a pack from Michaels a few months ago, and finally had a chance to try it out this weekend. I have to say that Shrinkydinks are MAGICAL…
I rubber-stamped a bird image a few times, and coloured the images with regular coloured pencils. I also tried stamping my website logo. I bought a 1/8″ hole punch to make holes around the edges. Here's the result (click for larger version):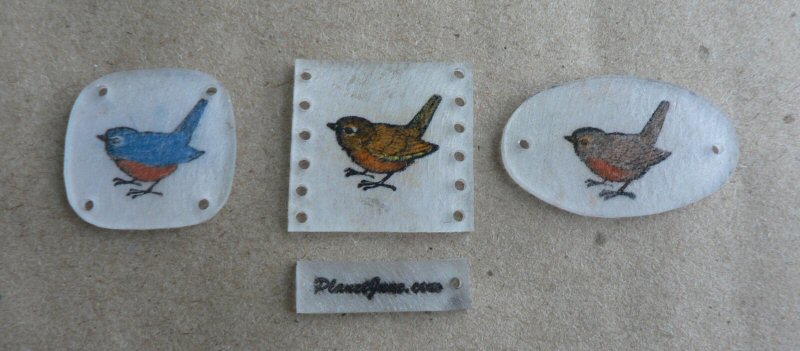 The stamped image on the left came out too faintly. I'm happiest with the middle image because the coloured highlights I added really stand out. It looks like bright colours have the best effect. By the way, for scale, here's the size of the original rubber stamp: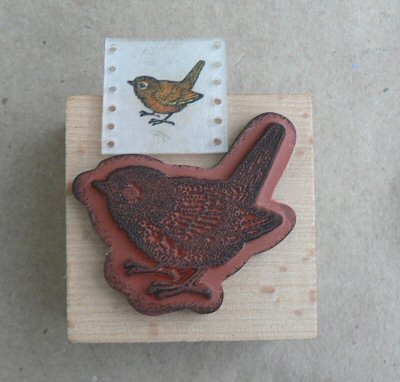 My website logo isn't as pretty as the birds. You're supposed to stamp/draw onto the rough side (the underside) of the plastic, but that means the image gets reversed when you turn it over to the smooth side, so anything with text has to use the rough side of the plastic as the finished side. So, out of interest, I tried stamping onto the smooth side of the plastic: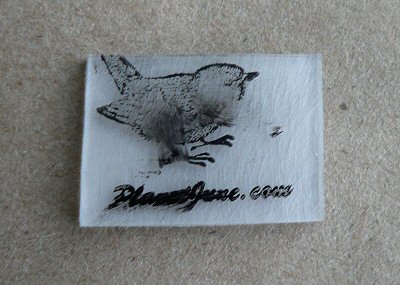 Yeah, not so good. 1) the ink doesn't dry, and 2) even putting it in the oven doesn't set it. I suppose the only way would be to stamp it, bake it carefully without smudging the ink, and then use a spray fixative.
Now I've finished the experiments, I'm looking forward to actually making something with Shrinkydinks! It's so much fun watching the pieces of plastic curl up and shrink in the oven, and then flatten back down as much thicker, but much smaller pieces.