Ugh, I hate the word shroud! Not sure what else to call this though.
Dave's telescope is designed to be collapsible, so it doesn't have a solid tube; it just has 3 poles connecting the top and bottom of the telescope.
He asked me to make a removable fabric tube to keep light out of the telescope. It was complicated to design as the scope has bits sticking out  – I kept going back to the scope for 'fittings' as I started each part.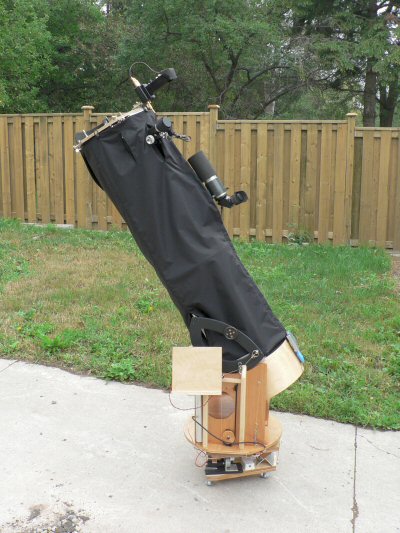 I made this out of two layers of ripstop nylon, so that no light can get in. The top stays up with elastic loops that pass over the top ring of the scope and fasten around buttons on the shroud. There are 2 slits (reinforced with bias tape) near the top for access to the eyepiece and filter wheel. I left the side seams open at the bottom for the pole supports, and the shroud closes below the supports with velcro. 
The shroud can open out flat, and it attaches around the body of the telescope using two zips; one zips up from the bottom of the telescope, and one zips down from the top, so there is room for the finder scope to move up and down vertically by partially unzipping one of the zips.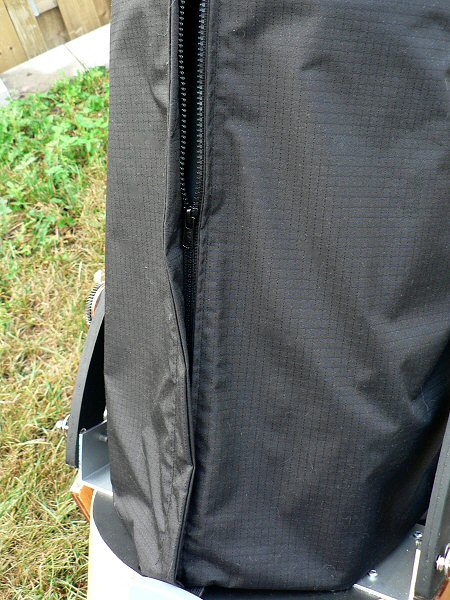 Lots of work, but it looks pretty good, and, more importantly, it does what it's supposed to do – keeps stray light out of the telescope.