In the Fall 2006 issue of Crochet me, there was a crochet-along to make a Sweet sweater. I really wanted to participate, but I had to finish my afghan first, and then I needed to give my wrist a break from crochet for a while, so I bought some yarn but didn't get started. Now the official Sweet crochet-along is finished, but that's okay…

I had bought 4 balls of Lion Brand Homespun in Regency because I wanted something bulky enough to crochet up quickly and keep me warm, but I can't tolerate wool against my skin, so I needed a soft acrylic yarn. I knew I wanted to adapt the pattern to be long-sleeved, but still reasonably fitted. I used a size J hook and half double crochet stitch.
First attempt: I noted the comments from others who completed the CAL and found the neck opening to be too small, so I started off with a 7″ measurement at the back of the neck. I had crocheted down from the shoulders to the bust and completed one and a half sleeves before I noticed that the width of the body was several sizes too large for me. I decided to write it off as a "practice" and start again (reusing the yarn from the first one as I needed it).
Second attempt: I used a 5″ neck measurement and a deeper V in the front, and it worked out much better. When I got to the bust, it was still a bit big, even after some decreases at each side, so I switched to an I hook down to the waist, and then back to a J again. I edged the neckline, cuffs and bottom edge with my new favourite edging, reverse single crochet. The finished sweater used exactly three balls of Homespun.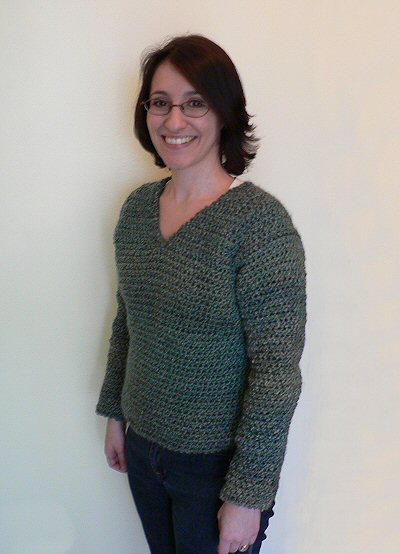 I would definitely make another one of these at some point, with some variations in yarn and stitch. The top-down construction is very clever as you can try it for fit at any point and adjust it as you go. I can't believe I've crocheted a wearable article of clothing! It's really warm and cosy.