Over Christmas, we watched David Attenborough's fantastic Life series, and I've had tiny frogs on the brain ever since…
I worked so hard all day yesterday (on the secret project) that I was begging myself to do something relaxing and unrelated to work last night, so I got out the polymer clay and started mixing colours to make a Strawberry Poison-Dart Frog like the one that captured my imagination on Life. While we watched a movie on TV, I played with the FIMO and, 2 hours later, this is what I ended up with: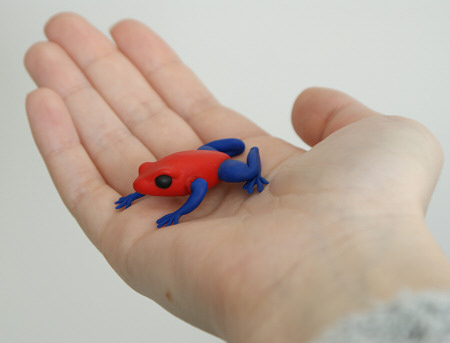 Strawberry poison-dart frogs (Dendrobates pumilio) are found in several colour morphs, but the most common (the one I made) is called Blue Jeans for its blue legs – isn't that adorable?!
I was aiming for a life-sized sculpture – David Attenborough had said that they are only 1 inch long and I'd written that down in my 'ideas' notebook along with my sketch – but I didn't quite manage that. My frog's body is 1 1/4″ long and including the legs sticking out to front and back, the finished sculpture is 1 3/4″ long (I have small hands, so it's probably smaller than these photos make it look).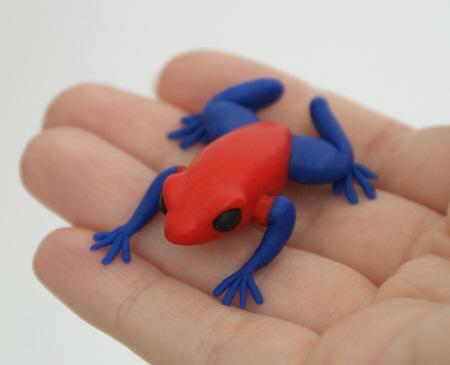 I've surprised myself – I didn't know I could do this! Yes, it did take me 2 hours, but most of that was spent on the legs. I hadn't really considered that I'd have to make 16 teeny tiny frog toes until I got to them – not an easy task! I'm happiest with the shaping of the red clay around the eyes – it turned out exactly how I'd hoped.
I think my crafting 'style' may be to make things so cleanly that they look like they'd be really easy to make, even though they aren't. I see it in my crochet designs too – I simplify the shapes and colours to make my patterns easy to follow, but it's finding a way to simplify them but to keep the most important features of whatever I'm trying to make where this 'style' comes into play.
There seems to be a crossover between the different crafts that I do: I don't think I could have made this frog without my years of examining the shapes of animals for my crochet patterns. I suppose you could call it an "artist's eye", although that sounds a bit pretentious so I won't do that! But it's definitely interesting how my experience in one medium is indirectly improving my skill and confidence in a completely different medium.
Maybe I should make a matching frog in crochet and compare the two! What do you think?