Last April, we visited the Wellington Fibres Open House, to see the baby Angora goats and maybe pick up some mohair yarn for a future project. There were about 30 tiny little newborn kids who were absolutely adorable, especially when they started leaping about! We also saw the mill where the mohair fibre is processed and spun into yarn, which was very interesting, but I forgot to take any photos – the sweet little kids were just too distracting! It was still winter in Ontario, so the goats were being kept inside, hence my poor quality low-light photos, but you should get the idea: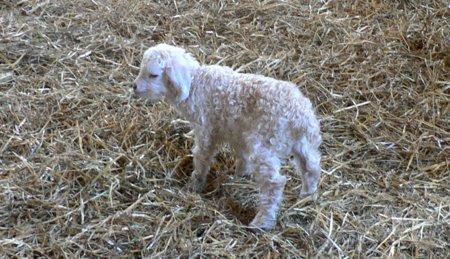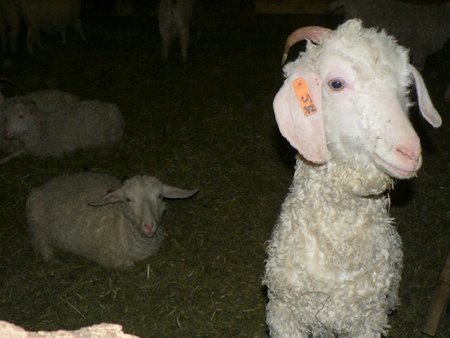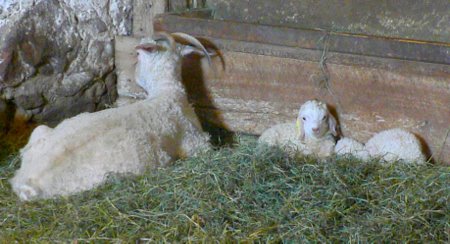 Awww, look at the little babies!
After seeing the goats in person, I really wanted some mohair yarn to play with. (In case you didn't know, Angora goats produce mohair; angora yarn actually comes from Angora rabbits!) Unfortunately for me, all the yarn on display in the shop was dyed in pretty jewel tones – not what I was looking for – and I couldn't see any natural undyed yarn. As it turned out, they did have some, but it wasn't ready to sell as it hadn't been washed yet. They let me buy it unwashed, and I've been waiting to find the time to wash it ever since…
Washing natural yarns scared me – I wouldn't want to accidentally felt the yarn together before I even had a chance to crochet with it! Enter Jacqueline from Soak, who saw on Twitter that I had yarn in need of washing, and kindly sent me some samples of Soak to try. What is Soak? From their website:

Keep the fibers you love looking great with Soak. This rinse-free formulation is perfect for washing your laciest lingerie, your softest sweaters, hand-made quilts and even baby clothes. Soak is gentle and deliciously scented with fabric-friendly ingredients that revitalize fibers so they look great and last longer.
Now that sounds good!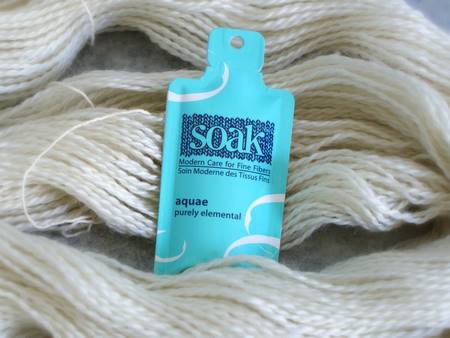 My unwashed yarn with a Soak sample
I ran some cool water in the sink, and added the Soak (I tried the Aquae fragrance, which was subtle and fresh-scented). I made sure my hank of yarn was tied together at several points so it wouldn't get tangled while wet, and then pushed it into the water so it got thoroughly wet.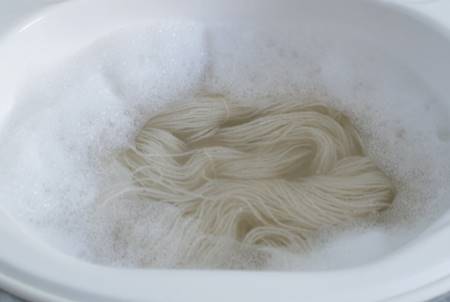 SOAKing my yarn
I left it for about 20 mins, then carefully removed the yarn, squeezed it out gently and then rolled it in a towel to try to get some of the excess water out. Then I hung it on a plastic clothes hanger over the bath to dry fully.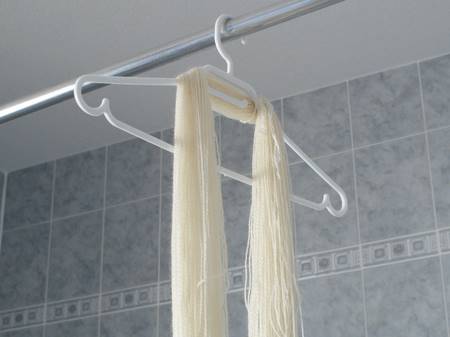 Clean yarn drying
Um, yeah. This stuff works – this is the dirty residual water after I removed my precious yarn: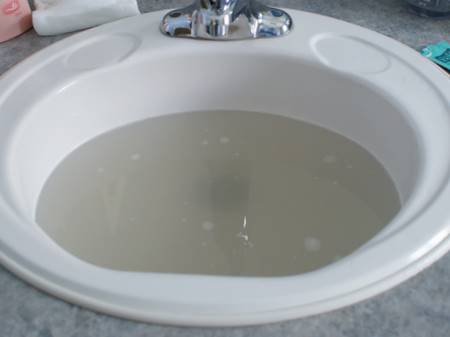 Yuck!
Convinced, I then used Soak in the Floral fragrance to wash my PlanetJune t-shirt (which I made with an iron-on transfer and I'm always scared to wash in case the transfer flakes or cracks) and the socks I crocheted last winter, with equally good results (although they weren't quite as dirty to begin with!).
I'm very impressed with Soak. It would be great for cleaning amigurumi – not needing to rinse it out means washing is a much gentler process for delicates. And I think I'll be using it to wash any of my punchneedle pieces that get dirty, too! All I have to do is decide which is my favourite fragrance (I like Aquae best so far, but I still have the Citrus, Celebration and Unscented varieties to try) and then buy myself a full size bottle.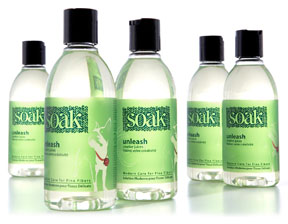 And now Soak have partnered with the wonderful Ravelry to release a new Ravelry-exclusive scent: Unleash, with a light, fruity, fresh, and crisp fragrance – sounds yummy. (It's currently sold out at Ravelry, but they'll have more in stock soon.) UPDATED: It's back in stock! I think I might be tempted to try this one!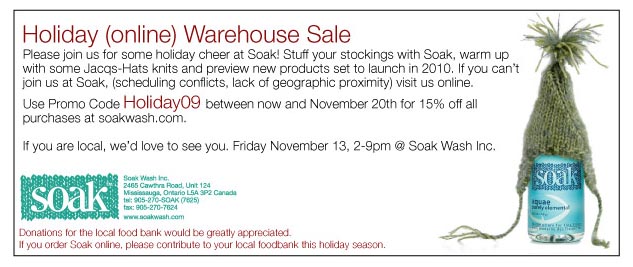 If you'd like to try Soak for yourself, I have a deal for you! Order online from soakwash.com by November 20th and use promo code 'Holiday09' to receive 15% off your order!