The August whiplash challenge is called 'wardrobe surgery' and involves refashioning an exisiting piece of clothing by deconstruction/reconstruction or embellishment/decoration.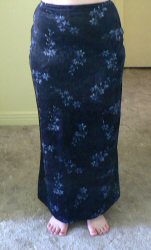 I looked through my old clothes and found this long skirt that I used to love in the mid '90s, but now it's hopelessly high-waisted and really doesn't do anything for my body type:
Yuck! I hope it didn't always look this bad on me! It's so unflattering…
Here it is laid out on the floor (inside out) so you can see the shape of it: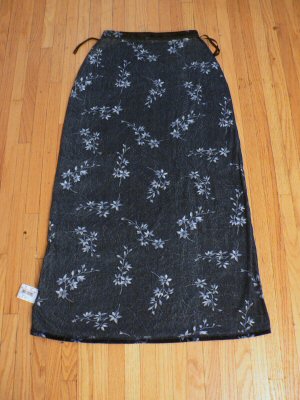 How did I turn this into the cute strapless dress shown below?
First I took in the side seams between the original waistband and the new hip area. I added two vertical darts at the front between the bust and waist to fit the bodice more closely, and then added two more vertical darts at the back from the shoulder blades to just below the waist, to fit the curve of my back.
I turned the old elasticated waistband inside the dress (which helps to keep it from falling down – always a risk with a strapless top), and took the bottom of the dress up by 12cm to bring it up to knee length. I used the excess fabric cut from the bottom of the dress to make straps, but the dress looked better without, so I removed them again. I was also considering making a fabric flower to accessorise, but I think the dress looks classy the way it is, so I'm going to keep it simple.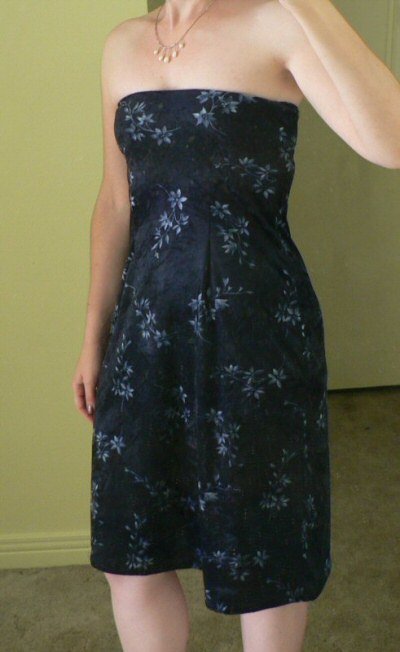 I love the fit of this dress! I can never buy dresses because of my pear-shaped figure, but this does exactly what a dress should do – fits around my top half, and floats over the areas I don't want to emphasise. It took a lot of pinning and re-pinning (and in some cases unpicking seams and trying again) before I got the dress to fit like this, but it was worth it!
I'm entering this into the deconstruct/reconstruct category on whiplash.