Now I'm over my deadline, I finally have time to make a dent in the huge to-do list of ideas I've amassed over the past few months while I've been too busy to work on any of them. I have 4 projects on the go already, but 'reorganise craft room/office' has to be the most important (if boring) of them all.
I'm posting this now in the hope that I'll finally be able to show you pics of my craft room next week (something I've been planning for a long time but it's always too embarrassingly disorganised to photograph). I hope you'll forgive a little mess – it's a working room and I have a lot of craft supplies, so it's just not possible to ever get it completely tidy!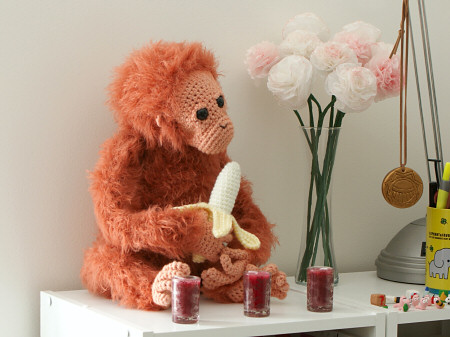 For now, here's a little sneak peek of the top of the cubbies that sit on one of my desks. One of the nicest things about making pretty things is getting to look at them: here's my orang utan and my tissue paper carnations. In a crazy 'night before the deadline' moment, I decided my orang utan looked a little hungry and freeform crocheted a little amigurumi banana for him (that's not weird, is it?!). I think he looks much happier now – what do you think?