I'm so glad my last post on building a unique and successful business by combining your passions and skills resonated with so many people – I hope I've inspired a few people to discover their own path to success. (And I also hope someone appropriates my crocheted baked goods with matching recipes idea – I still think that's an excellent hook for a business!)
Easter CAL
2012 may be the Chinese Year of the Dragon, but around these parts, it's definitely the Year of the BUNNIES! My Baby Bunnies crochet pattern seems to be irresistible – the bunnies are multiplying so fast, we have almost 20 entered in the Easter Crochet-Along already! We should have just called it a Bunny CAL – I think the other pattern options are feeling a little neglected…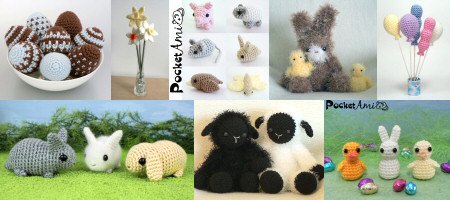 You'll find the bunny-making madness at the Easter CAL thread in the PlanetJune Ravelry group – if you're making bunnies this month, please come and share your pics 🙂
Review and Win contest
February's 'Review and Win' winner is Katalin G, with her Succulent Collections 1 and 2 review: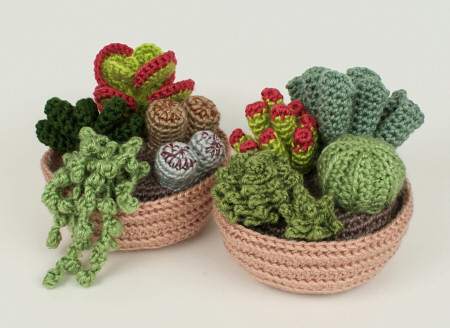 These plants look wonderfully realistic, yet they are easy and quick to make thanks to the smart design. It deserves to be a huge hit!
Congrats Kati – I'll email you to find out which pattern you'd like as your prize 🙂
The next draw will mark 2 years of me running this contest – that's 24 free patterns I've given away to reviewers! To be entered into this month's draw for a free pattern of your choice, just write a review of any product in my shop – thank you!
Craft Tutorials
I'm slowly adding my most popular craft tutorials as printable PDFs (donationware) in the shop. New arrivals this month include the ever-popular Shrink Plastic Rings, and my Offset Square Wrist Pincushion and matching Fabric and Felt Needlebook sewing patterns. The needlebook was previously only available in the book One Yard Wonders, so if you don't have that book, now you have a chance to make it anyway – and it makes a very sweet pins-n-needles set with the pincushion.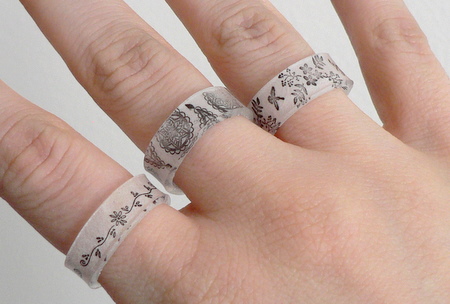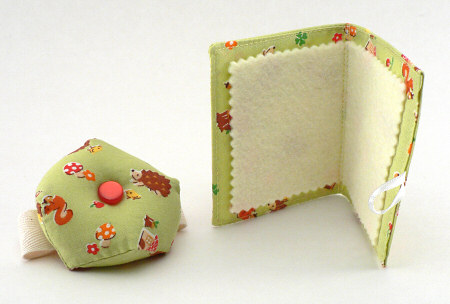 PlanetJune in the Press
Two current UK magazines have PlanetJune mentions: Simply Knitting April 2012 (they apparently cover crochet too, despite the title!) and Inside Crochet issue 27: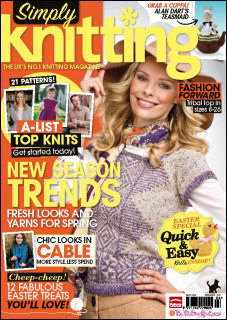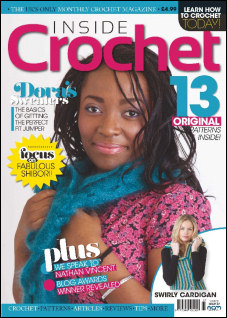 Simply Knitting included my Easter Eggs pattern at #6 in their "12 Treats for Knitters at Easter" article: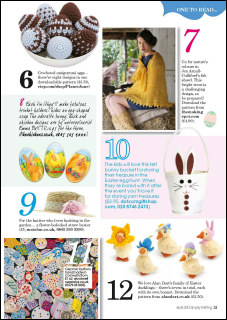 and Inside Crochet readers voted me as 2nd best crochet blog: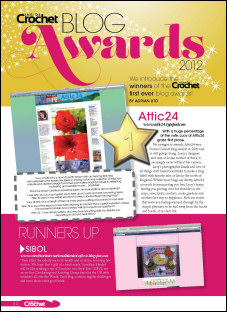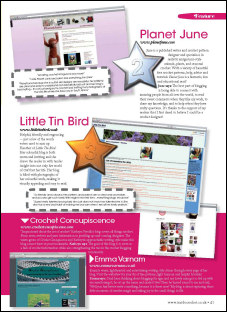 Thanks to everyone who voted for me in the blog awards, and welcome to any new UK readers who've found me through these articles – I hope you find lots to interest you here!