A quick Public Service Announcement…
In an effort to streamline my business, I've decided to discontinue my popular Amigurumi Essentials Kit. I still have a large box of kits, but once the remaining stock has gone, that'll be it!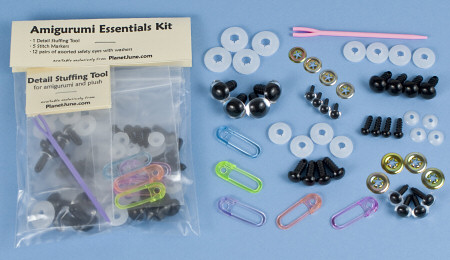 Note: I'll still sell my PlanetJune-exclusive tools (Detail Stuffing Tool and Stitch Markers), so you don't have to buy a kit if you just want my exclusive products – they aren't going anywhere for the forseeable future!
Think ahead to Christmas and buy a crocheter (or future crocheter!) on your list an amigurumi kit, or pick up one for yourself to test out a selection of black and clear eyes in all the common amigurumi sizes. Each kit also comes with the essential PlanetJune stuffing tool and a set of locking stitch markers. If you're on the fence about ordering, here are some tips that may change your mind:
Combine shipping and save! All my tools are very light, so shipping costs the same for up to 3 kits, or a combination of kits and lots of stuffing tools and stitch marker sets. (Just add the items to your cart and you'll see the shipping fee right away – it's the same cost for up to 100g of products.
Take advantage of my free bookmark promotion (available while stocks last) to get a signed Complete Idiot's Guide to Amigurumi bookmark in your package, to keep with your copy of my book. I'll even sign it to you – or your gift recipient – if you let me know your/their name!
Every order for one or more kits also includes an exclusive bonus coupon you can use on a future order from Suncatcher Eyes, so you can order more eyes once you've figured out which sizes and types you like best.
You'll find all my shippable products (kits, bookmarks, stuffing tools and stitch markers) in the Crochet Tools section of my shop. Don't wait until it's too late – buy your Amigurumi Essentials Kit(s) before they're all gone!