Over the past couple of weeks, I've started some purely recreational craft projects to keep my hands busy in the evenings and weekends so I don't accidentally start doing work again all the time. I've decided to try designing a couple of cardigans for myself. As I have no interest in becoming a professional knit/crochet-wear designer (I can't do everything!), I don't have to worry about taking notes or keeping my designs easy to follow, and I can hopefully tailor them to fit me, not the mythical average-sized woman.
To keep things interesting, I'm designing one in crochet (using some lovely Lion Brand Cotton Bamboo yarn that I've been hoarding for well over a year) and designing a knitted one too (and yes, this really will be my second knitting project ever, and my first attempt at purling!) – I'll teach myself the other knitting techniques I'll need as I go!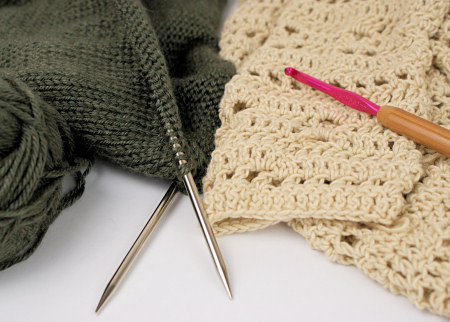 My WIPs: knitted and crocheted cardigans. I think I can do this!
Making any kind of fitted clothing is all very new to me, but I thrive on challenge and don't like following other people's patterns, so these are actually perfect relaxation projects for me. I can try them on as I go and adjust things if I need to. I really hope that my years of designing 3D shaping and beautiful stitch patterns will let me create clothing that doesn't look embarrassingly home-made or ill-fitting, but that remains to be seen…
I'll post photos and more details of each when I've finished them! I attached the first arm to the crocheted one last night, so that should be finished soon, but the knit cardigan is obviously going to be a very long-term project, assuming I can ever finish it. And that's just fine – no rush, no stress, no deadlines; I'm just enjoying the process.
And now for some other news:
Vacation Shipping
As I'll be visiting my parents later this month, I won't be able to ship any orders while I'm away. So, please, if you need any crochet tools (Amigurumi Essentials Kits, Detail Stuffing Tools, Stitch Markers), order them by July 12th so I can mail them to you before I leave! Any orders received after this date will be shipped on my return, on July 30th.
Note: only the Crochet Tools category of my shop will be affected by my vacation – all patterns are instantly downloadable, as always 🙂
Review and Win contest
June's 'Review and Win' winner is Haley B, with her Chunky Elegance Rug Trio review: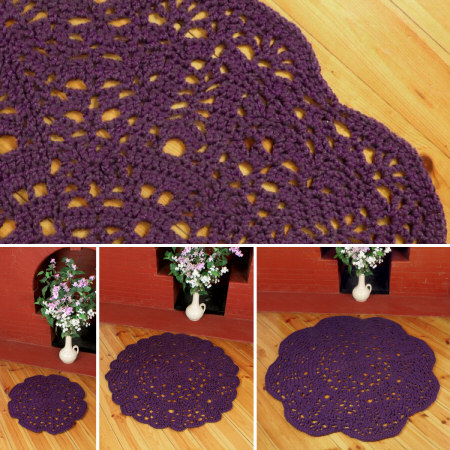 This is a wonderful pattern and easily customizable! I made mine with only one strand of bulky weight yarn and it is still very large – I also used two colors and it looks beautiful like that as well. With only one strand, I used about three and a half balls of yarn. I highly recomend this pattern; don't be intimidated by how intricate it looks because the instructions are very clear!
Congrats Haley – I'll email you to find out which pattern you'd like as your prize 🙂
To be entered into this month's draw for a free pattern of your choice, just write a review of any product in my shop – thank you!