Thanks to those of you who voted in my poll! As 78% of respondents said they would be interested in one or more doggy crochet patterns, I've been busy designing and now I'm ready to reveal my latest project: AmiDogs!
Press Release
AmiDogs by PlanetJune is a new range of amigurumi dog crochet patterns from the designer of the Fuzzy Friends collection. Each AmiDogs pattern is designed to capture a different breed of dog.
The patterns will be available individually and as value-priced sets of three. The initial release will include the first set of three patterns: Labrador, Dachshund and Shiba Inu. Suggestions and requests for future AmiDogs patterns are welcome!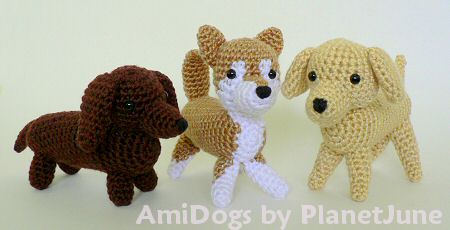 L-R: Dachshund, Shiba Inu, Labrador – click picture for larger version
AmiDogs Set 1 will be available to purchase within the next few weeks – sign up for the mailing list to be notified when they are released.
UPDATE: Looking for the pattern? You can find the AmiDogs Set 1 crochet patterns in my shop.