This isn't the post I wanted to write today, but thanks to recent events, I'd like to discuss the difference between inspiration/influence and copying when creating designs (I'm talking specifically about my crochet patterns, but the same applies to any designer in any field, whether they produce patterns or sell finished items based on their designs).
Many times in my almost 5 years as an amigurumi designer, I've experienced other 'designers' copying my designs and selling the resulting patterns. I'm not talking about the outright theft where a person buys a pattern, copies it, and then sells it as their own work: my experience is a less obvious, less tangible theft, where people look at my photos and replicate my design without ever having seen the pattern.
For those designers, I'm giving you the benefit of the doubt by assuming that you may not yet realise you've done anything wrong, and I hope that this blog post will help to clarify the distinction between inspiration/influence (acceptable) and copying (not acceptable).
My design process
To start, I'll talk you through the design process of one of my most distinctive designs: my Pteranodon (a type of Pterosaur). I spent many hours doing research before I could begin to create my design:
(Image attribution: all images below are links to the sites I found them on.)
I read up all about Pterosaurs and viewed photos of skeletons and pictures of artist's renditions.

I looked at commercially-produced Pteranodon/Pterosaur/Pterodactyl toys, both plush and plastic/rubber type.
I looked for existing knit and crochet Pterosaur patterns, so I could make sure my design would be original.
I checked to see if there are any Pterosaurs in popular culture (books, movies, TV shows, etc) that may influence people's perceptions.
Now, armed with all my research, I could begin my design process. I figured out what, to me, are the essential characteristics for my design, and what I could omit and still have it be recognisably a Pteranodon.
I interpreted those features to create shapes and an overall look that would fit in with my 'PlanetJune' style.
I worked out elegant methods to build those features into an amigurumi design.
I created a sketch of what I envisioned my final Pteranodon would look like.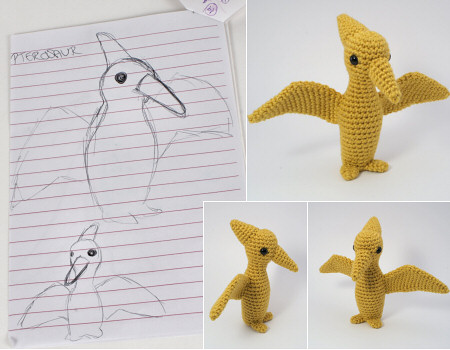 Finally, after going through all those steps, I could pick up my crochet hook and begin to crochet my sample and to create my pattern. As you can see from my sketch (sorry about the quality, it was never intended for anyone other than me to see!), 90% of the design was created before I ever picked up a hook – I just refined the proportions while I was crocheting to make it more elegant.
Two Scenarios (Designers A and B)
Now, let's say that a couple of fellow designers (for the sake of simplicity in writing I'll assume both are female) see my dinosaur patterns and are inspired to create their own.
Is this acceptable? YES, of course. I am not the first person to crochet a dinosaur, and I wouldn't want to be the last.
Designer A does some research of her own and creates her own interpretation of a Pterosaur in her own design style. Maybe it's crocheted in more than one colour; maybe it has an open beak; maybe it has legs; maybe its proportions are more realistic (or more cute'n'cuddly) than mine; maybe it has embroidered detail or crocheted textures; maybe it has felt accessories glued on; maybe it has big cartoon eyes, or any of a million other differences that make it her own design. Yes, it's a Pterosaur, but it's clearly a 'Designer A Pterosaur' – it fits in with the style of her other designs, and naturally any resemblance to mine will be based on the fact that we both used a real animal as our inspiration. Designer A decides to sell her Pterosaur pattern.
Is this acceptable? YES, unquestionably. I'm happy if I can inspire another designer in this way.
Designer B looks at my Pterosaur, figures out what crochet shapes and stitches she would need to replicate it, and makes a close copy of her own.
Is this acceptable? Let's say MAYBE. I'm not thrilled, but if people have the talent to replicate my work without purchasing my pattern, for their own personal use, I can't stop them. It happens. I'll survive. Those people would never have bought my pattern anyway, so I'm not out of any money as a result.
Designer B now decides to sell the pattern for 'her' Pterosaur.
Is this acceptable? NO, absolutely not.
What's the distinction between A and B selling their pattern? Let me explain:
Designer B has copied my design. No, she hasn't copied my pattern, but those design elements that I created in my research and development process listed above produced a design that is my artistic creation and my intellectual property; it's my interpretation of a Pterosaur. She has directly copied that without going through any of the work I went through to create it in the first place. If you show a picture of my Pterosaur to anyone who is familiar with the field of amigurumi, they'll know it's mine and will recognise my style.
Designer B is harming my income. By replicating my design style, she has cut into my market: anyone who wanted to buy a pattern for a Pterosaur and likes my style now has two choices for who to buy from. If she decides to sell at a lower price point, how many unwitting Etsy customers will choose my pattern over an almost-identical cheaper version? Designer A's Pterosaur does not harm my income: a customer will either like my style or hers, or both, and will buy the one they like best, or both. But nobody would choose to buy two patterns for practically the same design.
I'd like to make it clear that although events of this week have precipitated this post (and thank you to everyone who notified me of the copying in question), my intent is not to single out any one person – I've experienced copycats for years now, but I'm intentionally not showing any specific examples. It is possible that some cases of 'Designer B' that I have experienced are purely coincidental, but the more identical design elements that exist between the two patterns, the less likely it is that we reached the same point independently.
In Conclusion…
Recreating an existing design serves only one person: the person who has recreated it. Pattern buyers gain nothing from the addition of a second copy of the design, and the original designer only loses by the existence of the copy. If you're looking to build a career (or even a hobby business), then getting yourself known as a copycat is not the best long-term strategy.
If you instead put the effort into creating your own style and your own original designs, you can build a loyal following and, in time, become known and respected as an artist and a designer. It's not the easiest path, but it is, ultimately, the most rewarding.