This is the second post in my monthly series on the fascinating nature I encounter here in South Africa.
Fair warning: if you hate all insects and reptiles, you might want to close this window and not read the rest of my post.
Although I already have some interesting birds lined up for my next post, I'm going to focus today on cold-blooded creatures I've spotted in my new garden. Don't worry, there are no spiders or snakes in this post, I promise! But I'd like to share a few very cool and unusual creatures with you, if you're up for it.
Ready to continue?
First up, something very exciting to me: geckos! Of course, I have a crocheted one already, but that's not the same as this: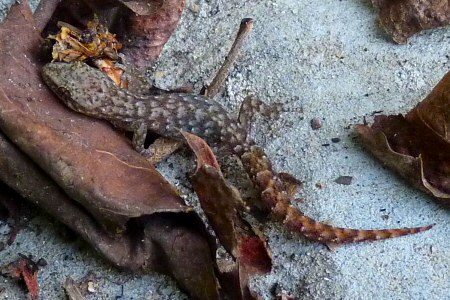 I think this is a Marbled Leaf-toed Gecko. They are very small; only about 3 or 4 inches long. We have at least 3 of them (and probably more) living at the bottom of our garden. They eat lots of small insects, so I'm very happy to have them around! This one is a bit camouflaged hiding amongst the fallen leaves in the above photo, but it's the best I've been able to get so far – they usually scuttle for cover before I can get into range, so we hear them more than we see them.
And next… you won't believe this one…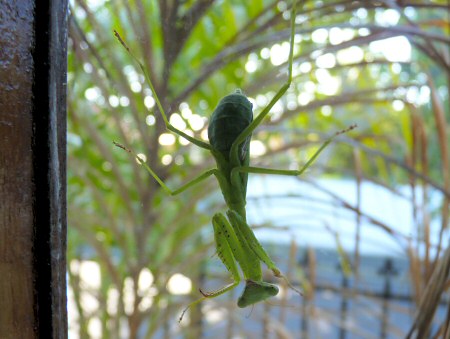 A Praying Mantis!! Amazing! (She's on the outside of the window, by the way, or I might be a little less excited and a little more freaked out.) She's quite small, as mantids go; only about 2 or 3 inches long, and she mostly just sits around on the palm fronds outside our window, like this: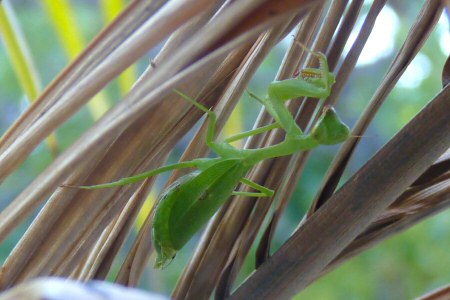 One day we saw her devour, over several hours, a baby gecko almost as long as she is – that was fascinatingly horrifying to see, but we couldn't stop checking back to see how much of the poor gecko was left. I did take a photo, but you mustn't look unless you're sure you want to… Sure? Okay, but don't say I didn't warn you: praying mantis eating.
And finally, when we first moved in, I wondered what these disgusting-looking blobs were up under the eaves of our roof: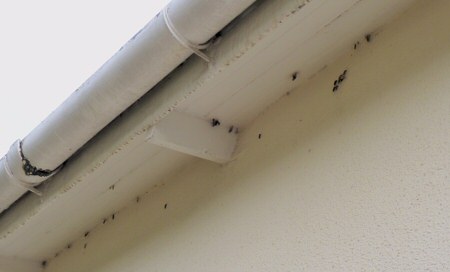 The answer is quite magical: it turns out we have a butterfly pupation station on one wall of our house! These spiky-looking Garden Acraea (acraea horta) caterpillars (below, left) climb up the wall to the safety of the eaves, where they pupate and develop a patterned chrysalis (below, right) while they undergo their metamorphosis: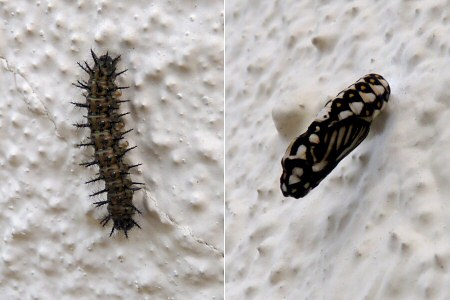 After a time, they abandon their cocoons and emerge as beautiful butterflies: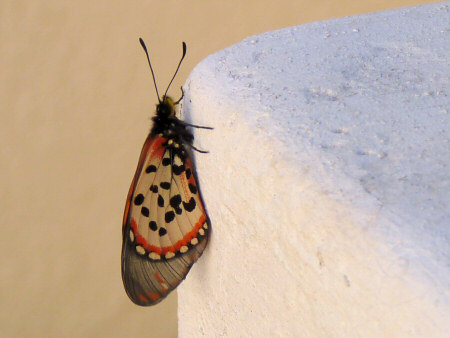 Apparently these Garden Acraea are one of the most common butterflies in Cape Town, but that doesn't make it any less special for me to be able to watch their transformation in my own garden! In the photo below, you can see that their top wings are transparent and only the lower set have the spotted patterning – cool, huh? On my to do list: find a native butterfly-friendly plant so we can encourage more pretty butterflies to visit.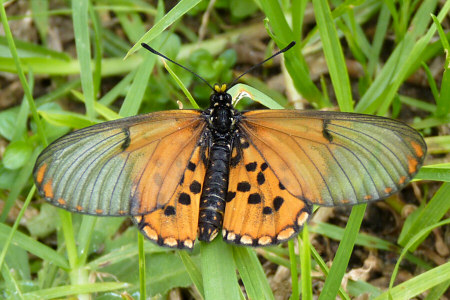 I hope this post hasn't made you too squeamish! I just thought these wild visitors to my garden were too interesting to ignore. I'll be back to the pretty warm-blooded animals and birds for my next wildlife report, I promise 🙂