If there are other crochet techniques you'd like me to cover in future videos, please leave a comment below, or email me (june@planetjune.com) with your suggestions!
Crocheted appliques are small flat embellishments that you can attach to larger crocheted pieces as decorative elements. I'm often asked for my recommendation on how to fix appliques to their background. There are different ways to tackle attaching an applique to a crocheted background, and the best method depends on what you're making:
Will the reverse side of the background be hidden – for example, on a cushion or a hat?
Will the reverse side be visible – for example, on a blanket or a scarf?
Or if you're attaching the applique to an amigurumi – for example adding crocheted eyes or spots – is it a decorative piece, or will it be played with?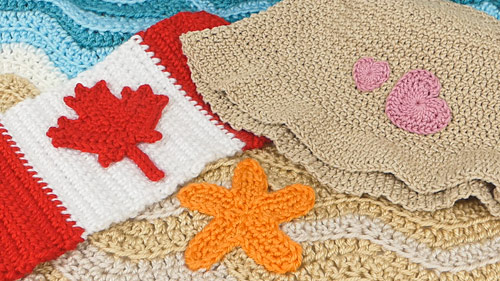 In my latest video, I'll show you the three different methods I use to attach crocheted appliques, and the pros and cons of each. You'll learn how to attach appliques with fabric glue, and two methods for stitching down appliques: the faster variation (for when the back of the piece won't be seen) and a neater method (for when the back will be seen).
Although there's no actual crocheting in this video, I've made right- and left-handed versions anyway, so you can see the shape of the crochet stitches and the way to sew them down exactly as you'll see them when you do it yourself! (I've also added text instructions with photos for those of you who prefer to read written instructions.)
I know this question will come up even more frequently as I add more applique patterns to my catalogue, so having a helpful guide is going to come in very handy, and I hope you'll find it useful!