I saw this post on Craftzine yesterday about the new Japanese fashion of wearing colourful haramaki aka 'belly warmers'. I think this is the best idea I've seen in a long time! Ever since the advent of low-rise jeans, women have been stuck with a little cold gap between the bottom of our shirts and the top of our jeans. This is a cool way to cover that gap, and why import one from Japan when we can all make our own?
I whipped this one up this morning as a prototype, so I left it plain, but just imagine how amazing it could look if you freezer paper stencilled a funky design on the fabric before sewing it…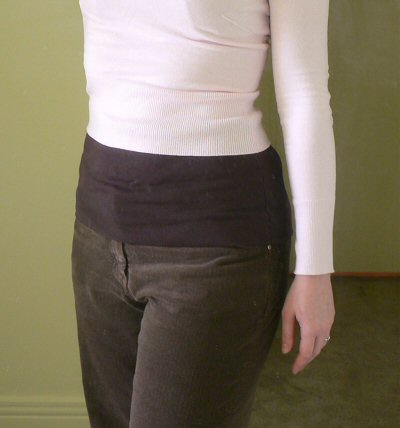 When it was finished, I tried it on and was surprised by how warm I felt – it really does work, even when it's just made from 2 layers of t-shirt fabric.
To make your own haramaki:
You can use any fabric with some stretch, so you can pull your haramaki on and off. I used a knit jersey (i.e. t-shirt fabric).
You will also need a sewing machine with a stretch stitch (pictured below).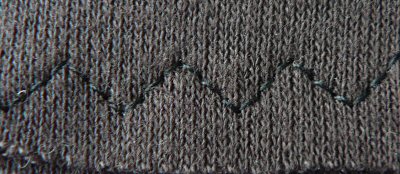 Work out the dimensions you need. The height is up to you – I decided to go for an 8″ tall haramaki but you could make it longer if you want. The length of the haramaki depends on the size of your tummy..! Of course it would be easier to estimate for a skinny straight up-and-down Japanese model than for a regular curvy lady. I decided to make mine 30″ around (without giving too much away, that's halfway between the measurements for my waist and my hips). If you want to wear it high up, make it a bit shorter than your halfway measurement, and if you want it to cover your hips, you may need to make it a little longer, depending on how stretchy your fabric is.

To get the fabric dimensions, the length is 1″ over the length you decided (mine is 30″ + 1″ = 31″) and the width is double the height plus 1″ (mine is 2×8″ + 1″ = 17″). Cut your fabric to these dimensions and lay out as shown (right side up):


Fold your fabric in half so the top meets the bottom, as shown below:

Pin the 2 long sides together, all the way along. It's better to space the pins more closely than you normally would, as the stretch fabric can get out of alignment more easily than a regular fabric:

Sew along the line you've pinned. You have 1/2″ seam allowance, but that 1/2″ includes the full width of the zig-zag stitch, so you may need to practice on scrap fabric first to see which guide line to follow on your sewing machine. Trim the extra seam allowance after sewing:

You have just made a long tube. Stick your arm through the tube and grab onto the far edge of the tube:

Pull your arm back out of the tube, bringing that far edge of the tube back through the middle of the tube. Stop when the raw edges meet up, and align the edges:

Pin the inner and outer layers together, all around the raw edge:

To clarify, you should now have a tube that is half as long as before, made from 2 thicknesses of fabric. The pins should not close off the end of the tube:

Sew around the pinned edge (again, 1/2″ seam allowance), leaving a gap of about 3″. Turn the harimaki right side out through this gap:

Fold the edges of the gap under, and hand-sew the opening shut. That's it! All finished!

I've been wearing mine all day and it's warm and comfy and like having a hug all day long 🙂
Please leave me a comment if you like this idea or if you make one!