Way back in February, I announced on Twitter that I was going to make a Giant Dinosaur:
Giant Dino is happening! It should be around 3ft long ?
Ingredients:
1. A dino pattern from my Dinosaurs Set 1 (I'll leave which as a surprise!)
2. Techniques from my Complete Guide to Giant Amigurumi

Result and pics to follow… pic.twitter.com/Jaxk8lnp2M

— June Gilbank (@PlanetJune) February 7, 2019
And now it's time for the big reveal!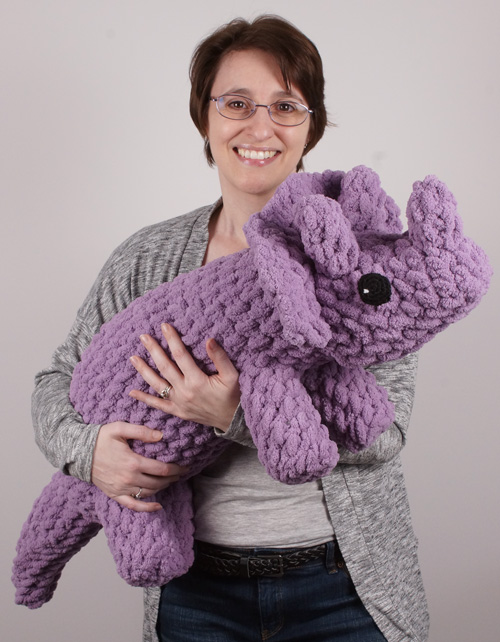 Georgette the Giant Purple Triceratops is 36 inches (over 90cm!) long, weighs 1.9lbs (850g) and is impossibly soft and cuddly.
I made her using my Triceratops pattern from Dinosaurs Set 1 and the techniques from my Complete Guide to Giant Amigurumi.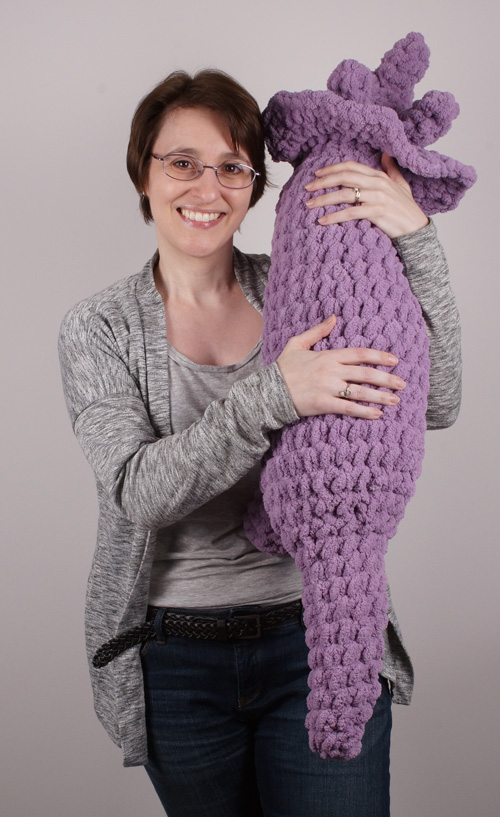 Isn't she huge?!
Although she turned out beautifully, I did have a few hitches along the way…
Yarn
I was excited to find a new (to me) yarn to try for this project: Bernat Blanket Extra. According to my calculations, one strand of Extra would be the equivalent of the two strands of Bernat Blanket I use for most of my giant ami, so it seemed like the perfect yarn for Giant Amigurumi! In the picture below, it's the purple yarn second from the top: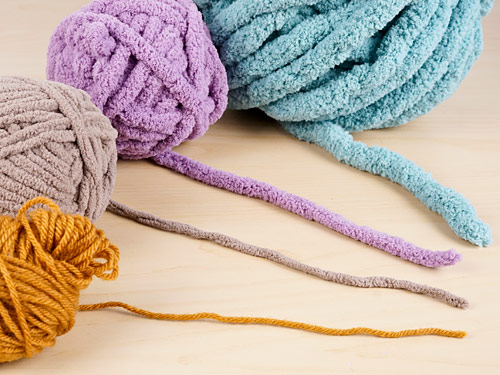 Pictured top to bottom:
Bernat Blanket Big (#7 jumbo – good for Extreme Amigurumi)
Bernat Blanket Extra (#7 jumbo – good for Giant Amigurumi)
Bernat Blanket (#6 super bulky – use 2 strands for Giant Amigurumi or 1 for Mini Giant Amigurumi)
Lion Brand Vanna's Choice (#4 worsted weight – a standard amigurumi yarn, for comparison)
While I was correct that a single strand of Extra is an ideal yarn for Giant Amigurumi, I made a bit of a miscalculation and used the weight instead of the yardage when I was figuring out how much yarn I'd need (using the calculation method from the book). Converting from 2 strands of Blanket to 1 strand of Extra, the yardage is a straight 2:1 conversion, but the weight isn't quite the same (as the Extra weighs just a little more per yard than 2 strands of Blanket).
Thanks to that mistake, I didn't buy quite enough yarn for the Giant Stegosaurus I had planned 🙁 , but I ran the numbers and realised I had enough to make a Giant Triceratops instead – problem solved!
Structure
Giant ami aren't as rigid as standard amigurumi, and, even though they are light for their size, the weight of Georgette's head, including the horns and frill, was a bit much for her front legs – they were squashed down a little, which made her chin touch the ground. So I added an extra round to her front legs to offset that 'squish factor', which worked out fine 🙂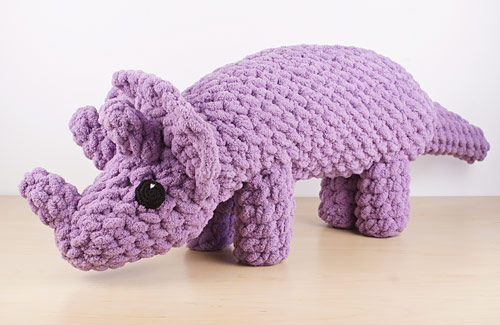 Other than that, I followed the pattern, together with my book's technique advice, exactly:
The secure magic ring was a lifesaver, especially for those giant horns!
It turns out that a giant triceratops frill is very floppy, but the stiffening flat pieces technique sorted that right out.
The large size crocheted eyes were the perfect finishing touch.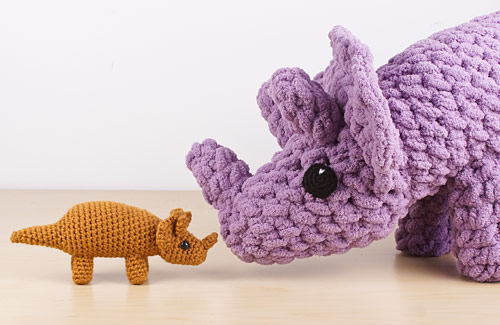 Awww, don't they look just like a mama triceratops and newly-hatched baby?
Georgette is exactly 4 times the length of the standard Triceratops, and 15 times the weight! But she's extremely cute and cuddly – yay for non-scary dinosaurs 😀
Make Your Own!
If you're inspired to try crocheting a giant dinosaur too, here's what you'll need: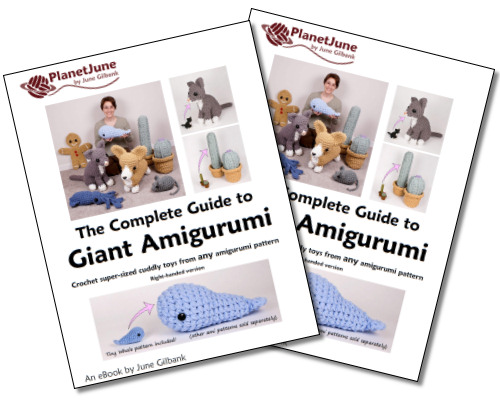 Of course Giant Amigurumi isn't limited to just dinosaurs (although I'm still tempted to buy more yarn to make a giant stegosaurus!) – see the book for lots of other examples, and advice for which amigurumi patterns will be easiest to scale up to giant size.
Please share photos of your giant amigurumi projects on any social media using the #giantamigurumi hashtag, and tag me @planetjune so I can see what you're making! And if you're a member of the PlanetJune Ravelry group, you can also share your giant amis in our ongoing Giant Amigurumi CAL 🙂
I'm still smitten with Giant Amigurumi – they're just so much fun, don't you think? Who could resist a giant purple triceratops?!