© June Gilbank 2019
Use these washable rounds anywhere you'd use a disposable cotton round or facial wipe – for cleansing, toning, or removing makeup – and save money while helping the environment! They crochet up in minutes, take very little yarn, and make a pretty and practical gift.
Eco-Friendly Cosmetic Rounds is part of the PlanetJune Accessories range of crochet patterns by June Gilbank.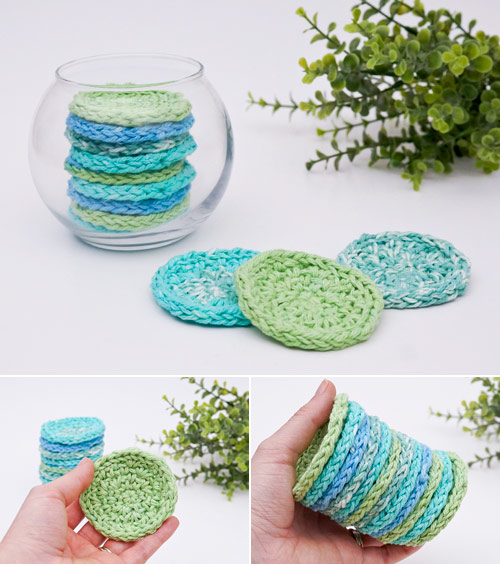 This pattern is Donationware – the pattern is available for free, but if you like it please consider sending me a donation to show your appreciation: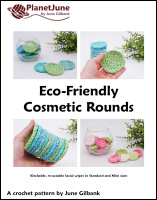 Send me a donation and receive the easy-to-print PDF version of the pattern as a thank you! It includes some additional info that you'll only find in the PDF version:
– The pattern for the Mini size rounds (pictured below; these are perfect for applying toner!)
– Additional instructional photos and tips, including left-handed photos
Donations of any size are much appreciated. Just add the amount you wish to donate, and, once you have checked out and paid, your pattern will instantly be available to download from your PlanetJune account.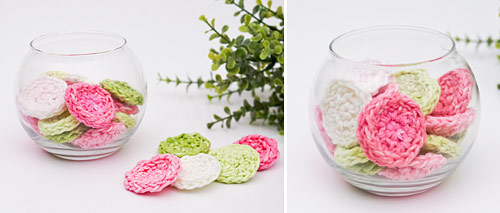 The complete pattern and instructions for the Standard size rounds is available below, regardless of whether or not you choose to pay for them 🙂
This is a PlanetJune original crochet pattern. Feel free to use items made from this pattern however you wish, but I'd appreciate credit as the pattern designer. Please do not reproduce the pattern anywhere else; instead post a link to www.planetjune.com/cosmeticrounds
Not ready to make it yet? Add it to your Ravelry queue:
Terminology
| | |
| --- | --- |
| ch | chain |
| ch-sp | chain space |
| sc | single crochet (double crochet for UK/Aus) |
| sl st | slip stitch |
| st | stitch |
You will need…
H US/5mm crochet hook (see Gauge, below)
Small quantity of worsted weight cotton yarn.
Yarn needle to weave in ends
Stitch marker
Samples
I used Bernat Handicrafter yarn for all the pictured samples. For the Standard size rounds, I used an entire 43g skein of Country Stripes (blue/green). You should be able to get at least 10 Standard sized pads from a skein.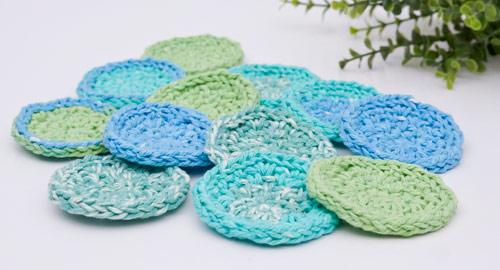 For the half-sized Mini pads (pattern included in PDF version only) I used a partial skein each of Pinky Stripes and Lime Stripes.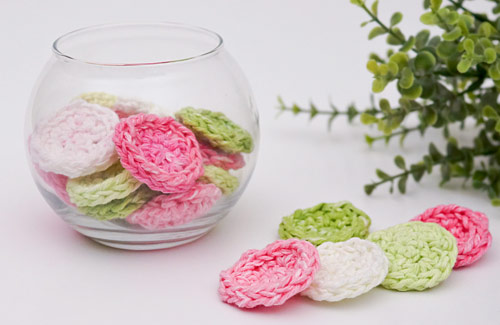 Using a striped yarn is fun because you can crochet a variety of pads in coordinated shades from a single skein of yarn! You could also make a whole set in a single solid or variegated shade, or use up scraps of various skeins to make a colourful selection.
Care Instructions
Tip: Don't use these rounds for removing nail polish – it won't wash out!
For a quick clean, rinse the pad after use with a little facial cleanser and water, squeeze out the excess water, then flatten and leave to air dry.
For a more thorough wash, simply toss the pads into a mesh laundry bag or a drawstring bag and run them through your washer and dryer with your laundry.
Gauge
Gauge is unimportant for this pattern, but you don't want huge gaps between your stitches that liquid will run through. If your gaps are too large, try a smaller hook.
Tip: Cotton yarns can be splitty. If your yarn splits frustratingly, try using a slightly larger hook.
Notes
Do not join at the end of each round; rounds are worked in continuous spirals.
Use a stitch marker to mark the beginning of each round. Move the marker up as you start each new round.
In Rnds 3-5, the stitch counts at the end of the round include the chains.
General Instructions
After Round 1, you'll be working in linen stitch (a 'ch 1, sc' repeat).
After Round 2, you'll always work into the chain spaces of the previous round, instead of the stitches, until the final (edging) round, where you'll work a round of slip stitches into each chain space and each single crochet stitch from the previous round.
To begin each linen stitch round, make the first ch 1, then slip your start-of-round stitch marker around the entire chain stitch you've just made (below, left). This will mark the position of the first chain space to work into at the start of the following round (below, right).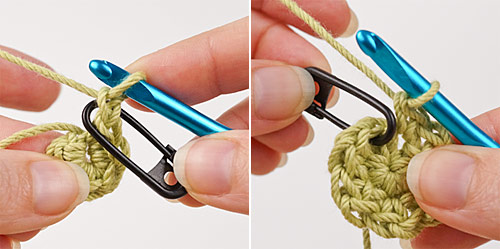 To make slip stitches that aren't too tight:
Do not draw up a loop and immediately pull it through the loop on your hook (below, left) – this will make your sl sts too tight, so the edging will pull in.
Instead, draw up a loop and pull it right up to the height of the loop on your hook (below, right), then draw it through the loop on your hook to complete the slip stitch. Your sl sts will perfectly match the size of your other stitches.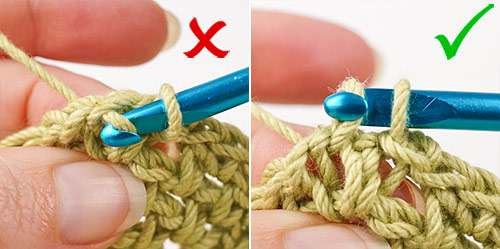 Position of the slip stitches for the edging:
Working into the chain spaces and the stitches around the edge can be tricky – if you accidentally insert your hook in the wrong place when you aim for the chain space, you then won't have anywhere to insert your hook to make the next stitch.
Look at the ch-sp (below, left). You'll see the sideways 'V's belonging to two stitches sitting above the space:
First, the V of the chain (A)
After that, the V of the sc (B)
If you pull up on the chain (A), you'll see a vertical bar in the middle of the space, between A and B (marked by pink arrow, below, right).
Insert your hook before that bar to make the sl st into the ch-sp, and after that bar to make the sl st into the next sc.
Then continue to the next ch-sp and repeat!
Pattern
Note: Please see the General Instructions, above, in conjunction with this pattern.
Make a magic ring, ch 1.
Rnd 1: 6 sc in magic ring. (6 st)
Rnd 2: (ch 1, sc) in each st around. (12 st)
Rnd 3: *(ch 1, sc, ch 1, sc) in next ch-sp, (ch 1, sc) in next ch-sp; repeat from * twice more. (18 st)
Rnd 4: *(ch 1, sc, ch 1, sc) in next ch-sp, (ch 1, sc) in next 2 ch-sp; repeat from * twice more. (24 st)
Rnd 5: *(ch 1, sc, ch 1, sc) in next ch-sp, (ch 1, sc) in next 3 ch-sp; repeat from * twice more. (30 st)
Rnd 6: sl st in each ch-sp and each sc around. (30 st)
Cut the yarn leaving a 3″ (8cm) tail, join with an invisible finish, and weave in the ends securely.
After weaving in the ends, flatten the pad with your hand. You'll see that the slip stitch round has smoothed out the edge into a circle (below, left) and given the pad a nice thickness at the edge (below, right).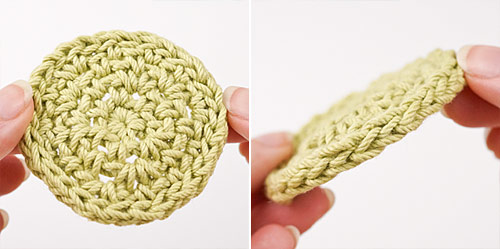 ---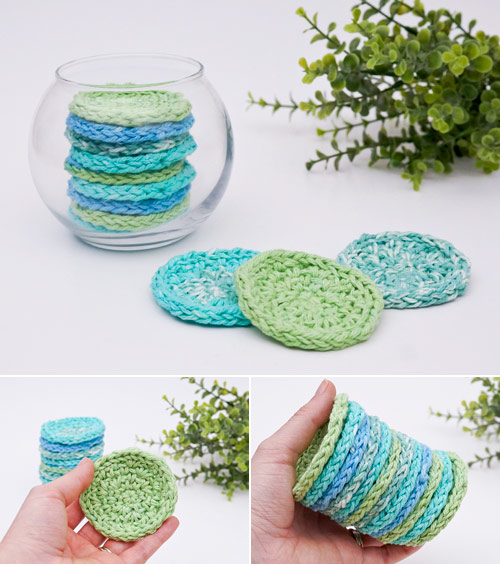 I hope you enjoy this pattern. Please leave me a comment below if you do, and consider leaving me a donation. Thanks!