I was going to wait until tomorrow for some daylight but I can't wait to post this – I've just finished crocheting my first Fuzzy Ferret! Sorry the photo is a bit dark, but hopefully you get the idea. Click the pic to see the full-size ferret: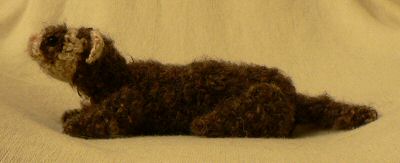 Ferret fans – I've made this for you! I tried to make him lifesize – he's about 14″ long by 4.5″ tall. Hope you approve…
UPDATE: We have better photos! See my new post for more ferrety goodness.
UPDATE: Looking for the pattern? You can find the Fuzzy Ferret crochet pattern in my shop.