Wow, it's May already! I've been officially self-employed for 4 months now, so I thought it was time for an update on how the first third of 2009 went.
It's funny how things work out: I've been so busy with other projects that I really haven't had a chance to try to build my business at all! January to March was basically filled with writing my upcoming book, Paper Chains & Garlands, and most of April was taken up with preparation for the Creativ Festival.
In between all that, I've only managed to publish a handful of new crochet patterns:


L-R: African Violets, Mop Top Mascots, Basic Rose, Alpaca, PocketAmi Easter
But now it's May, and I have nothing on the horizon, so I finally have time to come up with lots of new designs – yay! Not that I'm short of ideas, but if you have any requests or suggestions, please let me know…
Other business news: I've just invested in a DSLR camera (a Sony A200) to help improve my product photography. My old camera had issues with grainy noise in low light situations, so in the past I've had to spend a lot of time cleaning up my photos before they are good enough to publish. I'm hoping the new camera will let me get clear, sharp shots without much post-processing, which (once I've learnt how to use the camera!) will free up more time for other things.
And I've also just made a new homepage that fits in better with the style of PlanetJune. I'd love to freshen up my entire website with a new style, but that'll have to be a longer-term project!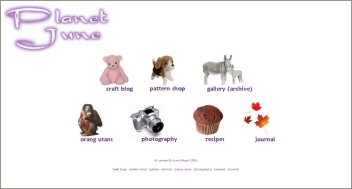 Old: oops, total disconnect with the rest of my site…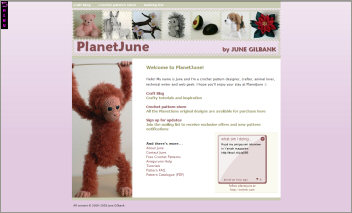 New and improved: matches my blog, and bonus orang pic!
Oh, and one more thing: I was interviewed about amigurumi and romanticism for the latest issue of Yareah magazine. Check out my article online.