HAPPY CHRISTMAS! I hope you're having a wonderful day. What better way to celebrate than by looking through the wonderful projects made for the 2011 PlanetJune Christmas Crochet-Along? Thank you to everyone who joined in; as always it's so much fun to see what you've made!
(For speed, I'm just giving credit with participants' Ravelry usernames.) Let's take a look: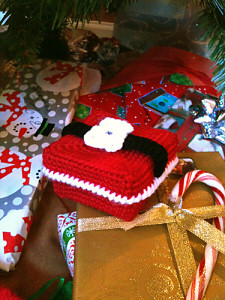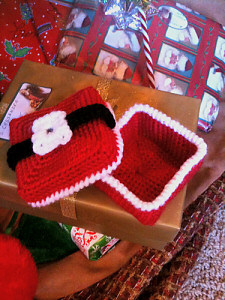 AKmtnnymph made this clever Santa-themed Gift Box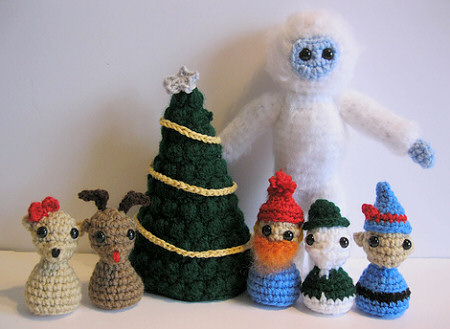 theMarkofSMB used my Christmas Trees, PocketAmi Christmas, and Yeti and Bigfoot patterns to create this set of 'Rudolph the Red-Nosed Reindeer' characters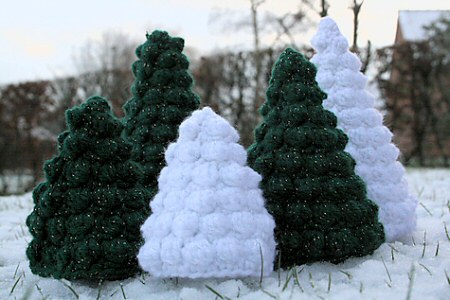 Fatals-attraction made this lovely group of Christmas Trees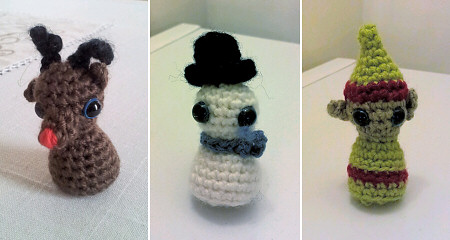 arbitrarily's PocketAmi set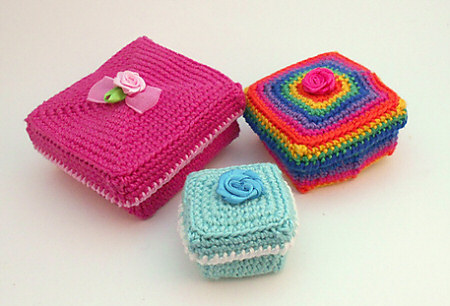 Enphra made a set of 3 Gift Boxes embellished with ribbon roses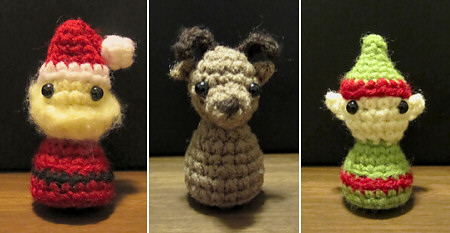 crochet-girl made some PocketAmi (with the Elf adapted into Santa)…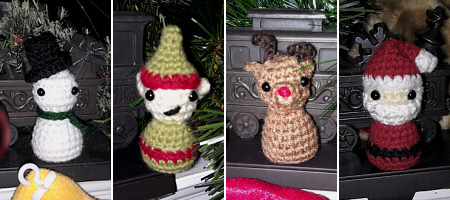 …and more PocketAmi by crochet-girl!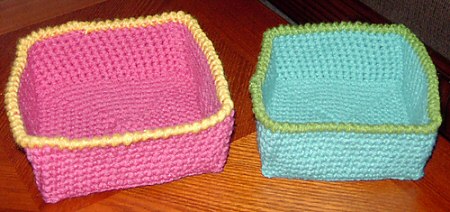 BanuyeGharbi made these two Gift Boxes but will be re-working the pink one at a tighter gauge so it holds its shape as well as the lovely blue one does!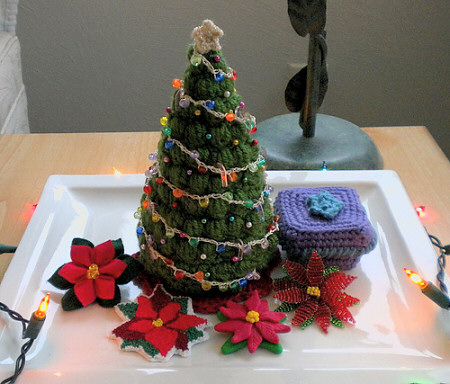 jukatca made this sweet display of a Christmas Tree and Gift Box (and a collection of all my non-crocheted poinsettia tutorials!)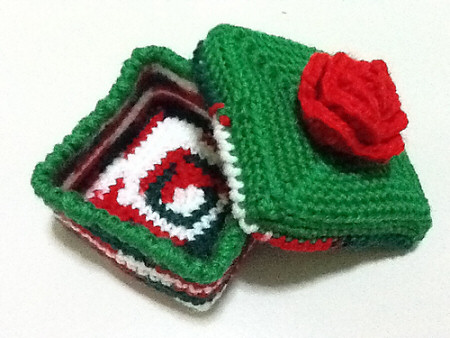 yaney used variegated yarn for her Gift Box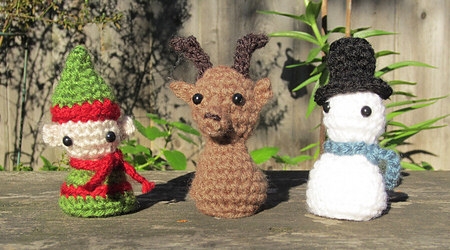 PocketAmi by esmerelda62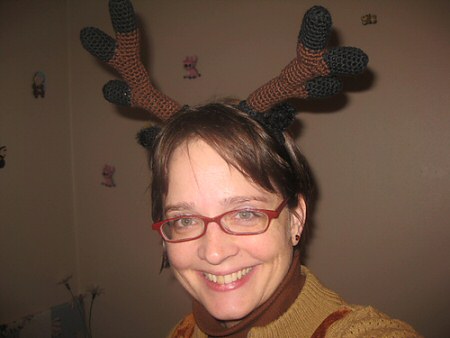 Lightblue made black-tipped Reindeer Antlers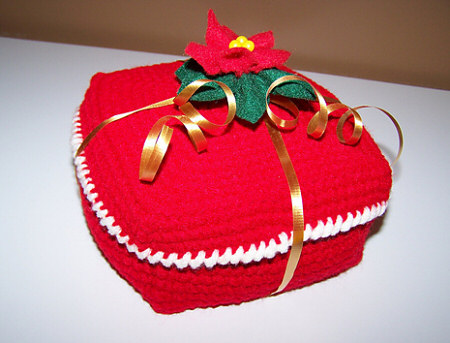 CrochetChrisie's Gift Box is topped with my felt poinsettia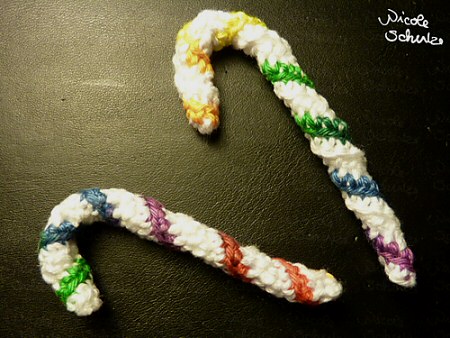 Very effective use of rainbow-coloured yarn from klopferli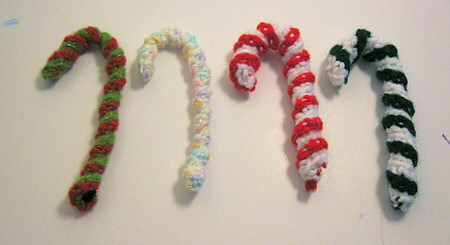 Candy Canes by theMarkofSMB
And now for a big pile of Poinsettias, Christmas Puddings, Candy Canes and Christmas Trees: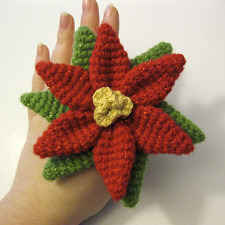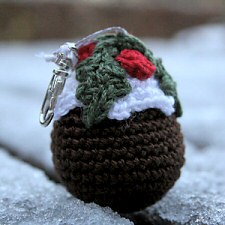 theMarkofSMB and Fatals-attraction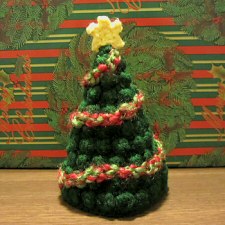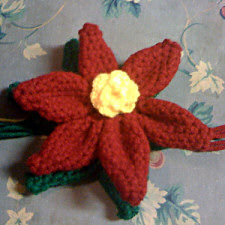 crochet-girl and BiologyJAP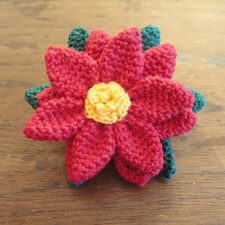 rhianoran and mistyyarn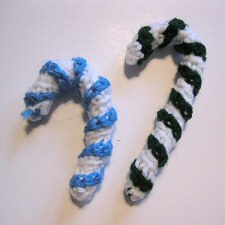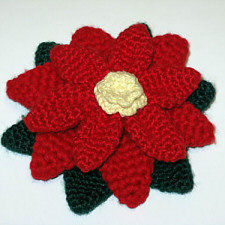 theMarkofSMB and Foxtrot400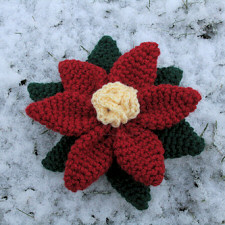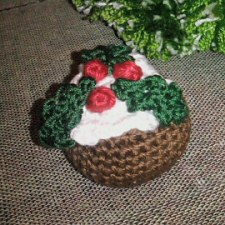 Fatals-attraction and petrOlly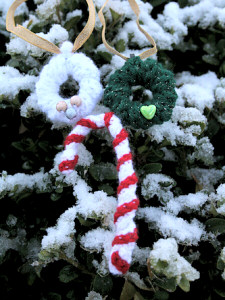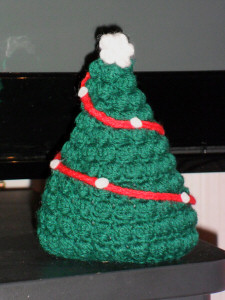 Fatals-attraction and rastakt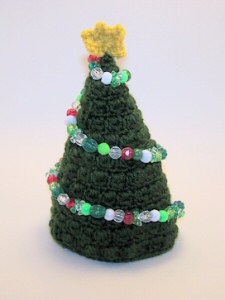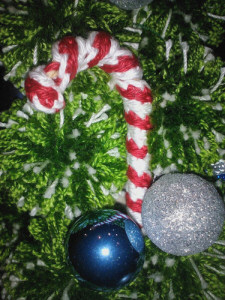 CrochetChrisie and petrOlly
Wonderful work by everyone! I always love seeing all the projects together like this 🙂
If you missed out on the CAL fun, don't despair: the next CAL starts on January 1st, and there's still time to vote on the new theme here (you'll need to be a member of Ravelry but it's free to join).
Prizes!
And now to the winners! I made a list of all the eligible projects and used random.org to draw 2:
First prize ($10 gift certificate) goes to Fatals-attraction – congratulations Linda!
Second prize (free pattern) goes to theMarkofSMB – congratulations Monica!
Runner-up prizes go to everyone else 🙂
I'll email Ravelry message the winners with their prize details (and the runner-up prize discount codes to all the other CAL participants) within the next couple of days, but now it's time to spend a quiet summer Christmas afternoon at home in the sunshine with my little family – I hope you're enjoying your day too!