One of my personal challenges for my other blog, Crochet Along, is to come up with a banner design to reflect the new blog theme every two months. I try not to be influenced by my personal preferences for colour, style, etc and I think it's helping to improve my graphic design skills.
I thought I'd share how I came up with my design for the new Summer Crochet theme.
First, find source graphics. I looked through stock photography sites for royalty-free photos that matched my design concept ('orange' in this case), and made sure to only save images that had no copyright restrictions or required credit to use – no copyright infringements here!
When I had saved about 20 images, I looked at them all together on the screen and eliminated them one by one until I had narrowed them down to my final source images (I took the crochet hooks photo myself):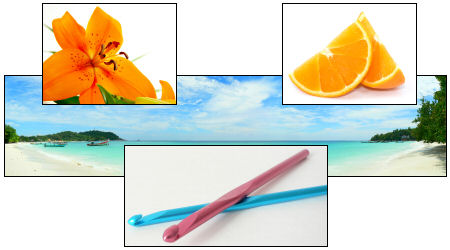 After that, it's time to cut, paste, resize, arrange, change colours, erase unwanted backgrounds, and add some text. Here's the end result:
If you'd like to see the full sized banner, or you'd like some Summer-themed crocheting fun, head over and join the Crochet Along!