Baby Elephant was bored. He wanted to play with his family, but he didn't know where they were.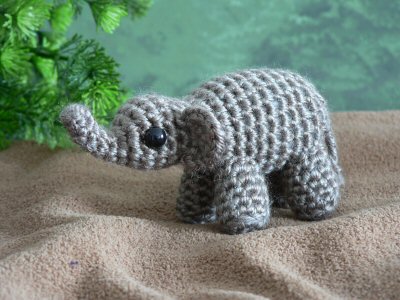 He walked through the jungle until he spotted someone. "Aha! Here's one of my family!" he thought…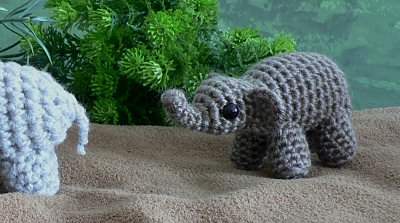 But it wasn't an elephant at all! "I'll help you find your family," said Hippo, and they walked on through the jungle.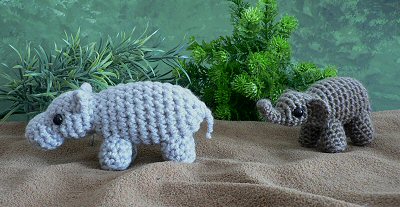 Soon, they spotted something. "I think I see my family," called Baby Elephant…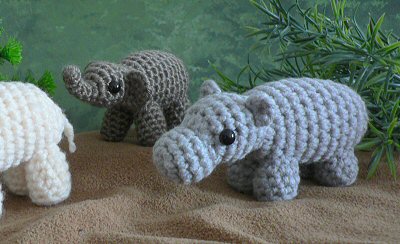 But it wasn't an elephant, either! Rhino had a big scary horn, but he was friendly and offered to help look for the elephant family.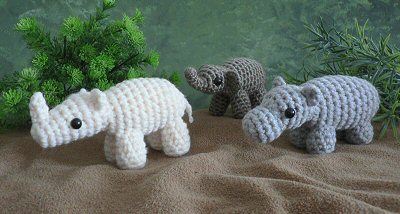 They walked on until they spotted two more animals. "Are they your family?" asked Hippo and Rhino. But Baby Elephant wasn't sure…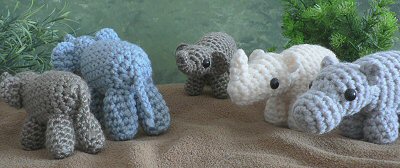 But, this time, it was his family! The elephants and their new friends celebrated together for the rest of the day.
THE END
In case you hadn't guessed from the above, I've been working hard on some new designs, and now I can finally unveil big brother Elephant and pals, the Hippo and White Rhino:
The Elephant, Hippopotamus and Rhinoceros are all made with bulky weight yarn (like the AquaAmi), and are each about 6″ long. The three will form Set 1 of a new range, once I have written up the patterns. I'm going to call them AfricAmi, which gives me plenty of scope for future animal designs – there is a lot of interesting wildlife in Africa! Do you like the name?
I also painted a new backdrop to stage these guys. It took a lot of painting to get the background to stop looking like a big green board and starting to look a little bit like foliage, but I think the end result was worth it.
I hope you enjoyed the story! And look out for the AfricAmi patterns… coming soon to the PlanetJune store 🙂
UPDATE: Looking for the patterns? You can find the AfricAmi Set 1 crochet patterns in my shop.