I've developed a simple modification to make to your amigurumi patterns that will minimise the jog with back loop only (BLO) rounds in spiral-crocheted amigurumi. You can apply this easy trick to any amigurumi pattern that has a complete round of back loop only stitches, to avoid that noticeable jog between the start and end of the round.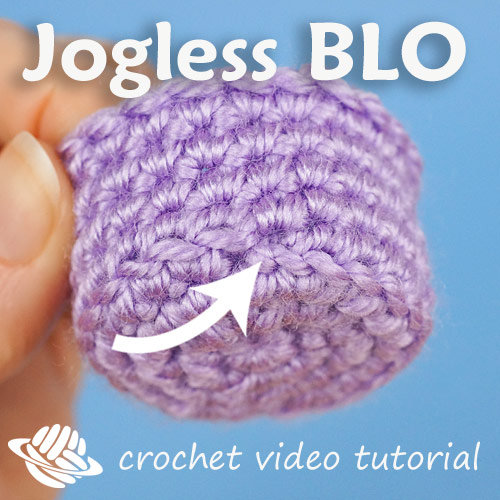 Let's jump straight to the video, and then I'll give you a couple of extra tips.
Jogless Back Loop Only Round for Amigurumi (right-handed)
Click to watch this video on YouTube.
Jogless Back Loop Only Round for Amigurumi (left-handed)
Click to watch this video on YouTube.
Note: The videos may look a little small embedded in the blog: if so, you can fullscreen them or click through to YouTube to watch them full-sized 🙂
Written Instructions
In case you prefer to read text instructions, or want something to refer to, here's the trick:
As you're approaching the back loop only (BLO) round, stop before you make the last stitch of the round before the BLO round.
Instead of making the single crochet in the last stitch, make a slip stitch instead.
Now continue with the pattern: work the BLO round as usual, then return to standard single crochet stitches.
In other words, the only modification you need to make to your pattern is to replace the single crochet before the first BLO stitch with a slip stitch. That's all there is to it!
Use in Amigurumi Patterns
This slip stitch technique is fast, easy to remember, and works pretty well in every case, so I recommend it as your new go-to method for making a back loop only round for turning a sharp corner in amigurumi crocheted in a spiral (whether you're working from an existing pattern, or developing a new one). You can safely use this technique for any amigurumi pattern that has a single back loop only round and is worked in a continuous spiral.
Note: In my experiments, I did find a way to make a flawless join, using the Invisible Join method from my Perfect Stripes tutorial. However, this method is fiddly, takes much longer, and leaves you with four extra yarn ends. So, unless you're striving for absolute perfection, or have an amigurumi pattern that's worked in joined rounds, I'd still suggest my slip stitch technique as shown above.
My Recommendation: Combined Technique
If you want to make this technique even more effective, combine it with my Better Back Loop Only Details technique for the stitches of the BLO round. This will make your corner sharper and the BLO stitches less prone to stretching, as well as minimising the jog: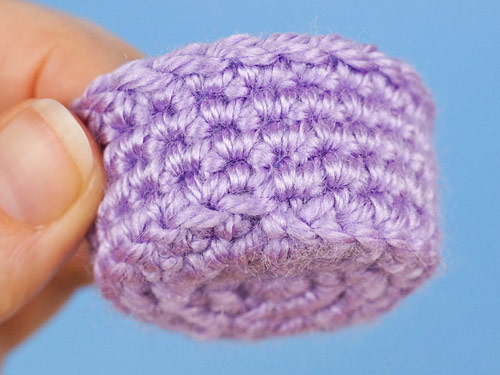 Tip: With the combined technique, you won't be able to use the Better BLO method for the last stitch of your BLO round (as slip stitches have no back bar), so just work a regular BLO in the last stitch.
Give this combined method a go next time you work a back loop only round in your amigurumi, and you'll see the difference!
***
If you enjoy my crochet tutorial videos, please help to spread the word about them, and/or subscribe to the PlanetJune YouTube channel.
---
Do you find my tutorials helpful? If so, please consider making a contribution towards my time so I can continue to create clear and concise tutorials for you:
Thank you so much for your support! Now click below for loads more crochet video and photo tutorials (and do let me know what else you'd like me to cover in future tutorials…)