Looking for online eye sources? Or how to position eyes? Or how to securely stitch facial features? If not, read on:
Getting the face of your amigurumi just right is a very important step – they need that cute expression! I get a lot of questions about what to use for the eyes and noses. I've compiled a run-down of some options you can try.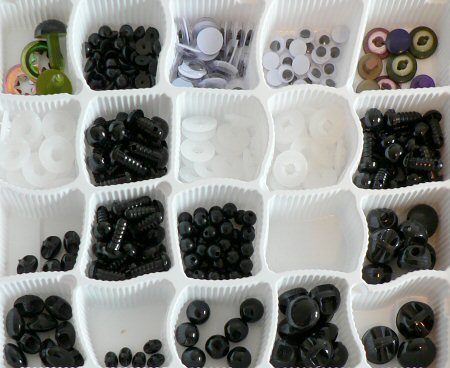 My box of ami eyes and noses (yes, it used to be a Jelly Belly box!)
Eyes

Animal eyes (aka 'safety eyes') come in two parts – the shaft behind the eye pokes through to the inside of the head, and is locked in place by the plastic or metal washer. These work really well for amigurumi, provided the washer is large enough to not pull through the gaps in your stitches.
I usually use the all black ones (centre and right of picture) e.g. I use these for my AmiDogs. You can also find them with round black pupils with various coloured irises (not pictured), or cat eyes (left of picture) which are great for making cats and snakes! They are also available in a wide range of sizes, but can sometimes be difficult to find in your local craft stores. Try looking in online stores and on eBay – they are easy to use and it's worth the effort to find them. I've compiled a list of online sources that you may find useful.
A word of warning: if you're going to use these, remember to attach the backs to the eyes before you stuff and close up the head!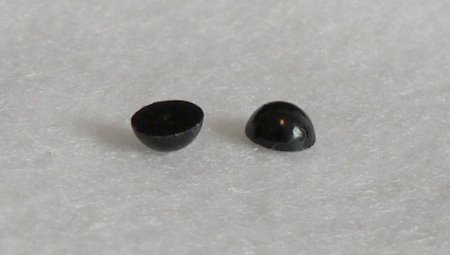 Half-round eyes are a solid black hemisphere. They are somewhat limited in use because there are no holes in them, so you have to attach them by gluing them on (not the most secure method). I have used these when I couldn't find any other eyes in the right size but, given the choice, I prefer other types of eye.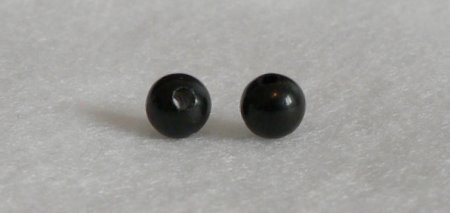 Black round beads – I buy black round onyx beads from various sellers on eBay. They are regular round beads with a small hole right through the middle and they are a really nice choice for tiny amis – I have them in 2mm, 4mm and 6mm sizes. The problem with using larger spherical beads for eyes is that they can look quite bulbous and stick out too much from the head.
If you're looking for round beads, make sure to find beads with a narrow hole, so the hole isn't too obvious when you stitch them in place. Also, to attach them, look for a transparent nylon thread, so the thread won't be visible on the finished toy. If you can't find transparent thread, just use black thread, and make sure to stitch very close to the eye so there aren't big black stitches visible on your finished ami.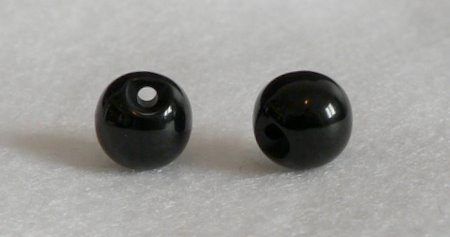 Round buttons from the fabric/dressmaking store. These are some of the buttons that come attached to a small white card, with 3, 4, or 5 per card. Look at the black buttons that are available; you can use any with a rounded or flat face and a shaft with a hole on the back of the button. These 10mm eyes are spherical, but the hole is at one edge (the back of the button) as opposed to a bead, where the hole goes right through the centre of the bead. This helps stop the eye from looking too bulbous, but this type of eye works best when using a fuzzy yarn, so the eye will be embedded in the fuzz.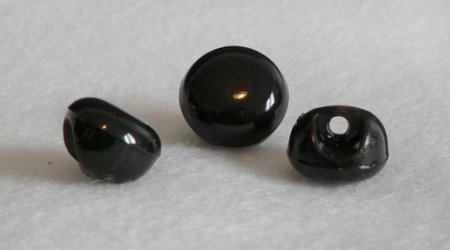 More round buttons from the fabric/dressmaking store. These buttons have a flat front and a hole on the back. These buttons work really well, but I've only found them in larger sizes (12 and 15mm). They are a great alternative to animal eyes for larger amis.
Other suggestions for eyes. You can make eyes by cutting a circle of black felt, and either gluing or stitching it to your ami. Or try embroidering an eye with black yarn directly onto the face. Both of these types of eye look much cuter if you add a tiny white highlight at one top corner of each eye, to simulate a glint of light reflecting from the eye (e.g. my dark brown Fuzzy Monkeys have embroidered eyes). For examples of other fun ideas for eyes (googly eyes, felt, buttons), see my Fuzzballs.
Noses
You can buy moulded plastic animal noses that look like the animal (safety) eyes above, with plastic washers to lock it in place. While they are detailed and realistic, I don't personally like the look of them, and they are also difficult to find in smaller sizes.
Sometimes I use a button for a nose (e.g. Fuzzy Bear). These black oval buttons are available in several sizes from the fabric/dressmaking store: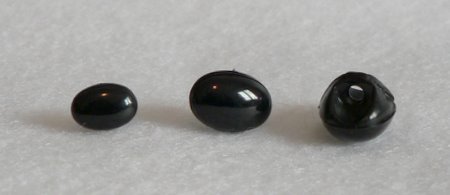 You can cut a small triangle from felt (e.g. Fuzzy Kitten) and use fabric glue to attach it to your ami's face.
Alternatively, you can embroider a yarn nose onto your amis. Try stitching an inverted V shape (e.g. Fuzzy Guinea Pig), two nostrils (e.g. Fuzzy Monkeys), or make several stitches very close together to form a solid shape (e.g. all the AmiDogs).
---
Do you find my tutorials helpful? If so, please consider making a contribution towards my time so I can continue to create clear and concise tutorials for you:
Thank you so much for your support! Now click below for loads more crochet video and photo tutorials (and do let me know what else you'd like me to cover in future tutorials…)