You can completely change the look of an amigurumi by brushing the pieces after you crochet them. Doing this drags some of the fibres free from the yarn and will give a soft, fluffy finish to your amigurumi. The brushed crochet technique can be used to great effect: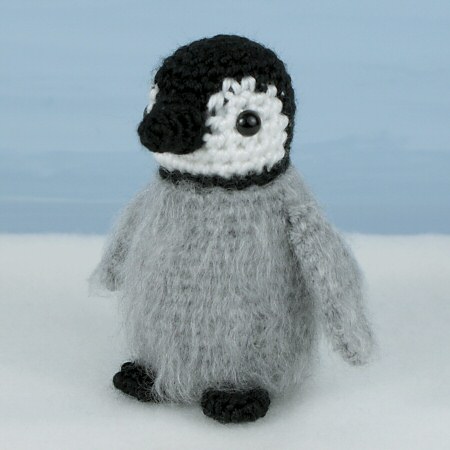 The body and wings of my Baby Emperor Penguin are brushed
Tools
You will need something with fine, hard, sharp teeth. A wire pet slicker brush works very well for larger pieces, or a miniature wire brush – called a Teasel Brush (UK), Nap Riser Brush (US), and Bunka Brush (Japan) – is ideal for smaller pieces. You can use either type of brush for any amigurumi, but a larger brush will bring up the fluff over a larger area more quickly, while a smaller brush is better suited for brushing specific areas or smaller pieces without scratching your fingers.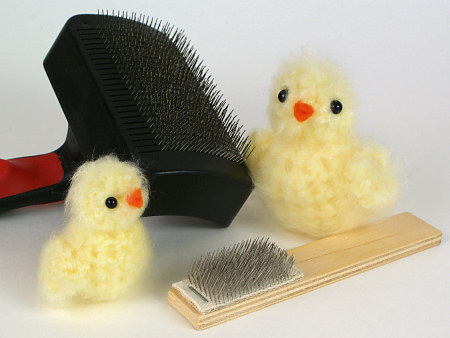 Brushed Fuzzy Chicks with a teasel brush (front) and pet slicker brush (back)
Tip: In a pinch, you can also brush your crochet with the 'hook' side of a piece of velcro, although it may take longer!
Suitable Yarns
To make brushed crochet amigurumi, you can crochet with any regular or fluffy yarn. Wool and other natural animal fibres work very well, but acrylic and other yarns work too. I always use acrylic yarns for my amigurumi, and they brush out nicely.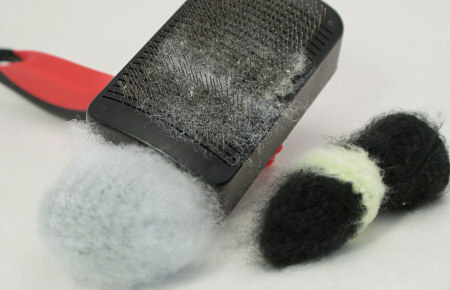 Brushed acrylic (left) and cotton (right) pieces
Note: Be aware that brushing is a destructive technique – the brush yanks fibres out of the yarn, and in the process some fibres come out completely and are left on the brush (as shown in the above photo). So please do use caution, and test-brush a swatch before risking something you've spent a long time creating.
Method
While you're crocheting…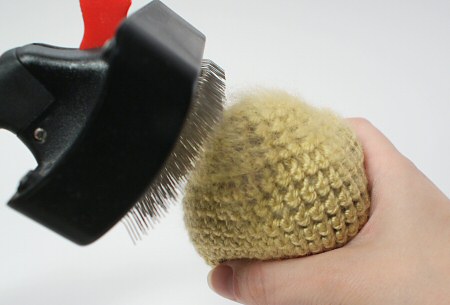 Brushing in action
Brush each piece after crocheting it, and before stitching the pieces together.
Brush with a reasonable amount of force – if you are too gentle you won't generate any fluff.
It will probably take around 10-20 strokes over each area of the piece for the fluff to start to come up.
Tip: Don't brush your crochet the same way you'd groom your pet cat or dog! Use the tips of the teeth to catch and tug at the yarn to get the fluff started; dragging the brush along the surface may stretch your stitches.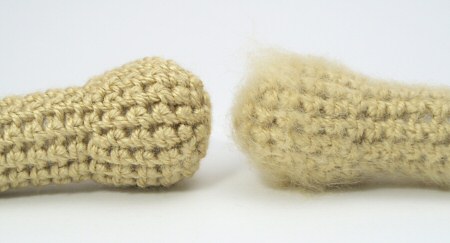 Fuzzy Bear arms, before and after a little brushing.
Be sure to brush the head before attaching the eyes, so they don't get scratched by the brush.
Keep brushing until the piece is as fluffy as you'd like it to be – brushing for longer will obscure your stitches more and increase the fluffiness.
After assembly…
Brush lightly over any seams stitched between two brushed pieces, to help to mask the joins, fluff out the yarn and disguise your sewn stitches.
Optional: Trim the fluff around the face (particularly the eye area) – and any other areas you wish – with a pair of small sharp scissors, to get rid of any extra-long fibres and neaten it up a bit.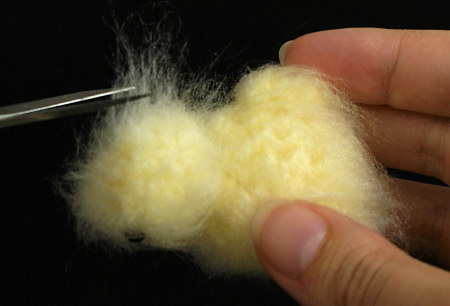 Trimming a Fuzzy Chick
Note: Brushing masks the shape of the underlying crocheted piece, so some subtle shaping details may be lost in the fluff.
Conclusion
Whether you strategically brush certain areas of your piece, or brush out the entire animal, brushing your crochet can add a new level of fluffy cuteness to your amigurumi, and it's a great technique to add to your arsenal 🙂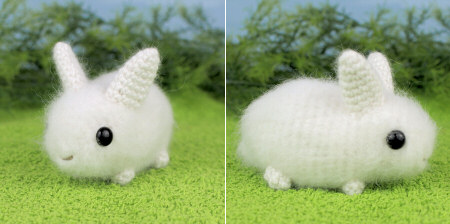 The brushed look makes a fluffy baby angora bunny extra adorable!
---
Do you find my tutorials helpful? If so, please consider making a contribution towards my time so I can continue to create clear and concise tutorials for you:
Thank you so much for your support! Now click below for loads more crochet video and photo tutorials (and do let me know what else you'd like me to cover in future tutorials…)