I get a lot of questions about my amigurumi Discworld, both from people wanting to buy a completed Discworld, and from those looking for a crochet pattern, so I thought I'd put this page together, with links to everything you've ever wanted to know about my Discworld 🙂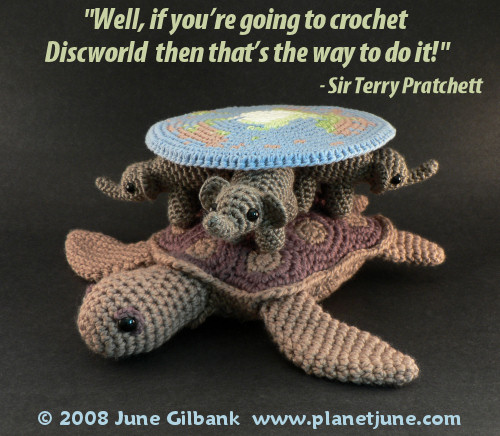 As a lifelong fan, I created my Discworld from March-August 2008. I sent the photos to Sir Terry's agent Colin, to ask if there was any possibility that Terry could see my Discworld. Colin kindly agreed to show the pics to Terry, and replied:
He gave a quiet laugh and said, 'Well, if you're going to crochet Discworld then that's the way to do it!'
Yes, that moment was one of the highlights of my life. 🙂
Looking for a finished Discworld?
I made my amigurumi Discworld for myself as a one-off fan art piece and it represents about a week's worth of full-time work. If I were to make another one, the price tag would have to be astronomical to cover my time. Even if you were willing to pay that price, I couldn't sell a Discworld to you (as that would be unlicensed merchandising), so please don't ask me to make one for you – I just can't do it.
Looking for a Discworld pattern?
If you crochet, or know someone who does, you may buy my AquaAmi Sea Turtle pattern to make Great A'tuin, and my AfricAmi Elephant pattern to make the four world elephants. (To get the proportions right, you'll need the bulky option for the turtle and the worsted option for the elephants – or hold 2 strands of worsted together to make the turtle, as bulky yarn is approx twice as thick as worsted. See the patterns for the corresponding hook sizes.)
However, I can't share a pattern for my Disc without permission (which I have, to date, been unable to obtain). But, below, you'll find my suggestions for how you can create your own Disc without a full pattern (note: all stitches are single crochet, amigurumi-style, in worsted weight yarn with an E US/3.5mm hook):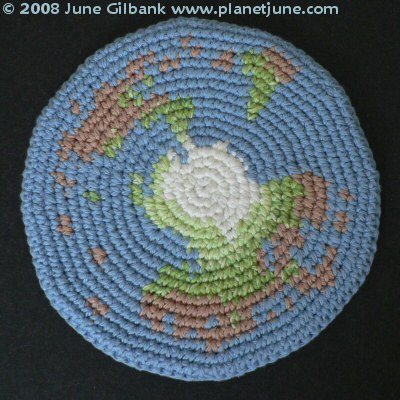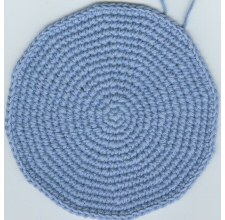 Advanced version (above, left): Crochet a circle, replicating my Disc as closely as you can by referring to my photos in my Discworld update post. Change colour as you crochet the top circle of the Disc, to crochet the landmasses as you go. Note: This is an advanced method! I can't share any more details without providing a pattern, which I do not have permission to do, so please don't ask me for assistance with this – if this is beyond your skill level, try the simpler version below instead.
Simple version (above, right): Crochet a plain blue circle (using the photos of my Discworld for a rough size reference). Add the land masses to the top circle (using my photos, the Discworld Mapp, or a google image search for reference) with embroidery (e.g. one cross stitch over each sc stitch), felt shapes, or fabric paint (see Chapter 12, Embellishment, of my Complete Idiot's Guide to Amigurumi for further advice on these techniques).

Crochet a second plain blue circle of the same size as your Disc top.
Begin to crochet the two circles together around the outside edge. When you get to about halfway around the Disc, insert a circle of plastic or cardboard between the two circles so the disc won't sag. Finish crocheting the two circles together and finish neatly with an Invisible Join.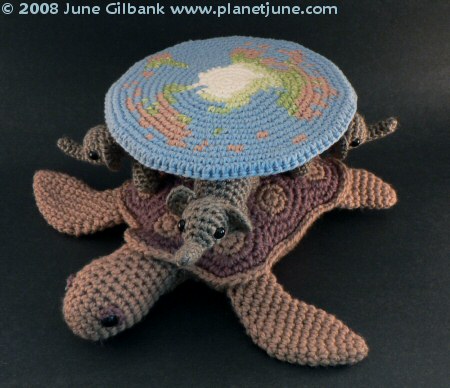 My Amigurumi Discworld was nominated for three Ravelry Bobby awards: Geekiest Pattern, Coolest Toy, and Best Personal Pattern Project.