My long-established ritual in the last weeks of each year is to pull back from the day-to-day and look back over the entire year so I can put together my Year in Review post.
Writing these posts helps me to see what I've accomplished, think about what I've learnt, and decide what I'd like to do differently in the following year.
2019 Achievements
In 2019 I published 14 new crochet patterns plus 2 re-releases (I added an extra cactus design to the Heart Cactus Collection and the Canadian flag pattern to the Maple Leaf Collection):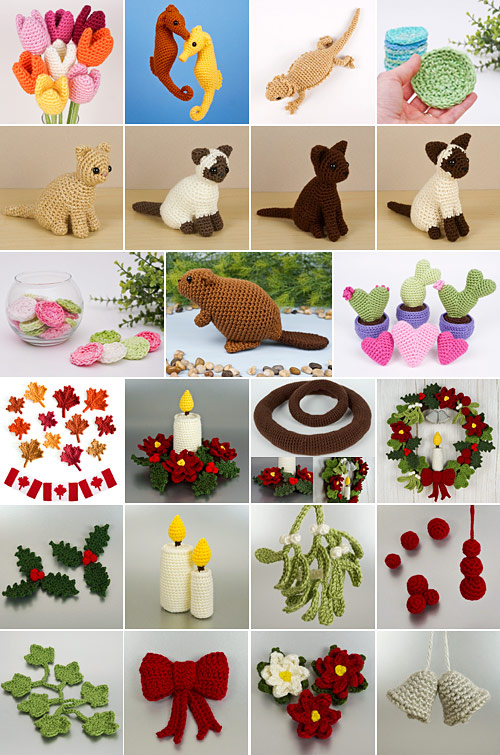 (Can you guess what the surprise pattern hit of the year was? My Bearded Dragon! It must have taken a little while for word to spread, because, after a slow start, it's become one of my top sellers!)
I self-published my first crochet ebook, The Complete Guide to Giant Amigurumi, in right- and left-handed versions: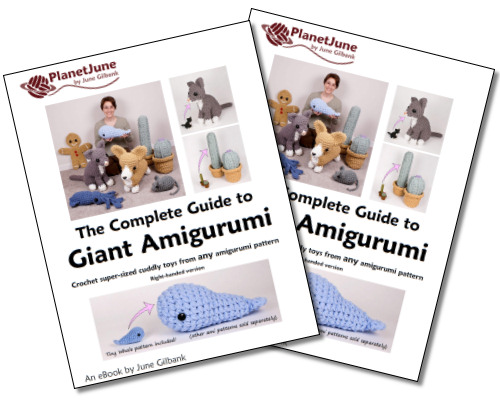 I've added to my tutorial library with nine new tutorials: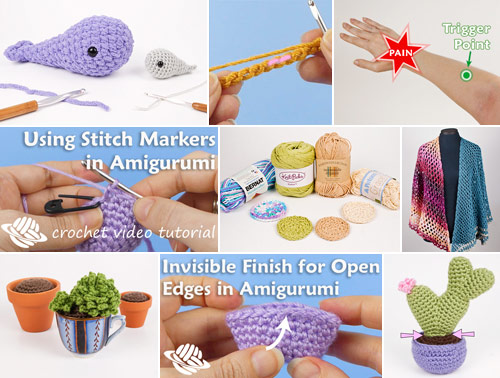 And I've knitted, crocheted, sewn, woven and needlefelted projects in my downtime, plus a few more fun projects that I haven't had a chance to blog about yet (time spent writing is time spent not crafting!)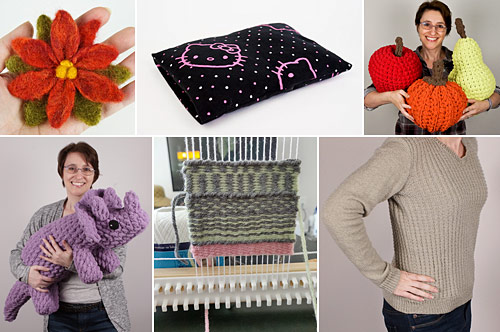 Last summer, I decided to stop logging customer support requests for my business. I'd been tracking them every day for over 5 years, and, at this point, the value of the time I'm saving is much higher than the value of the data I'm losing. I've used the data to assemble an arsenal of template responses to the questions I most commonly receive, so it's served its purpose.
And, in the autumn, I opened my pop-up crochet tool shop for the first time, and it worked well. Opening the online pop-up shop occasionally to offer a limited run of my stuffing tools is a way to let me balance my time and commitments without having to let people down by discontinuing my tools completely. I also successfully introduced some new tools to the pop-up shop, so I think this will be a good model going forward.
To further my own learning this year, I attended an inspiring photography workshop and completed a very useful voice artist course.
I also collaborated with my Mum to publish her book of original Scottish music and, now I'm an Amazon publisher, I'll be able to use what I've learnt to produce and publish more books in future.
Musings on Blogging
I've been battling with the 'shoulds' when it comes to my blog for the past few years: as my blog supports my business, I should mostly publish things that relate to my business; I should publish posts on a regular schedule; I should use my blog to make more money by adding annoying adverts all over the place, etc…
But, it's my blog! Sharing what I've been making and hopefully inspiring you to add more creativity to your life in the process is one of the reasons why I started blogging in the first place, and I want to make more time to document and share all my creative pursuits here, not just my crochet designs and tutorials.
It makes good business sense to only share product-related posts: blogging about my hobby projects takes time and doesn't make me any money (the only downside of sticking to my guns and not allowing ads to interrupt my website…) – craft blogging without ads is not paid work, and it's not exactly play either.
Even so, this year I've tried several new hobbies that I haven't found the time to blog about yet, and I want that to change next year. It's strange to get to the end of the year and look back for the photos of my craft projects and discover that many of the things I've made aren't posted here, but I've still been making the time for creative play – it's one of the things I enjoy best in the world – and I want to share all of that with you again!
I hope you'll enjoy it too when I do. I find social media to be mentally exhausting, so I love the thought of being more present in my own quiet little corner of the internet, and hopefully re-engaging with you all about the joy of making via chat in the comments below each of my posts.
Managing my Energy
I've been working to improve my sleep quality and reduce my anxiety levels this year. My mental and physical health are both much better than they have been for a long time (yay!) but I still have an ongoing unexplained fatigue problem that makes my daily life much more challenging than it used to be.
It's very frustrating to have so many ideas for things I want to do, but not enough energy to make them all happen, especially if I need to reserve enough energy for making dinner and other daily commitments. These days, I can't manage more than an hour or two of anything – work or play – without getting completely worn out.
But I've recently started experimenting with a new way to manage my energy: if I have two or three sessions per day, separated by long rests or naps, I'm more productive overall than trying to push through when I get exhausted.
It feels like I'm being lazy and wasting time, but when I do rest for an hour or two it often gives me the energy for another creative burst (or to go grocery shopping, exercise, or do whatever else needs to be done). It's not ideal, but I think this will be better than a constant struggle to keep going, and hopefully this fatigue won't last forever.
Looking Forward
This year my priorities are to continue to develop innovative new crochet patterns, to do enough tech upgrades to keep my website running smoothly, and to share more of my crafting here on the blog.
And, above all that, to keep self-care at the top of the list – my design breakthroughs don't happen unless I have enough time and rest to get my brain working at full capacity.
Last year, I wished for focus, determination and acceptance. My focus has been compromised by my lack of energy these days, and my determination to push through that has only led to more exhaustion, so acceptance – trying to make peace with my situation – has become even more important in making the most of my life.
My wishes for 2020 are for:
acceptance of the things I can't control, like my fatigue problem, and the bigger problems in the world
appreciation for all the good stuff in my life – I'm so fortunate in many ways
inspiration – a new decade is a perfect time to try new things, and I have a feeling I have some great ideas coming!
I hope you'll continue to accompany me on my creative journey into this next decade, and I hope 2020 brings you fresh creative energy too! Happy New Year 🙂