As I'm a bit of a perfectionist (you may have noticed!) I really struggle with quick crafts, because I want everything to be as good as I can possibly make it. Sometimes that's not healthy: when even my relaxation time is spent being very careful and striving for excellence, I put a lot of pressure on myself. So one of the things I'd like to do this year is to spend more time making 'fun' things without caring as much about how 'good' they are. And this is my first attempt at that.
Many years ago, I used to love making teeny tiny things with polymer clay – I once made a complete set of Teenage Mutant Hero Turtles (and Splinter the rat) that were each about 1cm tall! I thought it would be fun to try something more like that again – something quick and fun and colourful; almost the antithesis of my 3-years-in-the-making R2-D2 sculpture.
A bit of background for the non-gamers: in the late 1990s, there was a series of multiplayer games called Worms (Worms 2, Worms Armageddon, etc etc). Each player controlled a team of cute worms and took turns to try to annihilate each other by arming their own worms with a selection of outlandish and hilarious weapons. Crazy cartoon carnage ensued. Worms has recently made a comeback with new releases for consoles and iPhone, but 1999's Worms Armageddon on PC is still a great game too.
Okay, enough talk! Here's the action shot as the Worms go into battle on my computer keyboard: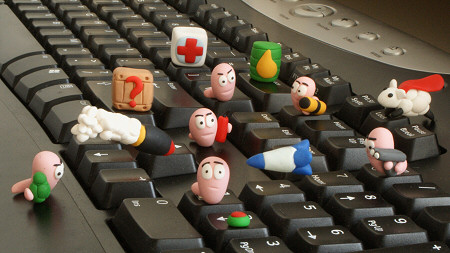 Click through for the bigger pic at Flickr!
And because some of the details don't show up too well against the black keys, here's a posed shot of all the pieces: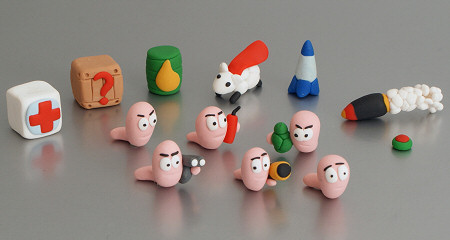 Click through for the bigger pic at Flickr!
Worms L-R: no weapon, shotgun, dynamite, bazooka, grenade, no weapon
Back: health crate, mystery crate, oil barrel, super sheep (it's a weapon!), homing missile, bazooka, mine
A couple of hours well-spent, I think – they just crack me up, especially their little expressions, and the super sheep with his billowing cape 😀